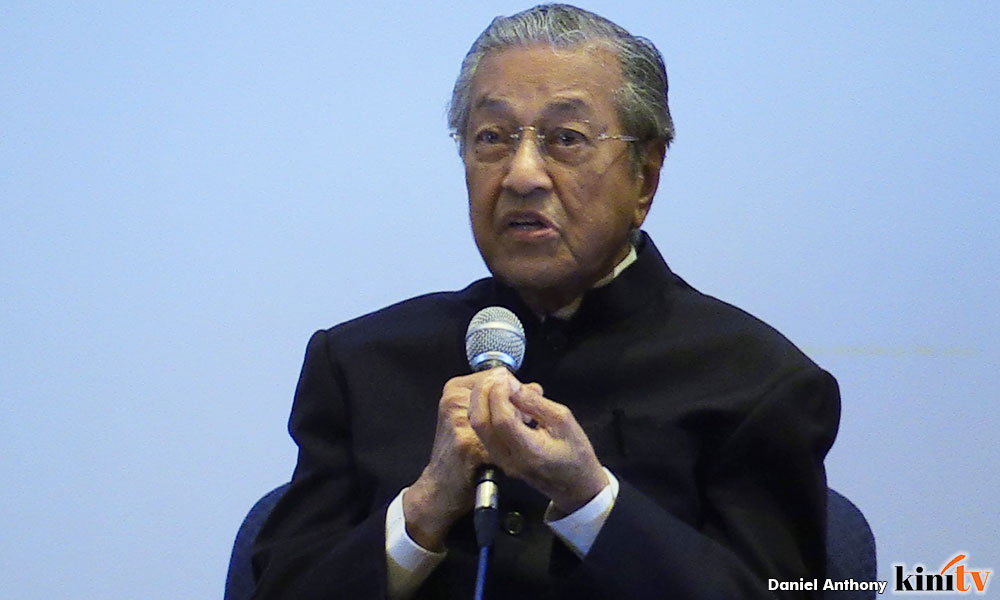 Dr Mahathir Mohamad admitted that Prime Minister Najib Abdul Razak has "at the moment", got the better of him, but if fair elections are carried out, the latter's administration can be overthrown.
In a recent exclusive interview with Australia's SBS World News, the former premier also said that at 91-years-old, he is too old to contest in the elections and to be opportunistic and have "ambitions" behind his move of criticising Najib and his former party Umno.
When journalist Jarni Blakkarly asked him whether he expected to return to active politics, 14 years after he stepped down as PM, Mahathir replied in the negative.
"At the time when I stepped down I thought I would be having my retirement, resting and enjoying life, but it seems that it is not going to be like that."
He said his return to active politics was motivated by many delegations coming to him after his stepping down, asking him to do something, about the shortfalls in the administration of former premier Abdullah Ahmad Badawi, and now, Najib.
He had advised and even tried talking to Najib, but when all that failed, he decided to leave Umno and work to bring down the party he once headed, added Mahathir.
Mahathir also dismissed notions that the fact that Pakatan Harapan is yet to name their prime minister candidate was a sign of lack of common ground between the parties in the opposition.
"We have not talked about who is going to be prime minister, because it is divisive. The moment you name a prime minister there is going to be a lot of unsatisfied people who may sabotage the new opposition coalition. So it is better for us to name a prime minister if we win. It becomes irrelevant to name a prime minister now and then we lose," he said, adding that Harapan parties have agreed that the coalition will not name their choice for prime minister before the general election.
Such a move, he said, will have minimal impact on the rakyat, because the people recognise the respective leaders of opposition parties who have contested in past elections.
Mahathir said although he is too old to contest in the election, he will help the opposition campaign and give any advice he can, given his vast experience in administering the country.
The nonagenarian then touched on Chinese investment in Malaysia, of which he has been a vocal critic. He said there is a distinction between foreign direct investment and what Najib is doing now.
"We have depended upon foreign direct investment. But by foreign direct investment, what we mean is that foreigners bring in capital and technology into this country, set up facilities here, employ Malaysians in the workforce as well as in the management.
"But Najib has now included foreigners with huge sums of money coming into the country, buying huge pieces of land, building cities for themselves and for their people to come and live here. That is not foreign direct investment, that is massive immigration.
"Not allowing foreigners to come and live in their country is quite normal for all countries. Malaysia does not want to have a few million Chinese come and live in Malaysia," he said, adding that foreigners are however, welcome as tourists or to invest in the productivity of the country.
Mahathir likened the scenario to a conquest - one which is being done through money.
"They have the money, they have the means to invest, buy property, buy land, and build cities for themselves. That amounts to a conquest, a colonisation of sorts."
Mahathir also expressed hope that US investigations against the 1MDB scandal would be pursued in the same vigour under the administration of Donald Trump, as it did under Barack Obama.
He denied that his urging to foreign countries to interfere in the bid to oust Najib at the height of the 1MDB scandal was ironic, given his "long anti-colonial rhetoric".
This was because the alleged offences in the 1MDB scandal were committed in foreign countries, he said, and as such, the laws of the country should be applied against the scandal.
"No, I'm not asking for people to come in here and try to overthrow the government. It is what is happening in their country that I am concerned about."
The interview then touched on the relationship between Mahathir and former opposition leader Anwar Ibrahim, who was imprisoned the first time under Mahathir's rule.
Mahathir insists that he owes no apology to Anwar, as the latter's second imprisonment was not his doing.
"Now he is in jail, not because of me, but because of the present government. So I have no problem with that and I didn't send him to jail and there is no reason why I can't be friendly with him. Especially as we have a common goal, that is to end the rule of the present regime."
When asked whether he apologised to Anwar, Mahathir said: "No, no, no, I didn't apologise for anything. That was something in the past. We can't be apologising for something that happened in the past," he said, noting that people who were against him before, are now working with him in the opposition towards a common goal to overthrow the current government.
"For that, we are prepared to forget the past."
The Parti Pribumi Bersatu Malaysia (Bersatu) chairperson then denied accusations that some of the things that he is against today, such as political interference in the judiciary, detention without trial and media censorship were his own doing.
He noted that detention without trial started during the British rule, and it was followed by the prime ministers who came after that.
"We don't exceed the powers given under the ISA, but what this man is doing now, is beyond that. He has abolished the ISA but has introduced a new law on security. He now has legislated in the law, the right for him to declare a state of security in any place and arrest anybody without trial (referring to the National Security Council Act). That is the kind of thing he does which is beyond what is provided by the law under ISA."
Mahathir claimed that when he came to power, he released all political prisoners before his time, and those arrested during his time were also released within a short span of time.
When the journalist pointed out that the ISA detention of two years, like that of PKR's Tian Chua's, was "not a short time", Mahathir said the detention period was decided by his principal security adviser (the inspector-general of police then), who saw "the situation warrants that".
When the topic changed to Umno, Mahathir admitted that "60 years of rule can lead to deterioration in the type of leadership a party has", admitting that Umno has been in power for too long.
"If you look at other countries, most of the parties which were involved in achieving freedom for the contries, most of them are no longer around. Most of them have failed to carry out their promises and they are no longer ruling the country. So I think it's time Umno stops ruling this country. Because it has a very bad set of leaders, not only Najib but also other leaders," he said, adding that his criticism of Umno will continue long after Najib has stepped down.
Mahathir is proud of winning five consecutive elections, which he said, means people of all races supported him despite the criticisms hurled at him.
On the coming general election, he welcomed "the whole world" to watch it, as in Malaysia, "Najib has complete control over all institutions of the government, including the Election Commission." - Mkini