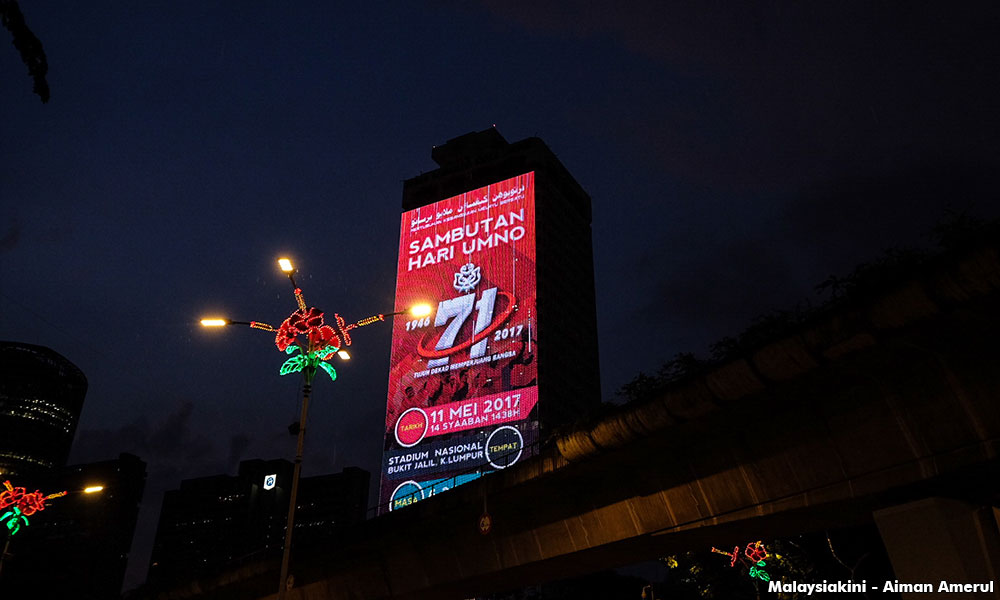 Umno secretary-general Tengku Adnan Tengku Mansor said Umno's 71st anniversary logo appearing on Kuala Lumpur City Hall's (DBKL) headquarters along Jalan Raja Laut was a "trial run".
Tengku Adnan said this when asked whether Umno paid for the advertisement on the giant vertical display which covers the 34-storey building.
"For DBKL, the (digital display on) the building is still at the trial stage, it's not ready yet.
"So I asked them to use (the Umno anniversary logo) for trial," he told journalists in Putrajaya today.
However, Tengku Adnan, better known as Ku Nan, said Umno paid for the digital advertisement in other areas.
"For example, in Pavilion and other places, we were charged and we paid," he said.
Yesterday, netizens uploaded photographs and video of Umno's 71st anniversary logo appearing on the 34-storey DBKL building on social media.
DAP's Segambut MP Lim Lip Eng had
complained
about the display, stating that the federal opposition would have received flak if the did the same on iconic buildings in Pakatan Harapan-held states.
Tengku Adnan lamented the criticism, accusing critics of being jealous of Umno.
"Everything I do they want to get angry. It's not only that (display on DBKL headquarters), they are also angry over (the display of the Umno anniversary logo) at Pavillion, Jalan Klang Lama and Segambut.
"Why do they want to be angry? We paid for it, so what is the problem?
"They are jealous because they have not done anything," he said.
Tengku Adnan then claimed that the PKR-led Selangor government too made use of roundabouts in the state to convey its message.- Mkini