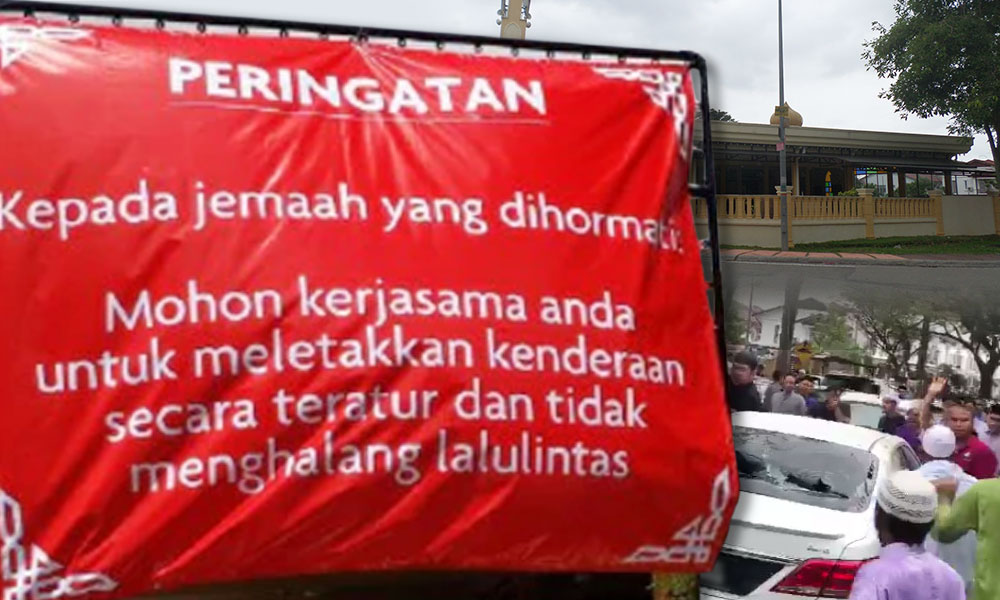 A banner was put up at a surau in Johor Baru urging worshippers attending the Friday prayers to park their vehicles in a proper manner and not to obstruct traffic.
Last Friday, the surau's congregation made headlines when a man was assaulted for repeatedly honking during the prayer session when his car was blocked by vehicles parked in the area.
Videos of the incident had gone viral on social media.
Police have arrested several men in connection with the case, while the driver has also apologised.
According to NST Online, although cars were parked on both sides of the road this afternoon, traffic was not affected.
Apart from this, four Rela personnel were also spotted directing traffic.
"Inside the surau... the congregation listened intently as the 'khutbah Jumaat' preached on the virtues of patience and understanding.
"The khatib, in his sermon, also reminded the congregation to forgive and forget the events of last week, which he said had tarnished the good name of Islam, as well as the surau.
"An announcement was also made by the surau management, citing disappointment over the incident and expressing hope that there will not be a recurrence," read the report.
The surau's bilal Zulkifli Ahmad, 31, was quoted as stating that the surau administration hoped such an incident would not recur.
"I hope that everyone will view this incident as a lesson. Patience is a virtue and there is a need to promote tolerance in a community that has diversity in religion and race," he added.- Mkini