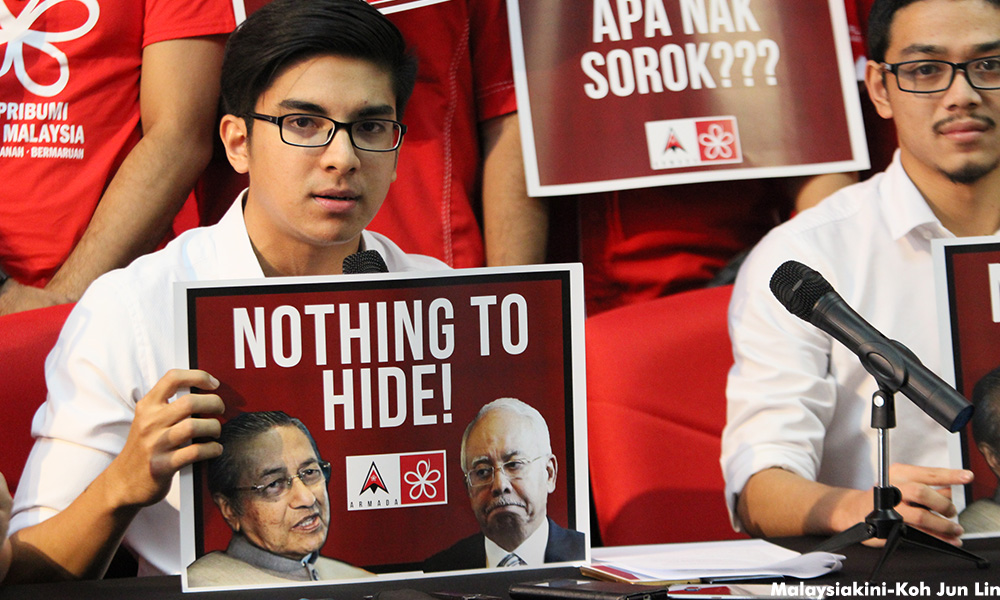 Parti Pribumi Bersatu Malaysia's Youth wing will be holding its second 'Nothing to Hide' forum by the end of the month, featuring the party's chairperson Dr Mahathir Mohamad.
Announcing the forum today, Bersatu Youth chief Syed Saddiq Syed Abdul Rahman challenged Prime Minister Najib Abdul Razak to attend the forum saying that it would be a good opportunity for the latter to clear his name.
"We ourselves will ensure that Mahathir would attend the forum.
"But we hope that just as we had agreed to be open and transparent when others have challenged us to be open and transparent, Najib and the Umno-BN leadership also needs to bring the same openness to answer difficult questions from the media and the people of Malaysia as a whole.
"If Najib insists on not attending the forum [...], we would still continue with the forum and we will ensure that the rakyat see who are the cowards, and who are the ones on the right side," he told a press conference at Bersatu's headquarters in Petaling Jays today.
This follows Youth exco member Muhammad Hafiz Azhar's call yesterday for Mahathir and Bersatu president Muhyiddin Yassin to respond to allegations against them.
The allegations concern Mahathir's children's alleged wealth and Muhyiddin's alleged affair.
Syed Saddiq chastised Hafiz for using the wrong platform to raise his questions, but said the people are entitled to question Bersatu's leadership.
At the same time, he said the people are likewise entitled to question Najib's leadership.
-Mkini