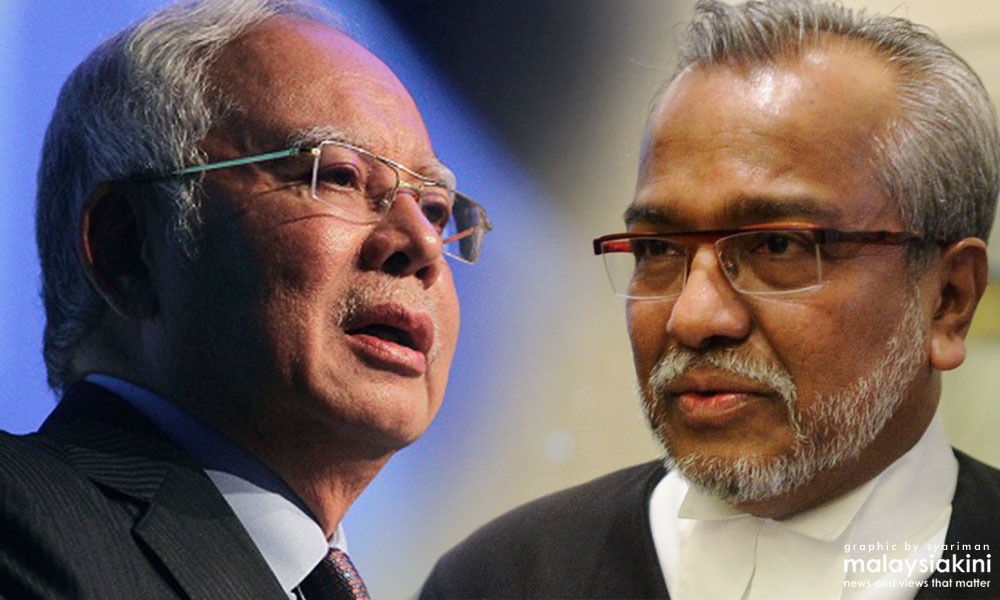 Prime Minister Najib Abdul Razak declined to comment on the legal action to set aside Anwar Ibrahim's Sodomy II conviction based on the allegation that he, as Umno president, paid the chief prosecutor a fee of RM9.5 million.
"I don't want to comment anything about a legal case," Najib told a press conference after chairing the Umno supreme council meeting at the party headquarters in Kuala Lumpur this evening.
Malaysiakini was barred from attending the press conference but managed to obtain a recording of the event.
This morning, Anwar's lawyers filed an originating summons to declare the Federal Court's decision to uphold his conviction and five-year prison sentence null and void.
This was after Sarawak Report, citing alleged leaked investigation papers, claimed that Najib paid lawyer Muhammad Shafee Abdullah, who was prosecuter in the case, RM9.5 million in two tranches.
The whistleblower portal claimed the first payment of RM4.3 million was transferred on Sept 13, 2013, and the second payment of RM5.2 million was made on Feb 17, 2014.
Putrajaya, in a surprise move on July 22, 2013, recruited Shafee to lead the prosecution team against Anwar in the case before the Court of Appeal, instead of the conventional practice of relying on public prosecutors.
The Court of Appeal on March 7, 2014, overturned the decision of the High Court in Kuala Lumpur, which acquitted Anwar, and sentenced him to five years' imprisonment.
The Federal Court on Feb 10, 2015, upheld the conviction of Anwar, that he sodomised his former aide, Saiful Bukhari Azlan.
Shafee also
publicly commented
on the matter for the first time today when met by journalists at the Kuala Lumpur court complex, but merely stated that he would issue a statement at a later date.
The senior lawyer's presence there coincided with Anwar's lawyers filing the originating summons at the Kuala Lumpur court complex.
Anwar is
seeking a declaration
that his conviction for sodomy, under Section 377B of the Penal Code by the Court of Appeal on March 14, 2014, is null and void, and ultra vires of Article 5(1) of the Federal Constitution on the liberty of a person.
He is also seeking a declaration that the Federal Court decision on Feb 10, 2015, to be null and void on similar grounds.-Mkini