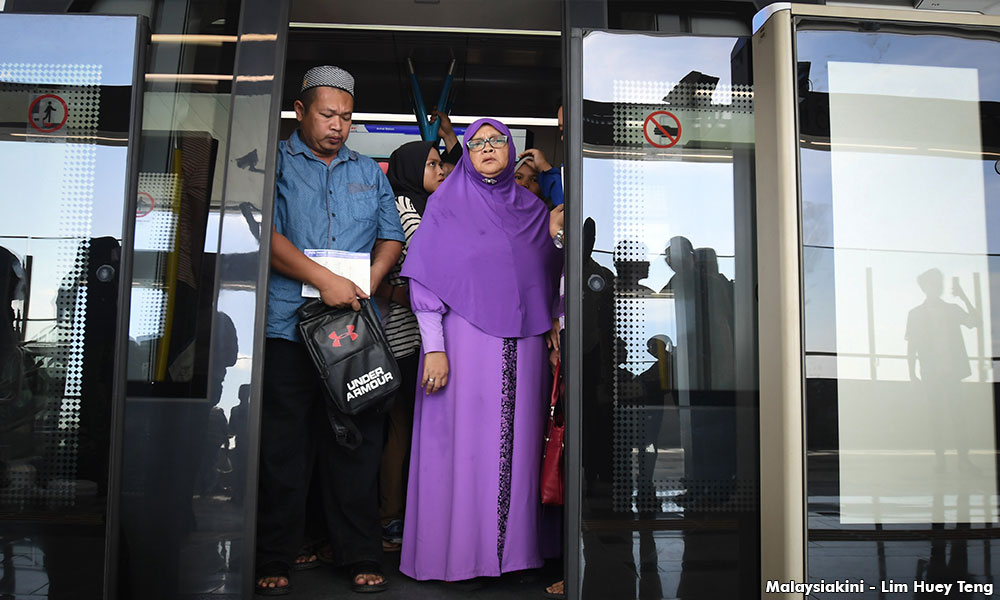 About 100,000 people travelled on the Mass Rapid Transport (MRT) Sungai Buloh-Kajang (SBK) Line on the first day of its second phase operation, yesterday.
Prasarana Malaysia Bhd chief executive officer Azmi Abdul Aziz said the number would increase from time to time after yesterday's opening of the full SBK Line.
"For the first phase, 2.7 million people used the MRT service from Sungai Buloh to Semantan since last Dec 16.
"The facilities and spaciousness of the stations built along phase two of the line will give more comfort to all the commuters, especially senior citizens and the disabled," he told reporters at the Merdeka station after a visit to the second phase MRT SBK Line stations, today.
He said the public should not be worried about the technical challenges of the MRT service as international-standard tests had been conducted before the start of its full operation yesterday.
"Over 1,000 components were tested by special engineers over a period of six months to ensure smooth train operations," said Azmi.
He also said that holders of the special MyRapid OKU (disabled), senior citizen and student cards could enjoy 75 percent discount for the MRT, LRT, Monorail and Rapid Bus Transit (BRT) services from today until Aug 31.
"On normal days, they can enjoy 50 percent discount and in conjunction with the announcement, ordinary passengers also get the same discount (50 percent) until Aug 31, while holders of the special monthly pass enjoy an additional 25 percent discount."
He said the commuters were also encouraged to park their vehicles at the Park n' Ride sites at seven of the MRT SBK stations to get to the city centre.
"This is to reduce traffic congestion as all the seven underground MRT stations in the city centre do not have car parks," he added.
The second phase (30km), from the Semantan station to Kajang, completes the 51km MRT SBK Line.
The line has 31 stations, including seven located underground, and it integrates with the Light Rail Transit (LRT), Monorail and KTM Komuter services.
Additional 100 feeder buses are provided, transporting passengers between nearby housing estates and commercial areas and selected MRT stations.
The MRT SBK Line's first phase from Sungai Buloh to Semantan, a distance of 21km, began operating from Dec 16, last year.
- Bernama