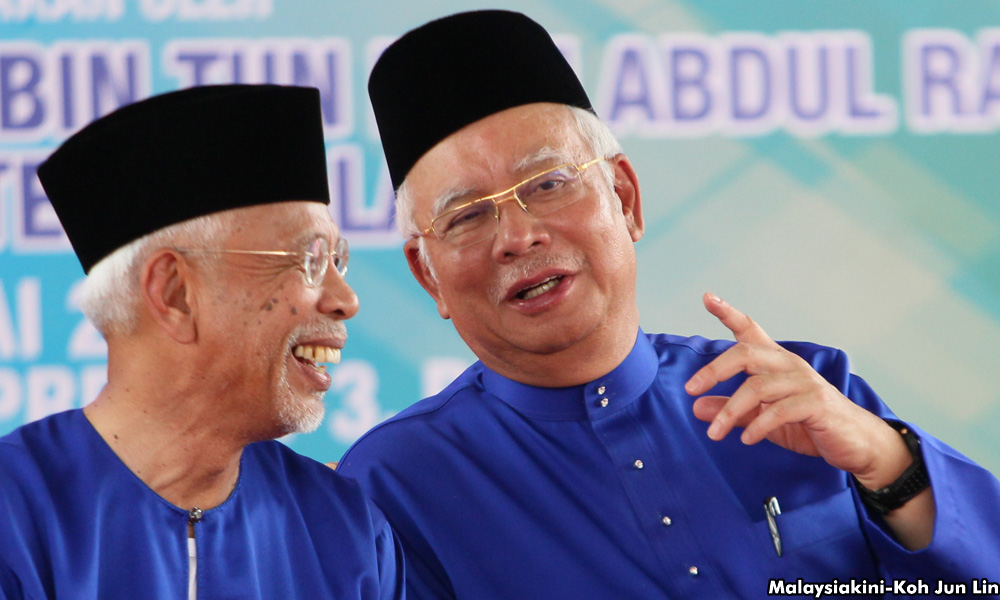 Prime Minister Najib Abdul Razak mounted a major show of force today amid claims of disquiet within Felda settlements.
Tens of thousands of Felda settlers descended on Putrajaya since morning to occupy canopies set up on Persiaran Perdana to listen to the prime minister's speech.
In their respective speeches, Najib said there were 25,000 people present, while Felda chairperson Shahrir Samad quoted a figure of 20,000.
Najib also told the audience that Felda and the federal government are closely linked since Felda's inception in 1956, which in turn has changed lives for the better for the settlers.
"Therefore, ladies and gentlemen, we remind each of you of our obligations after 61 years of government contributions. Without the government, who are we Felda settlers?
"Let us resolve that no matter what, we will defend Putrajaya.
"So don't dream. Don't spread untruths about the Felda community not supporting the government of the day," Najib added.
The celebrations mark the climax of the three-day national-level Felda Settlers' Day events in Putrajaya, which normally takes place within Felda settlements.
The canopies the revellers occupied stretched on for about 550 metres along Persiaran Perdana, and at least four parking lots in the surrounding area had been allocated for buses catering for the event.
Banners with messages such as 'PM is my idol' ran alongside the canopies, next to the road that Najib's motorcade took to reach the stage area set up outside the Palace of Justice.
A separate canopy was set up as an exhibition space.
Also present at the event was National Felda Settlers head Samsudin Othman, who also urged settlers to support Felda, Najib, and the government's efforts to improve their lot.
"We should not be easily swayed by outside elements that are constantly trying to confuse, to divide, and to poison our thoughts," he said.
The event today commemorates Felda's establishment 61 years ago. This year's anniversary has been marred by a series of problems afflicting Felda and its subsidiaries Felda Global Ventures (FGV) and Felda Investment Corporation.
These include allegations of impropriety in the purchase of a London hotel, for which two senior FIC officials have been
remanded
, and the spat between former FGV chairperson Mohd Isa Abdul Samad and its suspended chief executive officer (CEO) Zakaria Arshad.
These, together with low commodity prices and faltering FGV share prices, are said to have led to discontent amongst Felda settlers.
Opposition politicians such as Bersatu president Muhyiddin Yassin have claimed that Felda settlements can no longer be relied upon as Umno strongholds, as opposition events in such areas are supposedly drawing a large turnout.
In an apparent reference to some of these issues, Najib promised that Shahrir would resolve "integrity issues" within Felda.
He also highlighted that he had persuaded China to increase palm oil imports from Malaysia, which he said the economic giant has done by 13.7 percent. This had helped stabilised palm oil prices for the first half of 2017.
"These are among the efforts we have made (to prop up palm oil prices) such that there are settlers who whispered to me that I should go to China more often, to increase the amount of palm oil that they buy," he said. -Mkini