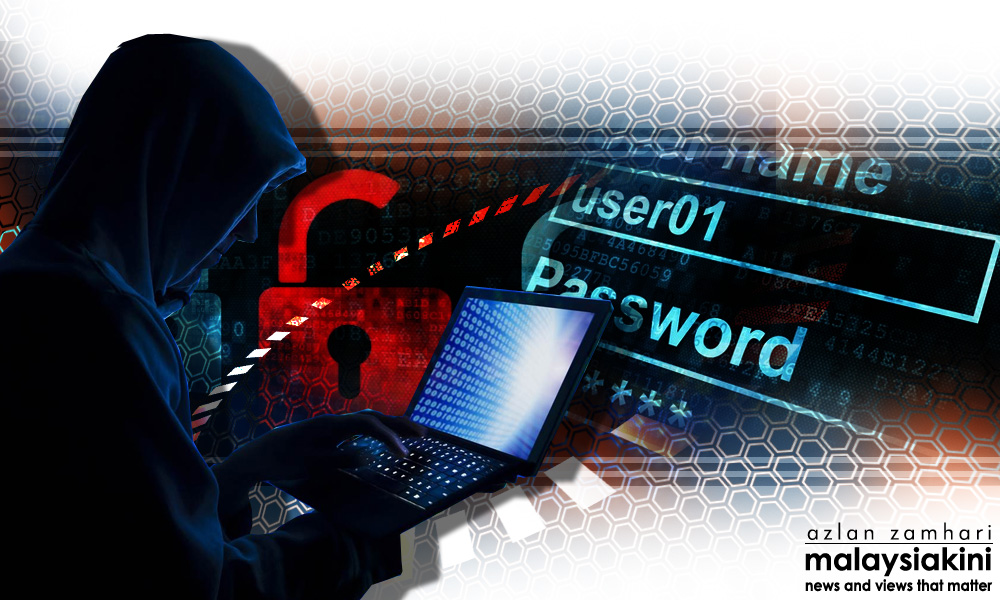 He first turned heads in July last year by asserting that there was an American conspiracy to defraud 1Malaysia Development Bhd (1MDB). His attack came after then US attorney-general Loretta Lynch's press conference on Department of Justice (DOJ) made public its findings on 1MDB.
He gave a one-on-one interview with the national news agency Bernama's Azman Ujang where he made a host of other statements which were subsequently pooh-poohed by legal luminaries. Claiming to be lawyer from Brisbane, he also appeared on Bernama television with former DAP vice-chairman Tunku Aziz Ibrahim and continued his tirade against the DOJ.
After a year's hiatus, he has apparently returned, re-emerged with an allegedly nom de plume, but this time with a difference. Instead of DOJ and Prime Minister Najib Razak's detractors, he has turned his attention on the royalty.
Over the past five days, he has twice attacked the royal households, Johor specifically. These verbal doses transcend all acceptable boundaries of fair comment. To ignore them as academic or journalistic pieces would do injustice to the many of who cherish not to misuse or abuse the little freedom that is left.
But they were neither. They were frontal attacks on one of our most revered institutions - our monarchy and the sultans. The first was an unconcealed and barefaced lashing of the current Johor ruler, his forefathers and was particularly aimed at the Tengku Mahkota Johor, who has in recent times, been
vocal
on the need for good governance.
On a normal day, such 'seditious' remarks would have prompted police reports from Kangar in the north to Johor Bahru in the south. This time around, perhaps because it was written in English rather than Bahasa Malaysia, many would not have understood the dishonourable words used against the royal household.
Still, there were those who rushed to police stations to lodge reports based on their misinterpretation of the Spanish language. In September last year, assuming that "adios" is a derogatory term, even inspector-general of police Khalid Abu Bakar fired a "surrender or we will arrest you" ultimatum to Jelutong parliamentarian Jeff Ooi.
Ooi, on hearing the death of PAS spiritual leader Harun Din has posted a tweet with the word "adios". Khalid said the case was being investigated under Section 298 of the Penal Code for "causing disharmony, disunity or feelings of enmity, hatred or ill-will, or prejudicing the maintenance of harmony on grounds of religion". It turned out to be utter bunkum as no charges were preferred because the Attorney-General's Chambers felt that they would not stick.
Ditto in the case of journalist Sidek Kamiso. He too had made reference to the death of Harun. Two plainclothes police officers jumped over the gates of his house in Petaling Jaya and banged on the door demanding entry at 4.40am.
The two could not produce an arrest warrant despite Sidek's repeated request. He was arrested and driven to Johor Bahru where there was an unsuccessful attempt to remand him to "complete investigations." He too has not been charged.
Where does religion come into the picture? It is a statement made by an individual and its truthfulness is no business of the police or any other law enforcement authority.
The digression and the rewind were necessitated for obvious reasons, but coming back to these contemptible and seditious articles, even repeating what was written would mean re-publication and hence my reluctance to even quote the offending statements.
Section 3(1) of the Sedition Act 1948 reads: A "seditious tendency" is a tendency – "(a) to bring into hatred or contempt or to excite disaffection against any Ruler or against any Government."
This is what the writer has done. He accuses all the sultans of having been "tainted by gifts from Chinese and other businessmen and organisations." The tirade does end there. It speaks of threats of violence and a host of "vices" undertaken by the royal household.
Can we blame people who say that the police have double standards? They can act fast if they choose to. On Monday, police arrested a 25-year-old man in Negeri Sembilan for posting remarks on Instagram that allegedly insulted Johor Princess Tunku Tun Aminah Maimunah Iskandariah Sultan Ibrahim and the Johor royal institution.
The report regarding the alleged insult was made at 6pm on Sunday and the Negeri Sembilan police contingent nabbed the suspect at Ampangan area on the same day.
The police can be quick - even instantaneous - if they want to be. If you say otherwise or anything more, you could be charged with criminal defamation.
---
R NADESWARAN is an award-winning veteran journalist who writes on bread-and-butter issues with one agenda - a better quality of life for all Malaysians irrespective of colour, creed or religion. He can be reached at citizen.nades22@gmail.com.- Mkini