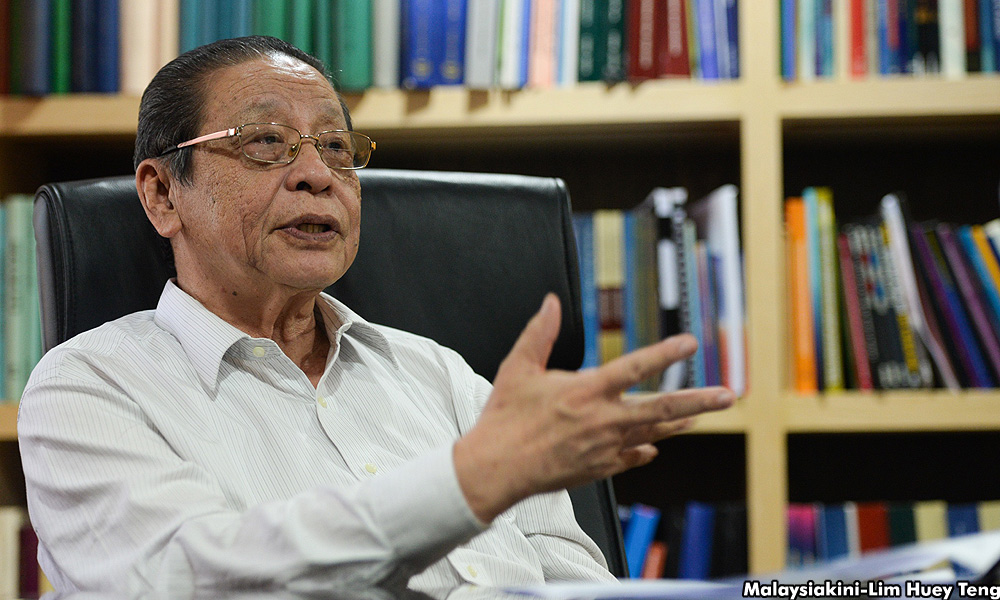 The leadership structure of Pakatan Harapan is not intended for it be dominated by DAP nor by Malays, DAP parliamentary leader Lim Kit Siang said.
Lim said this in response to Communications and Multimedia Minister Salleh Said Keruak, who
questioned
why DAP, which had the most seats in Parliament, was only given the deputy presidency as its most senior position in the coalition.
"Was DAP sidelined or was the line-up deliberately done to make as if the coalition is dominated by the Malays?" asked Salleh.
To this, Lim's response was: "It is neither."
"What Salleh and the Umno/BN leaders, propagandists and cybertroopers must understand is that Harapan is a different coalition altogether from the Umno/BN coalition, where Umno hegemony is accepted as a modus operandi by all the other 13 component parties that are left with an increasingly subservient and servile role.
"Harapan, on the other hand, is a coalition of equals, where no party exercises hegemony like Umno in BN, and where consensus from all the four component parties is the basic operational principle of the coalition," Lim added in a statement today.
Yesterday, Harapan announced that the top three positions in the Harapan leadership, namely the de facto leader, chairperson and president, would be occupied by PKR and Parti Pribumi Bersatu Malaysia (Bersatu)
This was followed by three deputy president positions occupied by DAP, Bersatu and Parti Amanah Negara and four vice-president positions, each occupied by one of the four component parties in the coalition.
Lim said Umno's propagandists have come to believe in their own propaganda that the Chinese would grab political power if Umno is defeated.
"These are all lies – for Malaysia can only start anew and find greatness if Umno is defeated.
"And if Umno is defeated, the Chinese will not grab the political power of the Malays as Malay political power in Malaysia is assured, with the prime minister from Harapan a Malay and not a Chinese or non-Malay," he said.
Lim said he concurred that Harapan was no match for BN, but only in terms of turning the country into a "global kleptocracy".
"We want to save Malaysia from the international infamy and ignominy of a 'global kleptocracy' and ensure that Malaysia fulfills our early promise to become a vibrant democracy and a model to the world as a united, harmonious, just, progressive and prosperous nation where the diversities of race, religion, language and culture are national assets and strengths and not national liabilities and weaknesses," he said.- Mkini