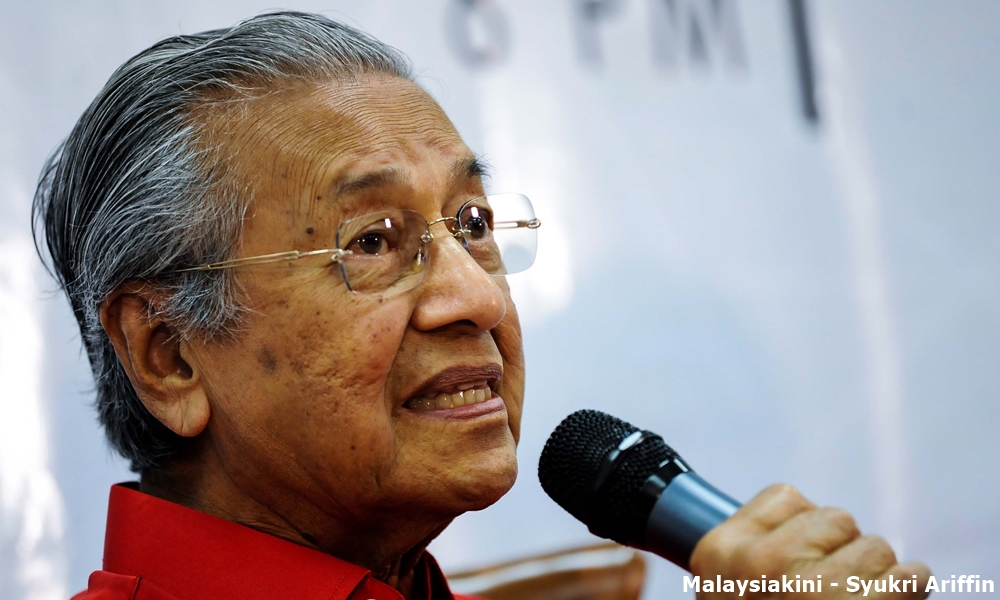 Dr Mahathir Mohamad unleashed a cannonade at Prime Minister Najib Abdul Razak from the witness stand in the High Court in Kuala Lumpur this afternoon.
According to him, Umno has become a party of "kleptocrats and thieves" under the current president.
Mahathir also admitted to wanting to remove Najib from power because of this.
"Umno has become a kleptocratic party accused of stealing due to the president's action. It has given Malaysia a bad name. It is not the Umno of old but Najib's party," he said.
The 92-year-old former prime minister said this when cross-examined by lawyer Jahabardeen Mohd Yunus, who is representing Najib's press aide Tengku Sariffuddin Tengku Ahmad.
Jahabardeen had asked Mahathir if he was not concerned about the party he had led for more than two decades, over his actions of trying to depose Najib.
"I am not worried about Umno. I am only concerned about Najib."
Mahathir, who is now chairperson of Parti Pribumi Bersatu Malaysia (Bersatu), was testifying at the hearing of his son Mukhriz's defamation suit against Tengku Sariffuddin.
The former premier of 22 years testified that when he was deputy prime minister, he was also appointed as Umno deputy president.
"I was one of three vice-presidents who was then appointed as deputy president during Hussein Onn's time," he said.
Mahathir was vice-president together with Tengku Razaleigh Hamzah and Ghafar Baba at that time, when second prime minister Abdul Razak Hussein passed away,
To a question from Jahabardeen, Mahathir agreed that when he was the prime minister, he had sacked his deputy Anwar Ibrahim
"Yes, and I have replaced him with Abdullah Ahmad Badawi," he said.
He also agreed that Abdullah was one of the three vice-presidents then and when asked whose discretion it was to appoint Abdullah as deputy president, he replied that it was the party president.
Tengku Sariffuddin in his press statement had claimed that Mahathir wanted to topple Najib because he wanted to see his son Mukhriz as prime minister.
No conspiracy with Muhyiddin
Earlier, when replying to questions from Mukhriz's lawyer Haniff Khatri Abdulla, Mahathir said he had not conspired with Muhyiddin Yassin or anyone else to ensure Mukhriz, or any of his other children, would rise up for the post of prime minister.
"If I had that intention, then when as PM and Mukhriz was still young in his 20s or 30s, I would have asked him to be an Umno member and would do anything in my power to promote his political career.
"If you check the records, Mukhriz has not been an Umno member when I held the post of PM. I do not want to be accused of abusing my position as PM, or party president, in the interests of my family."
He said this was because he had strictly prohibited his children, including Mukhriz, from joining Umno when he was the prime minister.
Hence, he said the purported report that he wanted to unseat a democratically elected government just to save the political career of Mukhriz was false.
The hearing before Justice Ahmad Zaidi Ibrahim will continue on Oct 19 and 20.- Mkini