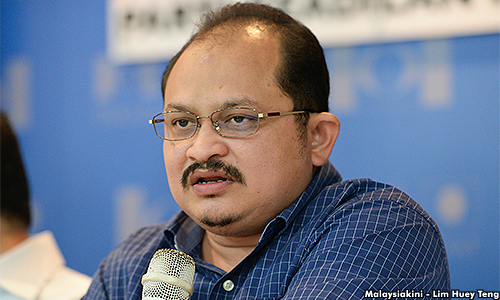 Bukit Katil MP Shamsul Iskandar Mohd Akin today applied to the Sessions Court in Kuala Lumpur to refer a constitutional question related to his Peaceful Assembly Act (PAA) 2012 charge to the Federal Court.
His lawyer Yusmadi Yusoff today confirmed with Malaysiakini that he filed a notice of motion before Sessions Court judge Syed Faisal Syed Amir, who allowed the matter be referred to the High Court and the Federal Court.
"The application is made under Section 30 of the Courts of Judicature Act (CJA) for the High Court to help frame the question of law.
"This involves constitutional issues on whether gathering at a place of worship violates a person's civil right. It has a bigger impact as the PAA also bars people of other religion from gathering at their place of worship," he said.
On Aug 5, 2013, Shamsul Iskandar, 41, who is also PKR vice-president, Khairul Anuar Ahmad Zainuddin, 37, and Mohd Nazree Mohd Yunus, 30, claimed trial at the Sessions Court to a charge of allegedly participating in the Black 505 rally in the compound of the Ar-Rahman Mosque at Universiti Malaya between noon and 1.15pm on June 22, 2013.
The charge was under Section 4 of the PAA 2012 where a person found guilty is liable to be fined RM10,000.
It was reported that the Court of Appeal had in April struck out Shamsul Iskandar's appeal of his constitutional challenge in law after he made the application directly to the High Court in Kuala Lumpur.
This after the appellate court allowed the preliminary objection that Shamsul Iskandar's appeal violated the Federal Court decision in Gan Boon Aun's case which stated that only the Federal Court was empowered to decide on the constitutionality of a challenge.
The deputy public prosecutor in the case said the application should be made under Section 30 of the CJA for the matter to be brought to the attention of the Sessions Court for the High Court to frame the question.- Mkini