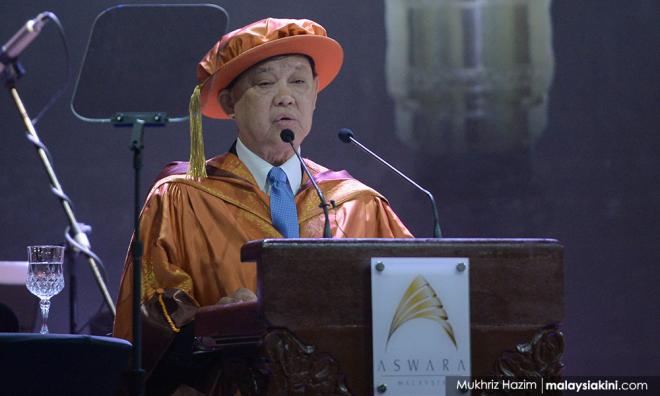 The past year has been fruitful for Tourism Minister Mohammadin Ketapi, at least in terms of personal assets.
If last December he was too "poor" to declare his assets, his latest filing shows that he has managed to amass RM9,338 in the 11 months since, and this includes his wife's assets.
This is based on a declaration Mohammadin made in September, as published on the Malaysian Anti-Corruption Commission asset declaration website.
The website also noted that Mohammadin's monthly salary is RM54,979.53.
The national median monthly income is RM2,308 while the minimum wage is RM1,200 a month.
Mohammadin was among 25 ministers and deputy ministers who did not declare their assets in the first round of declarations last year.
At the time, he told journalists: "
I'm poor
... So, I have got nothing to declare. Poor people don't have assets."
Mohammadin was a lawyer and has been
active in politics
since the 1980s, starting with Parti Bersatu Sabah (PBS). He was PBS deputy secretary-general in 1985.
According to the asset declaration website, all members of the executive have declared their assets.
The asset declaration exercise last year was historic because it was the first time the sum of personal assets held by cabinet ministers and MPs were made public.
Before this, the declaration was made to an anti-graft body, which would only share the information with the prime minister.
However, the move towards transparency was criticised by watchdogs as being a half-measure as the website does not give a breakdown of the assets, nor does it allow the public to compare the assets held over time.
Transparency International's best practice guideline for asset declaration also calls for members of the judiciary to declare their assets.
In the UK, a registry of MPs' financial interests publishes the source, nature and quantum of income, gifts and sponsorships to MPs. MPs also have to declare if they employed family members on parliamentary expense.
Deputy Tourism Minister Muhammad Bakhtiar Wan Chik declared RM2.8 million in his assets this month
Top of the list is PKR's Segamat MP Edmund Santhara, whose asset declaration in March was RM132.16 million, jointly held with his wife. Santhara is the founder of Masterskill Education Group Bhd.
This eclipses the wealthiest cabinet member, Prime Minister Dr Mahathir Mohamad who along with his wife, Dr Siti Hasmah Ali declared assets worth RM32.36 million.
The final deputy minister to declare his assets is Muhammad Bakhtiar, who on Nov 4 declared he jointly owns assets worth RM2.8 million with his wife.
To date, the wealthiest deputy minister is Housing and Local Government Minister Raja Kamarul Bahrin Ahmad Baharuddin Shah, who in October last year declared he owned RM13.5 million worth of assets, with his wife and children.
This is followed by Deputy Health Minister Dr Lee Boon Chye (RM13.67 million) and Deputy Transport Minister Kamaruddin Jaafar (RM11.37 million).
Lee's assets include those held by his wife and children while Kamaruddin's assets include those held by his wife.
Some 22 MPs and ministers updated their asset declarations this month, including Deputy Speaker Nga Kor Ming, who declared assets worth RM7.9 million. This includes his wife's assets.
Besides the tourism minister, two other cabinet ministers have updated their asset declarations this year.
They are Primary Industries Minister Teresa Kok (RM2.58 million), who filed a declaration in September, and de facto Law Minister VK Liew (RM8.04 million), who filed his in February.
No shortage of millionaires
While there is no shortage of millionaire MPs and ministers, two on the list prove that politics does not always pay.
Two DAP MPs who declared their assets in November last year said they had zero assets.
They are first-term MPs Wong Tack (Bentong) and Mordi Bimol (Mas Gading). Both declared monthly incomes of RM22,412.64 and RM25,700.00 respectively.
The asset declaration exercise also involves the political secretaries of ministers.
Topping this list is the communications and multimedia minister's political secretary Adrian Marcellus, who with his wife owns assets worth RM12.36 million.
This is followed by Tony Pua, who is the finance minister's political secretary, and owns RM10.4 million worth of assets with his wife. Pua is also DAP's MP for Damansara.
Adrian and Pua earn RM34,683.33 and RM30,600 a month, respectively.
The defence minister's political secretary, Azhar Che Mat Dali, is at the bottom, with no assets to declare and earns RM12,650 a month. - Mkini