In the ongoing carnage in Gaza, Save Press 4 Gaza (SP4G), the united voice of Malaysian media, expresses profound concern over the devastating toll on journalists covering the conflict.
As the voice of Malaysian media stands in solidarity with our colleagues in Gaza, SP4G vehemently condemns the targeting of journalists and their families by the Israeli military and government.
As journalists and media workers, we call upon Western newsroom leaders to ensure clear-eyed coverage of Israel's actions against Palestinians, acknowledging the atrocities that have occurred.
The four-week siege by Israel resulted in more than 11,000 Palestinian casualties, with at least 42 journalists among the tragic losses, marking the deadliest conflict for media professionals since 1992, according to the Committee to Protect Journalists (CPJ).
The committee's findings underscore the urgent need for an end to violence, including against journalists in Gaza.
Journalists have faced not only the inherent risks of reporting but also the dire conditions of power outages, food and water shortages, and a collapsing medical system.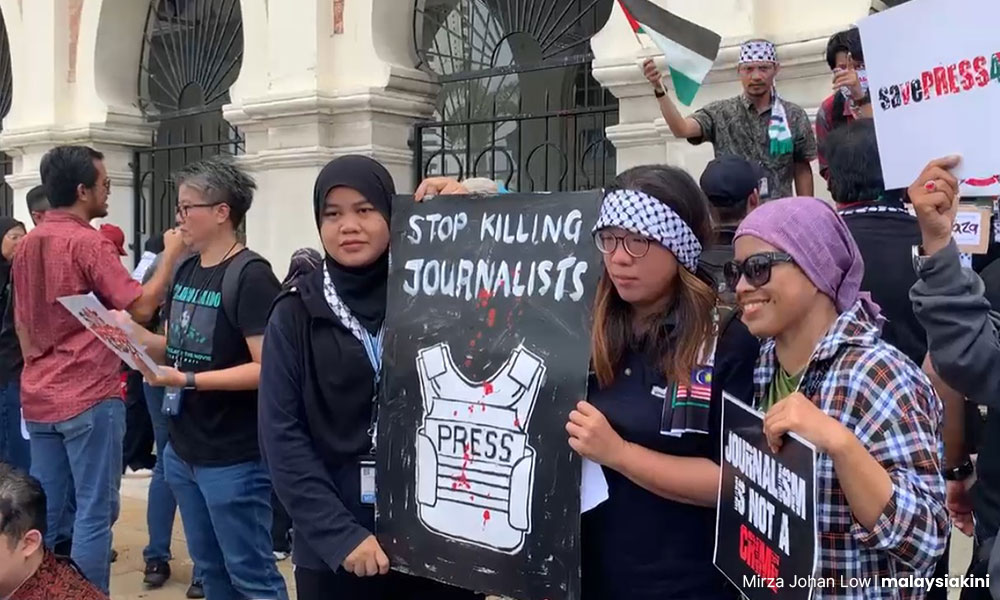 This has resulted in the tragic loss of reporters, editors, photographers, and producers working tirelessly to bring the realities of the conflict to the forefront of global consciousness.
The deliberate targeting of journalists has been a disturbing trend, evident in the Reporters Without Borders investigation into the Oct 13 Israeli strikes in South Lebanon.
Reuters videographer Issam Abdallah lost his life in the attacks, while six other journalists sustained injuries. Such incidents further highlight the urgent need for international action to protect journalists operating in conflict zones.
The Palestinian Journalists Syndicate's call for global journalists to condemn the targeting of their colleagues resonates deeply with us. We stand united in support of their brave efforts to report amid the chaos and destruction in Gaza.
Their work has been instrumental in bringing the harsh realities of the conflict to the forefront of public awareness, making them an invaluable asset to the global media landscape.
SP4G joins forces with press associations, including Reporters Without Borders, the Arab and Middle Eastern Journalists Association, and the International Federation of Journalists, in demanding an explicit commitment from Israel to end violence against journalists and civilians.
Fair coverage, against dehumanising rhetoric
Western newsrooms, which benefit significantly from the work of Gazan journalists, must take immediate steps to ensure their protection and condemn any actions that jeopardise their safety.
Moreover, we hold Western newsrooms accountable for any dehumanising rhetoric that may contribute to justifying the ethnic cleansing of Palestinians.
The international media has a responsibility to uphold journalistic integrity, ensuring fair and accurate coverage of the ongoing conflict.
The call for fair coverage and an end to oppression has been reiterated, and we urge our colleagues in Western media outlets to heed this call.
We also demand international bodies to facilitate an immediate ceasefire and instant aid to help the remaining population of Gaza and other affected areas.
As we call for a ceasefire in Gaza, SP4G remains vigilant in advocating for the safety and protection of journalists, upholding the principles of press freedom, and fostering a global media landscape that values truth and justice above all.
The world is watching, and history will remember our collective response during these critical times. - Mkini
SP4G
1. National Union of Journalists Malaysia (NUJ)
2. Gerakan Media Merdeka (Geramm)
3. Crime Journalist Association (CIJA)
4. Foreign Correspondent's Club Malaysia (FCCM)
5. Gabungan Kelab Media Malaysia (GKMM)
6. Kelab Wartawan KL & Selangor (KLS)
7. Persatuan Penulis-Penulis Sukan Malaysia (SAM)
8. Persatuan Wartawan dan Penulis Hiburan Malaysia (Wham)
9. Kelab Media Prima
10. Kelab Media Putrajaya
11. Kelab Media Mutiara Pulau Pinang (Mutiara)
12. Persatuan Pengamal Media Perak
13. Kelab Media Johor (KMJ)
14. Kelab Media Negeri Sembilan (Manis)
15. Kelab Media Kelantan Darul Naim (Kemudi)
16. Kelab Wartawan Media Terengganu (Kawat)
17. Pengamal Media Melaka (Pendika)
18. Kelab Media Pahang
19. Kelab Rekreasi Sukan dan Kebajikan Media Selangor (Kerisemas)
20. Kelab Komunikasi Pahang
21. Persatuan Wartawan Perlis
22. Kelab Media Elit Kedah (KMEK)
23. Persatuan Wartawan Wanita Malaysia (Pertama)
24. Kafebuzz Media
25. Kelab Met Harian Metro
26. Persatuan Kewartawanan Multimedia Malaysia (MMJA)
---
The views expressed here are those of the author/contributor and do not necessarily represent the views of MMKtT.