KUALA LUMPUR - Activist and graphic designer Fahmi Reza received a warning on Twitter from the police today after he posted a sketch of Prime Minister Datuk Seri Najib Razak in clown makeup on the microblogging site.
The Police Cyber Investigation Response Centre (PCRIC) reposted the sketch on its Twitter page this afternoon to Fahmi, urging the youth to exercise caution after informing him that his account is being monitored by the authorities.
Accompanying the sketch was the message, "Dalam negara yang penuh dengan korupsi, kita semua penghasut" (in a country full of corruption, we are all seditious).
"AccTwitter @kuasasiswa, acc anda dibwh pengawasan PDRM.Gunakan dgn berhemah&berlandaskan undang2.@KBAB51 @PDRMsia," @OfficialPcirc wrote.
[Translation: @kuasasiswa Twitter user, your account is under PDRM's watch. Use your account responsibly and according to the law]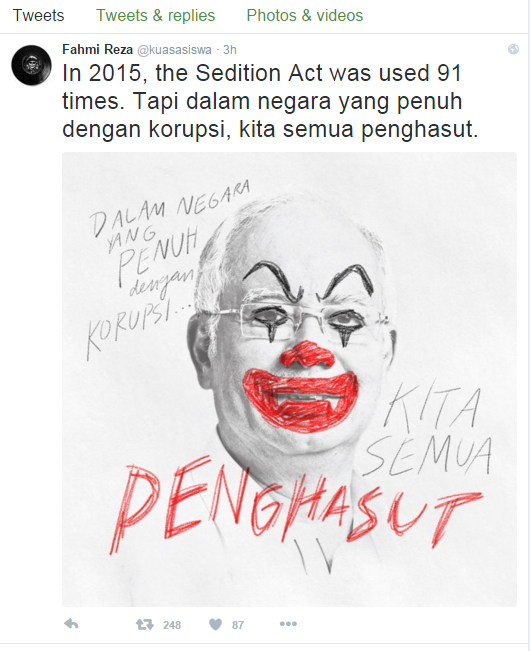 Fahmi was part of the student group that had occupied the historic Dataran Merdeka in 2012 to seek higher education reforms.
On December 29 last year, the High Court ruled that Fahmi's arrest was unlawful, and ordered both KL City Hall (DBKL) and the police to pay the activist compensation.
#OccupyDataran staged their camp-in after some 500 tertiary education students marched through Kuala Lumpur on April 14, 2012 to demand the abolition of the National Higher Education Fund.
Fahmi was detained by DBKL officers on April 22, 2012 when they were trying to clear the historic square of the #OccupyDataran campers.
- Malay Mail