Schools throughout the country will remain open tomorrow, the Education Ministry said, denying it issued a "press release" saying that schools in certain states are to close on October 1 due to the heavy smog situation.
In a Facebook post, the ministry said the hoax press release was being circulated on WhatsApp by irresponsible quarters, and urged people to refer to its official site as well its Facebook and Twitter accounts for correct information.
In the fake release, it was mentioned that schools in the Klang Valley, Negri Sembilan and parts of Sarawak had to close tomorrow due to unhealthy air pollutant index (API) readings but the ministry has clarified that this is not true.
Schools in Selangor, Kuala Lumpur, Putrajaya, Negri Sembilan and several areas in Sarawak were ordered to close on Monday after some locations registered very unhealthy air quality the previous day.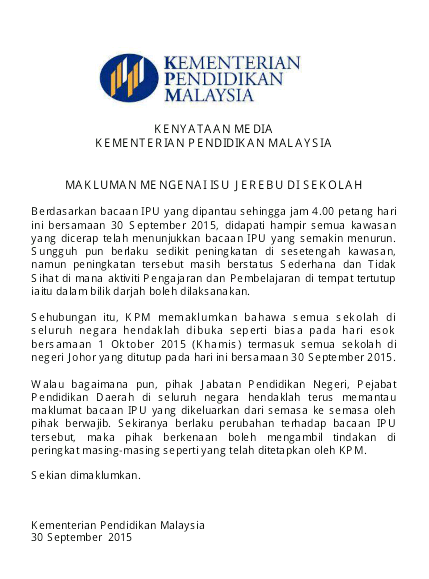 - TMI