KINIGUIDE | Last week, economist Muhammed Abdul Khalid suggested that ministers and MPs be placed on Employees Provident Fund (EPF) instead of receiving a pension.
His reasoning was that MPs should be placed in the same boat as the people and it would reduce the increasing burden of operating expenditure.
The former Khazanah Research Institute director's proposal, however, did not sit well with some current MPs.
In this segment of KiniGuide, we look into MPs' salaries and the differences between pensions and EPF schemes.
What is a pension scheme?
Employees in the public sector are covered by the government pension scheme, which provides several benefits for retirees, survivors, or disability.
Retirement benefits usually involve a monthly pension calculated on a formula varying upon the length of pensionable service credited to the retiring employee and the person's last drawn salary.
There are separate pension schemes for being an MP, senator, assemblyperson, executive councillor, Dewan Rakyat speaker, deputy minister, and prime minister, in which one stands to gain more with more positions held.
MPs are eligible for a pension scheme after having completed 36 months (three years) of service and will begin to receive their pensions upon reaching the age of fifty years old.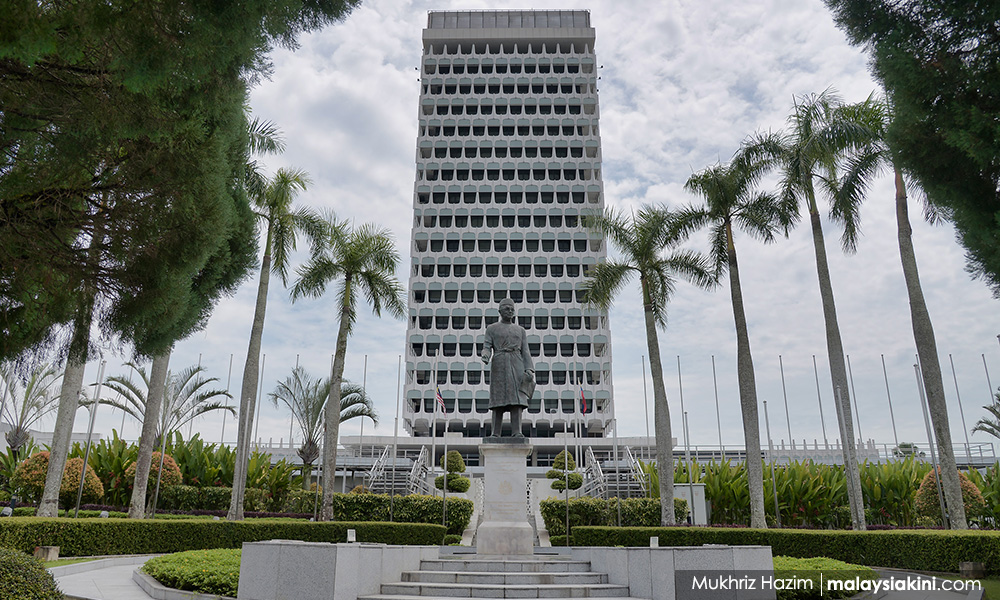 According to the Members of Parliament (Remuneration) Act 1980 (Act 237), these MPs are entitled to three-fifths, or 60 percent, of their salaries.
This would mean that if an MP's salary was RM16,000, the said lawmaker would receive RM9,600 monthly in pension.
Muar MP Syed Saddiq Abdul Rahman previously noted that other governmental posts during an MP's tenure could increase this pension - with some even amounting to RM100,000 a month.
But how much does an MP actually make?
This varies between an MP's various positions in the administration.
According to Statute Paper 235 of 1983 on the Official Portal of the Malaysian Parliament, an MP's monthly salary is RM16,000.
In addition, MPs are entitled to a phone allowance of RM900 and a fixed travelling allowance of RM1,500 a month without the need to submit any claims.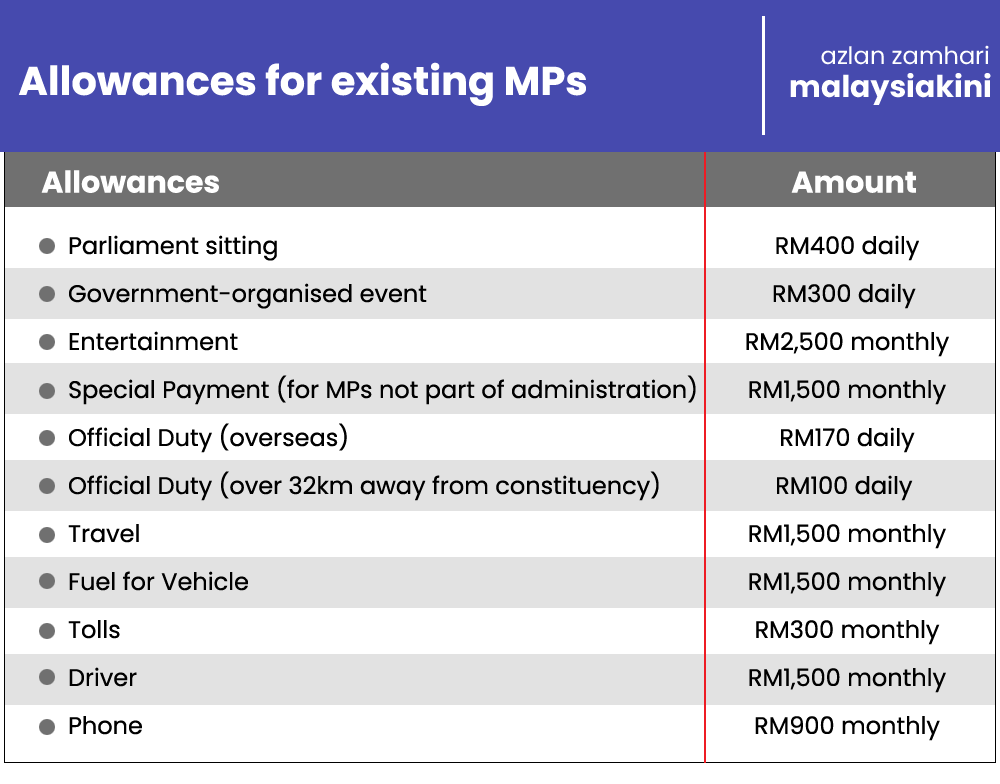 Extra benefits include getting a motor vehicle licence or a firearm permit free of charge, and MPs are also entitled to allowances for medical care, warm clothing, ceremonial and black tie attire, and loans for cars, housing, and computers.
However, additional positions a lawmaker holds provide for a different salary.
Per Act 237, a prime minister is paid RM22,826.65, whereas deputy prime ministers are paid RM18,168.15 monthly, on top of their existing salaries as MPs.
How do pensions compare to EPF?
The EPF is a retirement scheme set up by the government which consists of private sector employees, non-pensionable public sector employees, and voluntary contributors.
Eleven percent of an EPF contributor's salary is channelled into the fund, and the contributor's employer pays another 12 or 13 percent depending on the employee's salary.
EPF then invests the savings to give members a minimum dividend of 2.5 percent or more every year.
As opposed to pensions, EPF contributors are eligible to withdraw a lump sum amount upon reaching the age of 55.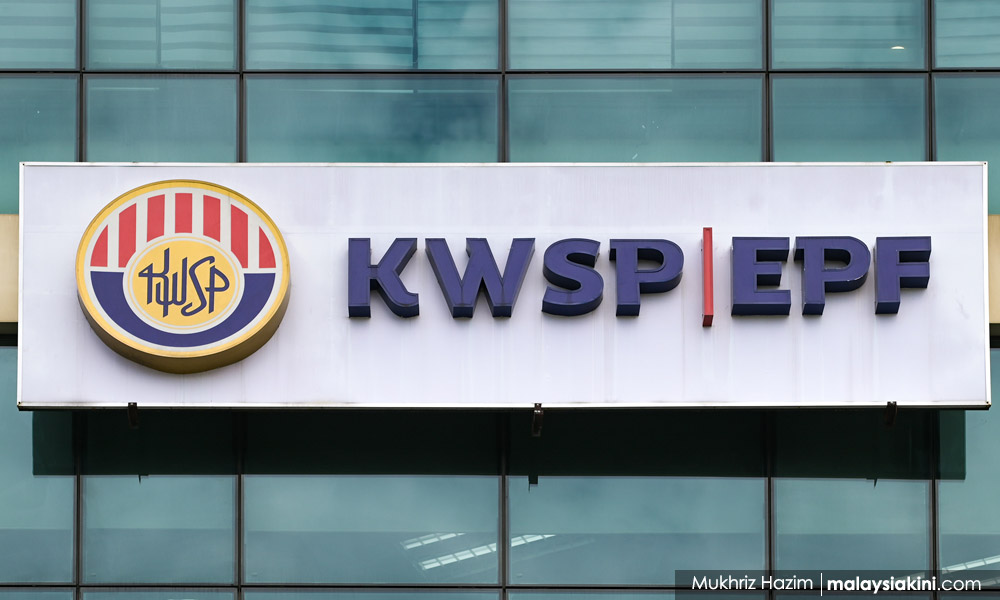 However, the government is reportedly looking into allowing contributors to withdraw their savings from the fund periodically to better manage their retirement funds.
EPF contributors are given several tax benefits when contributing to the fund.
Pensioners get extensive healthcare benefits on top of their monthly payments, as well as special rates for bank loans and discounts.
Will switching to EPF actually save the govt money?
Muhammed calculates that if a one-term MP is on EPF, the government will contribute approximately RM100,000 to the fund.
However, he said if the same MP receives a pension - and if the MP has the same life expectancy as an average Malaysian - it would cost approximately RM2.7 million.
"Multiply that with 222 MPs and 576 assemblypersons, and over a few terms, this amount is not insignificant. That's a lot of savings for the taxpayers.
"It is a fairer system. Why would taxpayers pay someone for their whole retirement period who only serves the rakyat for about five years?"
Muhammed argues that there is a significant pension burden on the country, with the current deficit estimated at about RM700 billion.
"This is more than double its figure of RM360 billion in 2016 and continues to grow.
"There is a need to manage if not reduce the gap, and what better way to start than to stop the pensions system for ministers and MPs," he said.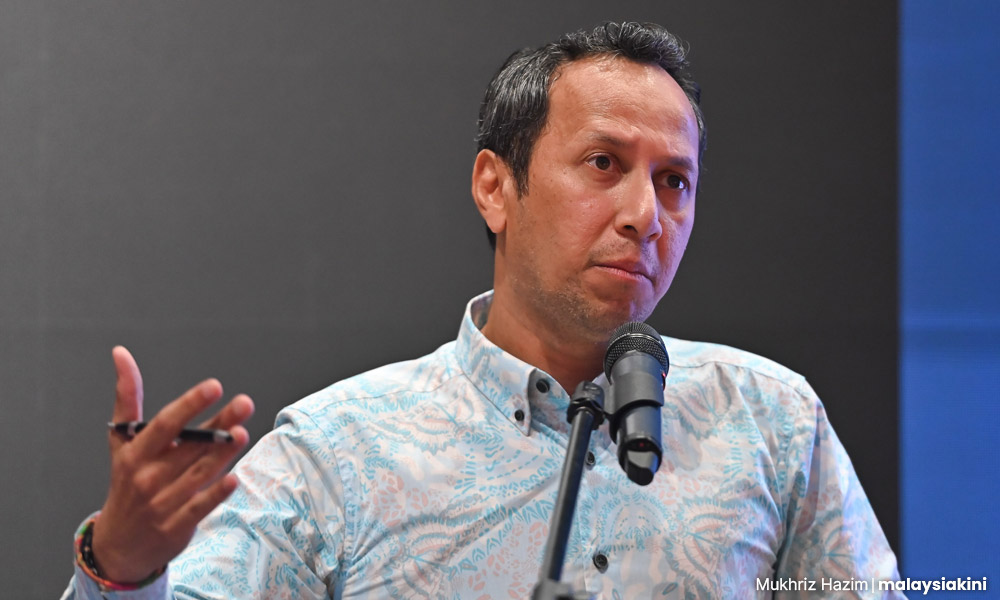 He attributes this growing deficit to growing life expectancy in Malaysia and rapid salary growth rates for the civil service over the last 10 years.
"Savings from the abolishment of pensions from the MPs and ministers should be channelled to improve the salary of our nurses, teachers, army personnel, and expanding the safety net for poor Malaysians," Muhammed said.
In 2021, then prime minister Ismail Sabri Yaakob said pension payments were expected to reach RM46.6 billion in 2030, up from RM26.38 billion in 2020.
Deputy Finance Minister Ahmad Maslan said that an estimated 32,000 new retirees are recorded every year and the government spends RM31 billion to pay the pensions of more than 900,000 retirees.
Of that number, 768,947 retirees include pension recipients issued under the Retirement Fund (Incorporated) (KWAP).
What do former reps have to say?
Former Balik Pulau MP Nungsari Ahmad Radhi agrees that MPs should not be placed on a pension scheme like civil servants.
Nungsari - an economist by profession - however opined that the pension scheme is a critical public finance issue that will not be solved merely by removing pensions for elected officials.
KWAP's unaudited gross funds only reached RM184.5 billion this year, but the government allocated RM21.9 billion in its 2023 national budget for pensioners and beneficiaries.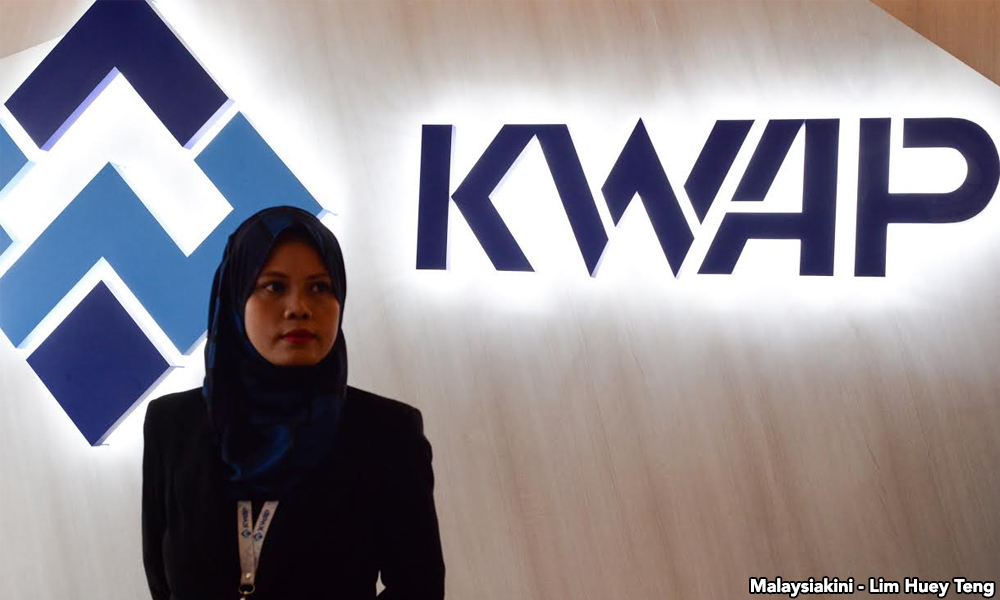 This means that the government would have to fork out funds from the budget in order to pay the pensions instead of paying it from KWAP's earnings.
Meanwhile, former Bangi MP Ong Kian Ming said that removing pensions may make some MPs even more unwilling to retire to continue receiving perks associated with being an elected representative.
"This proposal does not address the issue of the high risk which politicians face in terms of losing elections or not being fielded by their respective parties as candidates.
"Taking away the pension may contribute to an already long list of reasons why well-qualified Malaysians don't want to enter the political arena to serve as elected reps.
"I also do not see how the proposal to shift to an EPF system will make MPs more effective in their current role as public servants.
"It may even make some MPs even more supportive of allowing irresponsible early withdrawals of EPF savings since this will also affect MPs who are on EPF schemes," he added. - Mkini