SABAH POLLS | Elections in Sabah have always been unique from the rest of Malaysia and can be a confusing affair, with long candidate lists, a plethora of competing parties and its own ethnic dimensions.
Malaysiakini sifts through the election data and tries to answer some questions which have been posed by readers and staff.
Which seats changed hands?
A total of 19 seats changed hands between parties or independents during this election.
10 involved Umno, of which seven - all involving incumbents who won their seats in 2018 on a BN-Umno ticket - went to Gabungan Rakyat Sabah (GRS) alliance members Bersatu.
Two Umno seats were lost to independents and one to Warisan.
Warisan lost three seats, two to Umno and one to Star.
Upko lost four seats it won in 2018 when it was still a BN coalition member.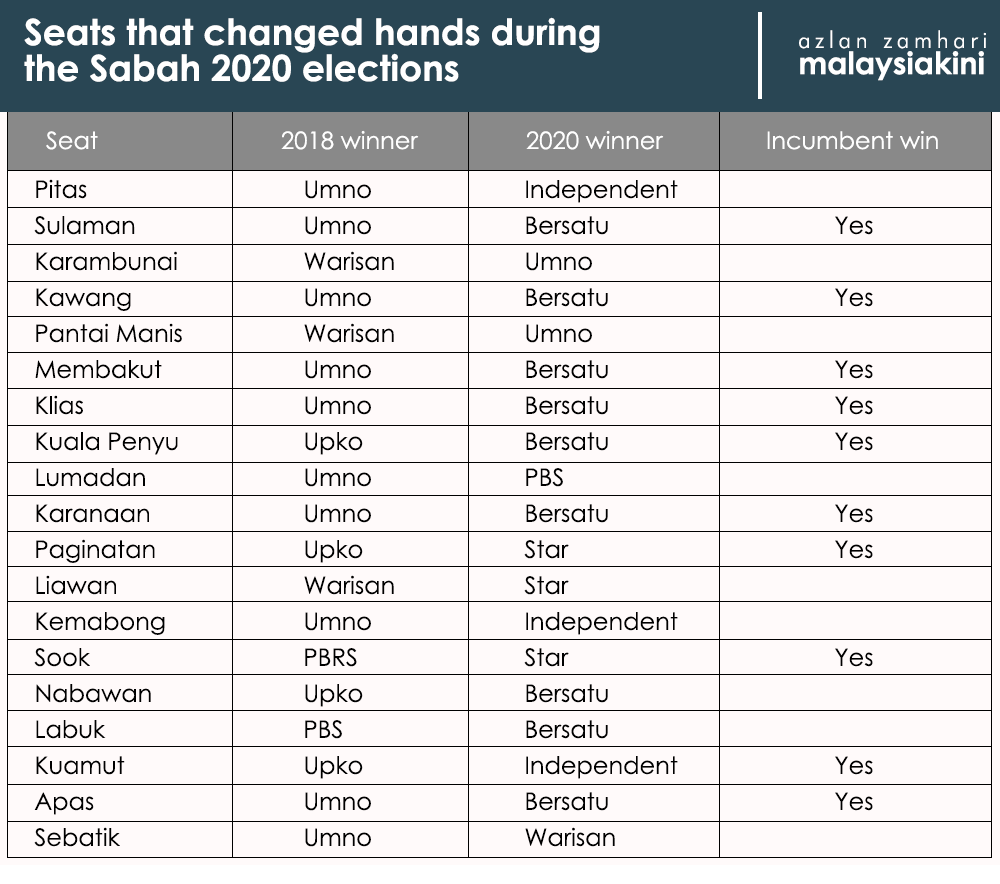 Did the 'friendly contest' matter to GRS?
Some GRS alliance members competed against each other for 17 seats. Normally, electoral pacts are formed to avoid this to increase winning chances.
However, it didn't matter for the alliance because they eventually did not deny each other a win.
Of the 17 seats, Warisan Plus parties won five - all of which, with more than 50 percent of the vote.
However, Warisan Plus was crushed in the contest for the 12 other seats where a GRS candidate eventually made it on top.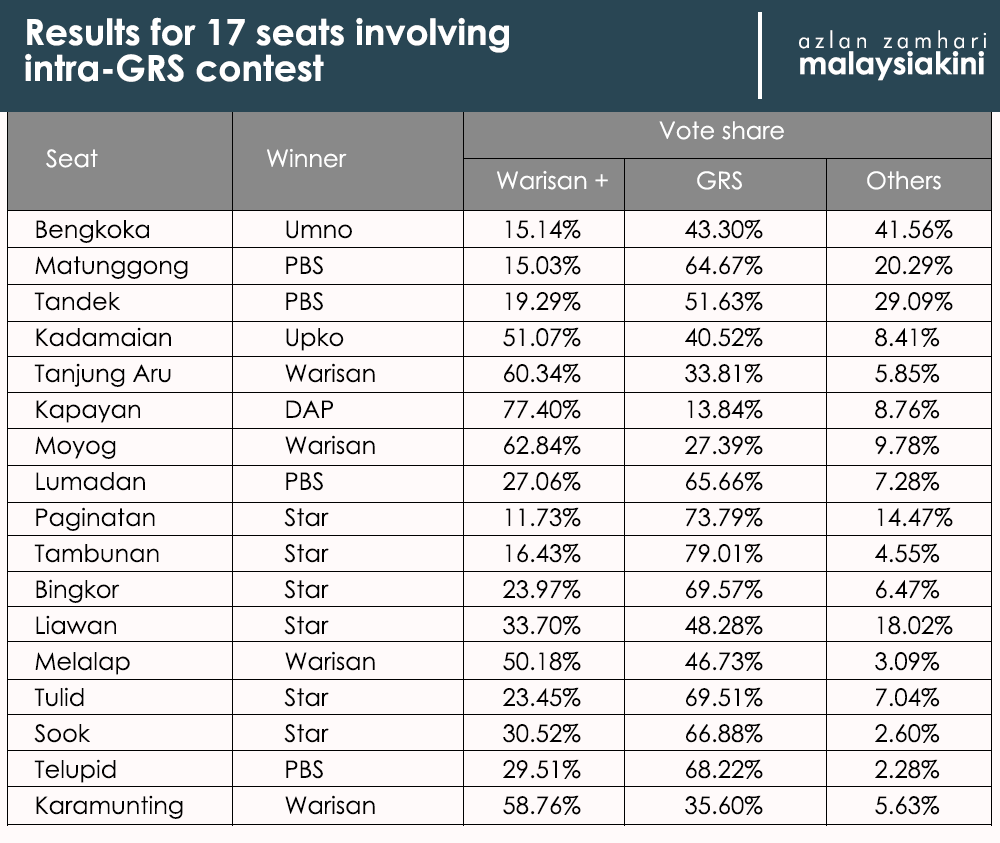 Who made the most net gains?
The Sabah 2020 election was a strange one that saw both main alliances - GRS and Warisan Plus - making net gains.
This was because there were 13 new seats added to the mix, bringing the total to 73.
Bersatu, which did not field any candidates in Sabah during the 2018 elections, had the largest net gain (+11), followed by Star (+4).
However, as discussed earlier, seven of Bersatu's winners were incumbents who won their seats on a BN-Umno ticket in 2018.

The biggest net loser was Upko (-5), followed by Umno (-3) and PBRS (-1).
Umno had won 17 seats in 2018 but won 14 this time around. It picked up five new seats, retained nine but lost hold of three seats.
Umno lost Lumadan to GRS alliance member PBS. It also lost Pitas and Kemabong to independent candidates.
However, it could be argued that if it had not been for splinter party Bersatu, Umno would likely have made the largest net gain of all parties.
Who won the popular vote?
Warisan Plus held a marginal lead (43.5 percent) over Gabungan Rakyat Sabah (43.2 percent).
In contrast, in 2018, Warisan and Pakatan Harapan took 47.19 percent of the popular vote while BN took 42.04 percent.
Who lost the most deposits?
There is no greater humiliation to a serious politician than the ignominy of losing an election deposit.
To lose one's deposit (RM5,000 for a state election), one would have to command less than an eighth of the valid votes.
The Sabah 2020 election has been a bonanza for the Election Commission (EC) as it was able to keep RM1,155,000.
Eight parties were able to keep a clean sheet, including Star, which saw a huge improvement from 2018 when six of their candidates lost their deposits.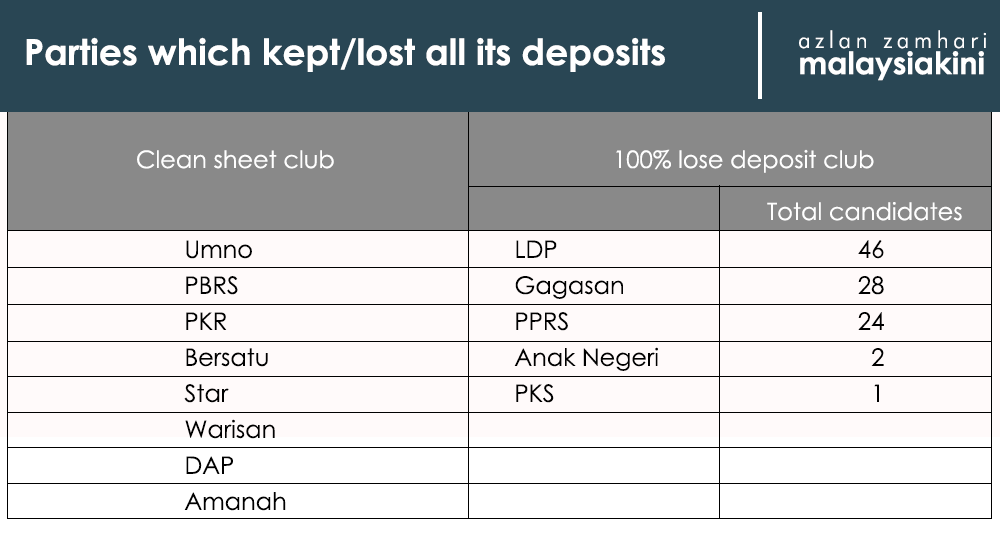 Five parties had all their candidates lose their deposits. Leading the pack was the former ruling party Liberal Democratic Party (LDP) at 46.
Its former president and former chief minister Chong Kah Kiat could only muster 9.5 percent of the vote share in Inanam.
The crown for the party that lost the most seats goes to Parti Cinta Sabah, with 68 candidates who lost their deposits, contributing a total of RM340,000 to the EC.
In second place is a tie between LDP and the United Sabah National Organisation (Usno) at 46.
Two ruling GRS parties - MCA and Sabah Progressive Party (Sapp) - had candidates who lost their deposits as well.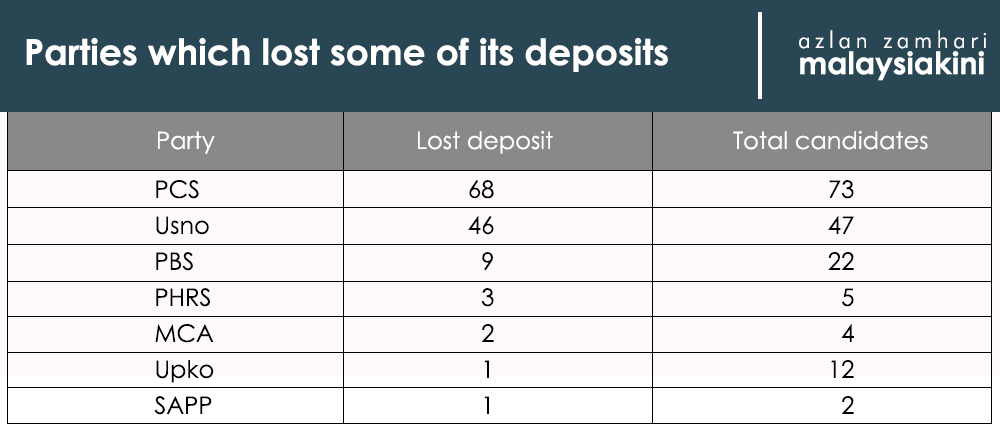 Twelve out of 56 independent candidates managed to keep their deposits, of which three ended up winning.
Prospective independent candidates should take note: In the event of multiple independent candidates, it is better to be placed higher on the ballot slip.
The Sabah 2020 election results saw none of the independent candidates who were placed below the first spot on the ballot slips retaining their deposit.
How did the defectors do?
Generally, pretty well.
There were 19 state lawmakers who defected after being elected in 2018 and stood for elections again on Sept 26.
The results showed that of that figure, only seven lost. A more detailed analysis of defector performance can be found here.
Did the lower turnout rate tilt the balance?
In 2018, the turnout rate for the Sabah polls was 77 percent. This time around it was 66.1 percent.
The areas worst-hit by Covid-19 - south-east Sabah areas of Lahad Datu, Semporna, and Tawau - saw considerably lower than the average turnout of 55.72 percent.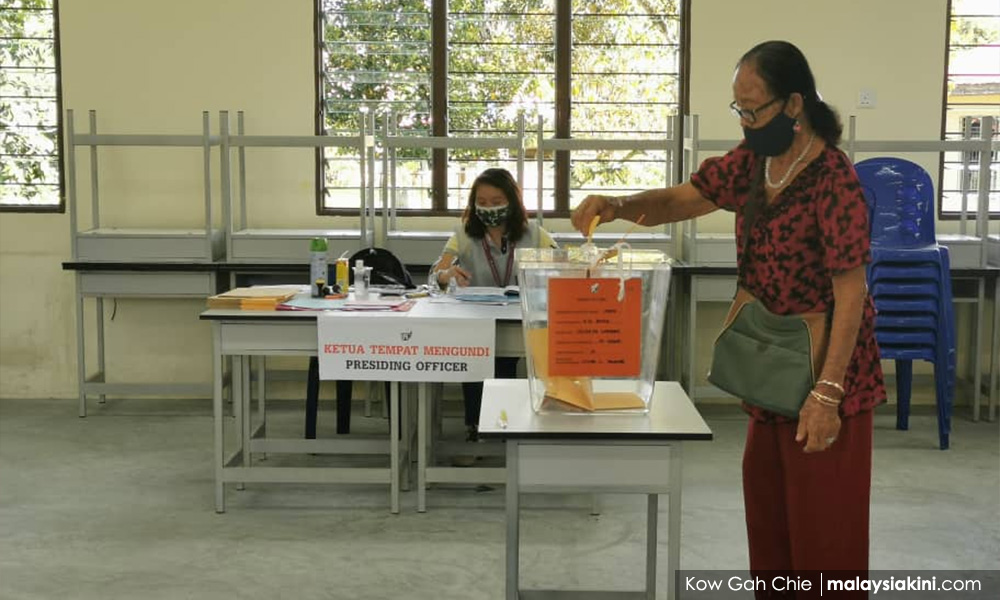 This lower turnout is unlikely to have much impact on the polls in these areas with no party making real net gains (Bersatu's victory in Apas was the result of fielding an incumbent).
Overall, as discussed at the start of this article, only a few seats actually changed hands. So, it would be difficult to argue that the lower turnout rate affected the polls as a whole.
Meanwhile, long-time Malaysia watcher Bridget Welsh offers a different take. Read her preliminary analysis here.
Did malapportionment help any party?
Sabah is a state where the voter weightage is highly skewed towards rural areas - 59 percent of the 73 seats have fewer voters per constituency than the state average of 15,405.
For instance, Banggi has 5,961 eligible voters and a vote here is worth five times more than Kapayan, which has 30,034 voters.
Although it is clear from the table below that some parties are more successful in smaller constituencies, it should be noted that Warisan, Umno, Bersatu and Star did win seats that had an above-average number of voters.
Warisan had the best spread of all parties. Ten out of its 23 winners won in seats which had more voters than the state average.