The government will set up the Shared Prosperity Action Council which will act as a top-level monitoring mechanism so that the objectives of the Shared Prosperity Vision 2030 (SPV2030) can be achieved.
Prime Minister Muhyiddin Yassin said SPV2030 is a core policy in the country's development for the next 10 years, and therefore such a council must be established so that there is a direct positive impact on the people and the country.
"I will chair the council, and the Shared Prosperity Delivery Unit (Sepadu) will act as the council secretariat and the committees under it.
"Sepadu was established in March to lead the coordination and monitoring functions of the programme's implementation, initiatives and also projects under SPV2030," he said at the MakmurBersama @ Kuala Lumpur Town Hall session organised by Institusi Masa Depan Malaysia (Masa Institute) today.
Also present were Education Minister Radzi Jidin and Communications and Multimedia Minister Saifuddin Abdullah.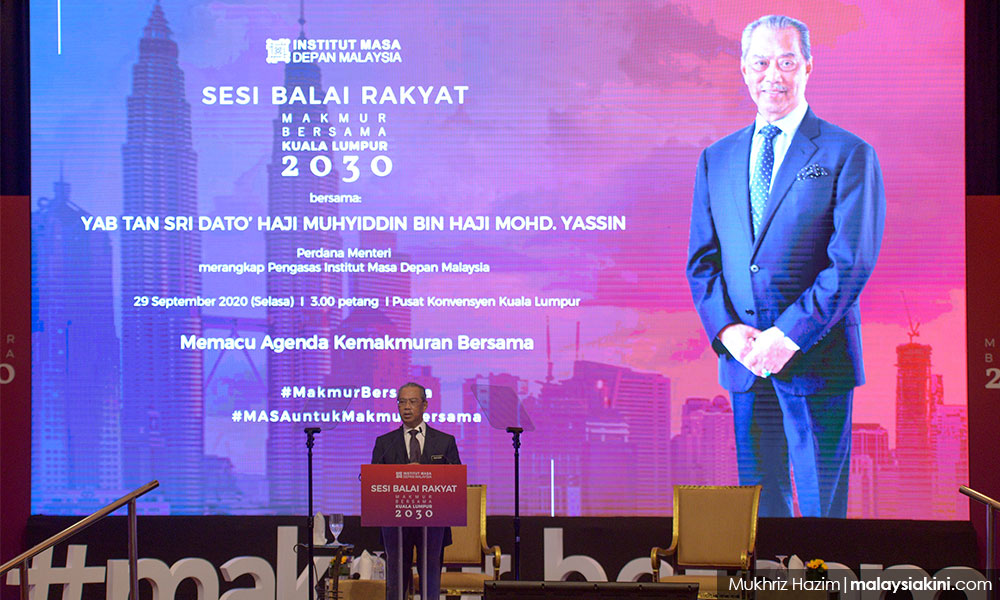 He said to ensure that the objectives set in SPV2030 are achieved, each party involved in the implementation of programmes, projects and initiatives will also be given key performance indicators and targets according to the 15 key economic growth activities cluster.
At the same time, Muhyiddin, who is also the founder of the Masa Institute, said the government was aware that the Covid-19 pandemic had affected several strategic thrusts of SPV2030 apart from causing many economic sectors in the country to be affected.
"Our economic sectors are affected and are currently in the process of recovery. I feel that the implementation of initiatives under SPV2030 as determined in its early stages of being formulated may need to be re-examined taking into account the effects of the Covid-19 pandemic," he said.
The prime minister said the problem was now being actively addressed through the initiative of the Prihatin and Penjana stimulus packages.
For example, Thrust 1 and 2 of SPV2030, namely business and industrial ecosystems as well as key economic growth activities, through the Prihatin special grants (micro SMEs) the government has channelled financial assistance on a one-off basis specifically to alleviate the financial burden of businesses affected by the Covid-19 pandemic, Muhyiddin added.
He also reassured the people that under SPV2030, no one will be left behind.
"Prosperity is colour blind. It must not discriminate against anyone. Regardless of whether you are a Malay, Chinese, Indian, Sikh, Iban, Kadazan, Dusun, Murut, Bidayuh, Bajau, Melanau, Orang Asal, all of you have the right to be prosperous and successful in this country," Muhyiddin added.
He also expressed confidence that if SPV2030 was implemented properly, it will be a solution model for issues concerning global inequality.
- Bernama