Sabah Bersatu chief Hajiji Noor has been sworn in as the new chief minister of Sabah.
He will have three deputies, who are Sabah BN chief Bung Moktar Radin, Star president Jeffrey Kitingan, and PBS vice-president Joachim Gunsalam.
Bung will also hold the portfolio as Sabah housing and local government minister, while Kitingan will be state minister of agriculture and food industries, and Joachim as the state minister of trade and industry.
Also sworn in today are Sabah Bersatu deputy chief Masidi Manjun as state minister of works, and PBS secretary-general Jahid Jahim as state rural development minister.
The swearing-in ceremony took place before Sabah Governor Juhar Mahiruddin at the state palace in Kota Kinabalu.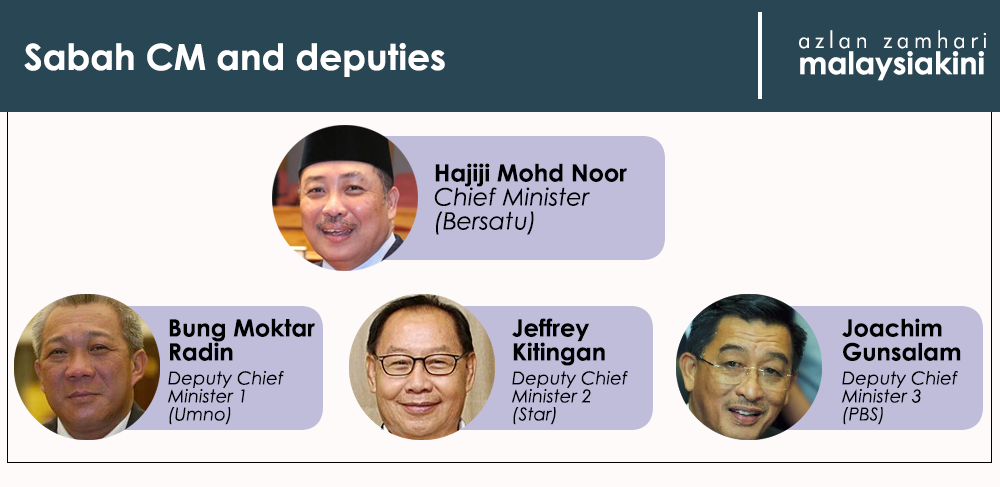 Among those present at the event were Defence Minister Ismail Sabri Yaakob and Agriculture and Food Industries Minister Ronald Kiandee.
Perikatan Nasional, BN and PBS - collectively known as Gabung Rakyat Sabah (GRS) - won the state election on Saturday with 38 of the 73 seats.
They have since secured the support of three independent assemblypersons.
Warisan Plus, meanwhile, won 32 seats.
The appointment of Hajiji as chief minister came after intense discussions on Sunday and Monday.
Bung was previously tipped to be a top contender for the post, especially after Umno won 14 seats, the biggest party in GRS, while Bersatu won 11.
However, Bersatu, as part of PN with Star, is the biggest sub-coalition in GRS, with 17 seats.
Umno president Ahmad Zahid Hamidi claimed that the other Umno assemblypersons pressured Bung into accepting a compromise. - Mkini