PKR secretary-general Saifuddin Nasution said Muhyiddin Yassin should stop trying to prop up his "weak" government after another two MPs from the party defected to support the prime minister.
He also apologised to voters for the defection of Julau MP Larry Sng and Tebrau MP Steven Choong and said they have been sacked for their action.
"Despite the betrayal by two MPs today, Muhyiddin should realise that a majority of MPs no longer support him.
"He should not try to maintain his weak government and gracefully resign in accordance with the Federal Constitution," the Kulim-Bandar Baharu MP said in a statement today.
Saifuddin (above) accused the government of trying to maintain power by threatening or enticing MPs.
In December last year, Muhyiddin managed to get Budget 2021 passed with 111 MPs. There are 220 MPs in the House and two vacancies.
Since then, Umno's Padang Rengas MP Mohamed Nazri Abdul Aziz and Machang MP Ahmad Jazlan Yaakub have withdrawn their support for the prime minister.
But their withdrawal is now offset by Sng and Choong backing Muhyiddin.
A group of rebel Umno MPs have also been critical of Muhyiddin but they have yet to formally renounce Muhyiddin.
Saifuddin said the PKR leadership council meeting today discussed the defection and decided to take legal action against those who won their parliamentary seats under the party's ticket in the last general election.
This means Choong will be the only person to face legal action as Sng won his seat as an independent in the last general election and only joined PKR later on.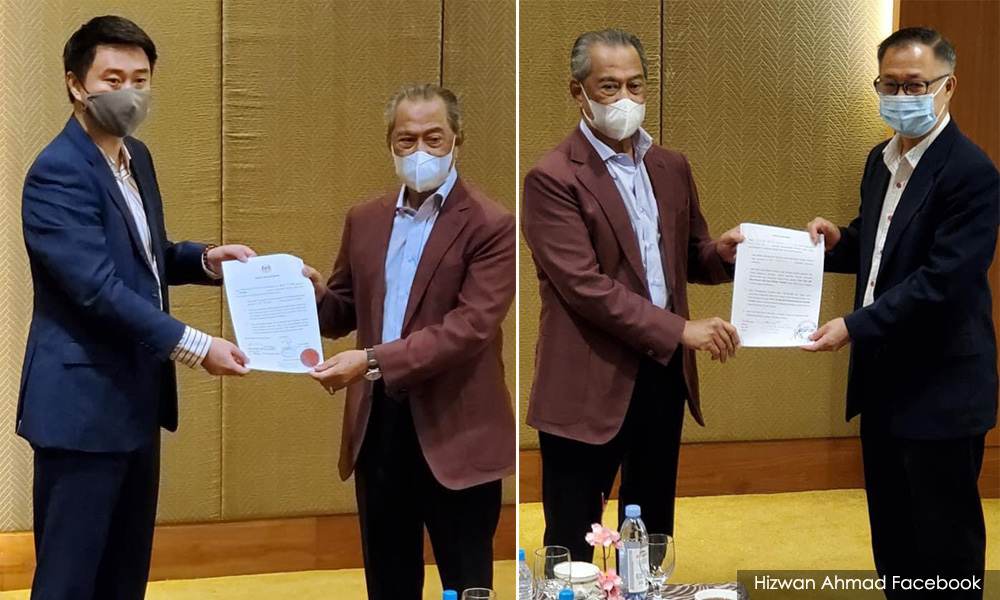 Meanwhile, DAP's Bukit Gelugor MP Ramkarpal Singh criticised both the defection of PKR MPs to Muhyiddin and also PKR's move to recruit three Johor assemblypersons from coalition ally Amanah.
The intra-coalition defection came to light yesterday. Previously, PKR had also recruited two Selangor assemblypersons from Amanah.
"Party hopping is anathema to any democracy as it can destabilise any government, more so a fragile one like our current Perikatan Nasional government.
"I have said this many times before, and I will say it again. Party hopping must stop and be outlawed.
"Any government of the day that proposes this by way of a constitutional amendment in Parliament will certainly have my vote," he said.
With regard to Sng and Choong's defection, Ramkarpal said the reason they have given about the need for funds for their constituencies was laughable.
"I say so because very few in Pakatan Harapan expected to be in government after the 14th general election.
"In other words, these representatives expected the real possibility of being in the opposition after the 14th general election without government funds for their respective constituencies, myself included.
"It has never been about funds for the constituency but more about the cause of creating a better Malaysia. A Malaysia free from corruption, a Malaysia free from politics of patronage, a Malaysia free from kleptocrats, amongst others," he said. - Mkini