PKR and Amanah Youths have traded barbs after Amanah deputy president Salahuddin Ayub last night said it was inappropriate for PKR to accept three Johor Amanah assemblypersons into its ranks.
PKR Youth secretary Syukri Razab (above) said Salahuddin may have been confused in differentiating between enemies and friends of Amanah, while Amanah Youth chief Shazni Munir Mohd Ithnin outrightly condemned the move.
Responding to Salahuddin's rebuke, Syukri questioned whether PKR should have rejected the trio, and two other former Amanah assemblypersons, whose hearts are no longer with Amanah.
"By right, Salahuddin should have thanked PKR for giving an alternative space for these three leaders to remain loyal to Pakatan Harapan.
"It is even more inappropriate for Salahuddin to negatively view the move by these three leaders when they had chosen PKR instead of Bersatu, Umno or PN," said Syukri.
Shazni, however, said the act of party hopping among elected representatives is tantamount to "prostitution of democracy", which had brought down the previous Harapan federal government.
He also warned PKR against its hypocritical stand, following PKR secretary-general Saifuddin Nasution's remarks yesterday that condemned alleged attempts to coerce PKR MPs into leaving the party.
"PKR president Anwar Ibrahim should honour the common determination to reject party hopping among component parties that clearly favoured one party and caused a loss to the other.
"This politics of sabotage should not be encouraged," said Shazni.
Taking to Twitter last night, Salahuddin said based on Harapan's spirit of camaraderie, it was inappropriate for any component party to take in any allied party's members.
His tweet included a screenshot of Malaysiakini's article on three Johor lawmakers - Khairuddin A Rahim (Senggarang), Muhamad Said Jonit (Mahkota) and Faizul Amri Adnan (Serom) - defecting from Amanah to PKR.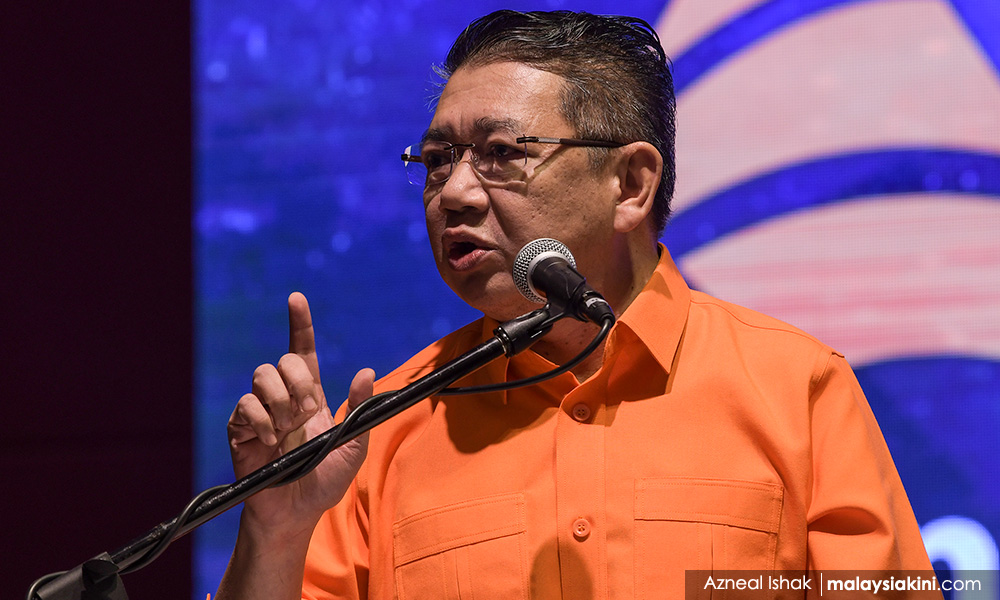 Last year, two Selangor assemblypersons from Amanah - Mohd Fakhrulrazi Mohd Mokhtar (Meru) and Ahmad Mustain Othman (Sabak) - also joined PKR.
Commenting further, Syukri claimed Salahuddin appeared to be "extra touchy" over PKR's acceptance of Amanah's representatives.
"But how about Salahuddin's own action to still remain close with groups that refused to be together in Harapan and in fact often openly attacked PKR's president?
"Salahuddin should self-reflect and keep a distance from the attitude of his old party that likes to play 'two-faced' or 'two ponds' politics. Wanting to be together with PKR but at the same time refusing to leave Mahathir Mohamad's veil (of influence)," said Syukri.
Syukri also reminded Salahuddin that a faction of PKR leaders had defended Selangor Amanah when then menteri besar and PKR deputy president, Azmin Ali, who is now with Bersatu, chose to retain PAS in the state government even after the party had cut ties with PKR.
Given the history, Syukri said it would now be grossly unfair for Salahuddin to judge PKR as breaking the spirit of camaraderie by providing an alternative platform for former Amanah members who chose to remain loyal to Harapan's struggles.
Syukri said Amanah should also respect PKR's stand to not have ties with rival parties, including by not issuing any joint statements without their knowledge.
"I believe this act of 'playing two ponds' has sparked unhappiness within Amanah members.
"Maybe, this is what had caused Amanah members to join PKR which they viewed to be more principled," he added.
The defection of a group of PKR MPs led by Azmin was directly responsible for the collapse of the Harapan administration a year ago.
'Amanah should review ties with PKR'
Meanwhile, an Amanah division in Kuala Lumpur has urged the party's central leaders to review its ties with PKR, as well as its position in Harapan.
Amanah Bukit Bintang, in a statement signed by its six leaders headed by Ahmad Asri Thalib, said PKR's move will further strain ties between Harapan components and an assault to its spirit of camaraderie.
"We also fully support Amanah deputy president Salahuddin Ayub's statement expressing regret over a Harapan ally's move to accept defecting Amanah assemblypersons.
"This act shows a lack of agreement in the pact," said the division leaders, who also includes Salahuddin's daughter, Fatihah, as its young women's wing chief. - Mkini