Former SRC International director Mohammed Azhar Osman Khairuddin seeks 1MDB's former CEO Shahrol Azral Ibrahim Halmi and another to fully indemnify him against SRC's US$1.15 billion (RM4.8 billion) lawsuit.
Azhar seeks full indemnity as SRC dropped Shahrol and its former chairperson Ismee Ismail as defendants in its suit.
Previously, SRC was suing not only Azhar, Shahrol, and Ismee, but also former prime minister Najib Abdul Razak, SRC's former directors Suboh Md Yassin and Che Abdullah @ Rashidi Omar, and its former CEO Nik Faisal Ariff Kamil.
However, on July 30, it was reported that SRC withdrew the lawsuit against Ismee and Shahrol, with no liberty to file afresh.
As of now, the five defendants still targeted by SRC's lawsuit are Najib, Suboh, Azhar, Che Abdullah, and Nik Faisal.
The suit is one of the 22 launched by 1MDB and its former subsidiary SRC, against various personalities and entities who purportedly defrauded them, whether knowingly or unknowingly.
Shahrol previously testified against Najib in the ongoing RM2.28 billion 1MDB corruption trial, while Ismee gave evidence against the former premier in the RM42 million SRC corruption trial.
Azhar's lawyers, from law firm Messrs Chooi & Company + Cheang & Ariff, filed the third party application at the Kuala Lumpur High Court on Aug 27.
According to the application sighted by Malaysiakini today, Azhar seeks for Shahrol and Ismee, together as third parties, to fully indemnify him against all losses he may incur from an adverse ruling in the SRC lawsuit.
Azhar also seeks for Shahrol and Ismee to bear his legal costs in defending himself against SRC's suit.
Azhar contended that the alleged fraudulent transactions complained in the suit took place when Shahrol and Ismee were members of SRC's board.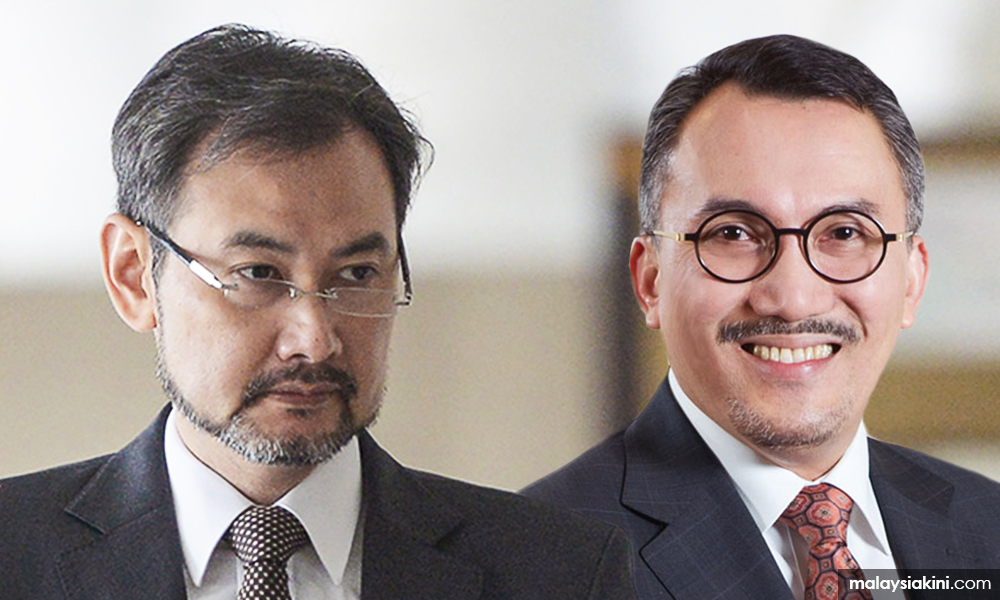 He claimed that Shahrol was a member of SRC's board from Aug 1, 2011 until resigning on May 15, 2012, and that Ismee was a board member from Aug 1, 2011 until Aug 15, 2014.
Among the alleged transactions Azhar was referring to were the issuance of a total RM4 billion loans from Retirement Fund Incorporated (KWAP) to SRC's account on Aug 29, 2011 and March 28, 2012.
The issue of the KWAP loans took centre stage in the RM42 million SRC corruption trial, which saw Najib convicted last year and sentenced to a RM210 million fine and 12 years in jail.
However, the High Court allowed a stay of execution of the fine and custodial sentence, pending Najib's appeal to the Court of Appeal.
"D4 (fourth defendant Azhar) states that there is no reason under the law or fact to make him responsible or accountable to the plaintiff (SRC) as a constructive trustee regarding the issuance of the KWAP loans to SRC's AmIslamic accounts on Aug 29, 2011 and March 28, 2012 respectively, and at the material time where D4 was not a director or officer in any capacity to the plaintiff, unlike the First Third Party (Shahrol) and Second Third Party (Ismee).
"Therefore, in the unlikely event that D4 is found liable for any or all of the plaintiff's claims, D4 seeks for the First Third Party and/or the Second Third Party, whether jointly or separately, to be found responsible to indemnify or contribute as determined appropriate by this honourable court, over any loss (that may be incurred by Azhar) from the plaintiff's claim, in the like event if the First Third Party or Second Third Party were the ones being sued by the plaintiff," Azhar contended.
Azhar further contended that as he was not a board member at the material time, he had no knowledge not only about the RM4 billion KWAP loans but also of the other transactions that are the focal points of dispute in the lawsuit.
According to the online cause list at ecourtservices.kehakiman.gov.my, SRC's legal action will come up for online case management before the Kuala Lumpur High Court on Sept 3.
Malaysiakini is attempting to reach out to legal teams representing Azhar, Shahrol, and Ismee over the matter. - Mkini