The probe against Ronnie Liu does not make any sense in the context of the laws and legal thresholds in Malaysia.
"Nor does it make any sense for the police to take action and initiate investigations based on a social media posting describing the political situation in another country," relayed Suara Rakyat Malaysia (Suaram), the Coalition for Clean and Fair Elections (Bersih 2.0) and the Center for Independent Journalism (CIJ) in a joint statement today.
The statement was signed by Suaram director Sevan Doraisamy, Bersih 2.0 executive director Yap Swee Seng, and CIJ executive director Wathshlah G Naidu.
The statement followed the probe against the Sungai Pelek assemblyperson over his Facebook post suspected of containing seditious elements against the Yang di-Pertuan Agong.
Liu was detained at the Petaling Jaya district police headquarters and released on police bail today.
He was investigated under the Sedition Act 1948 and the Communication and Multimedia Act 1998.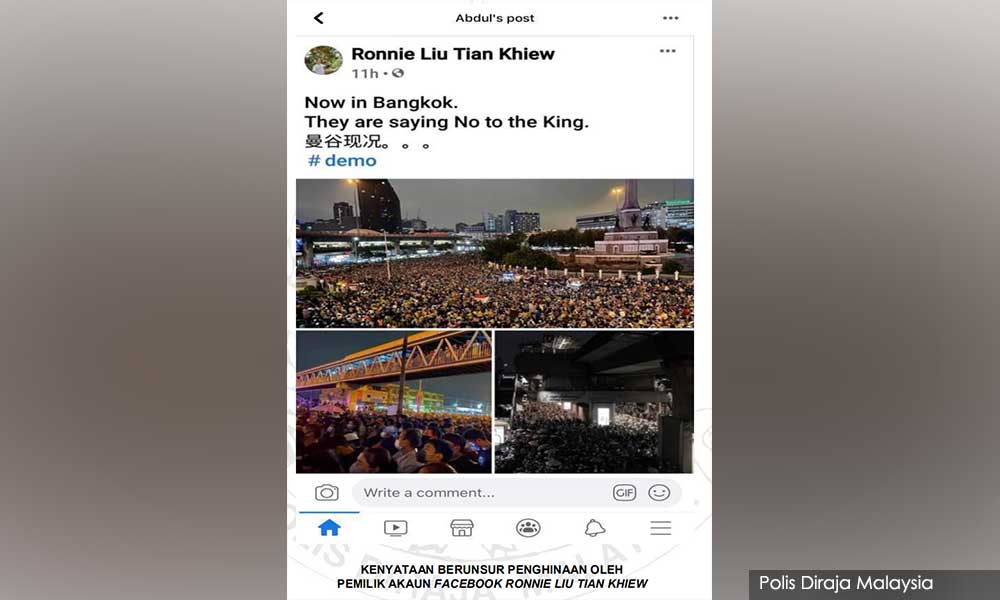 "It is farfetched for the police and the 'public' complainant to read into the post and insinuate that such a post can be construed as an affront to the Malaysian monarchy," read the statement.
They further explained that the Sedition Act 1948 as legislation is purely domestic in its nature and does not outlaw any commentaries or critique against foreign governments or other entities.
They urged the police to explain the context that the Sedition Act 1948 was cited and used to arrest and detain Liu.
"Failing to do so, the police can only be described as acting arbitrarily and against Malaysian law and Malaysian interest as they have arrested and detained a people's representative for a mere notification on the political development of a neighbouring country without any due justification."
They reminded that the Independent Police Complaints and Misconduct Commission (IPCMC) must be in place to investigate police misconduct.
They also reiterated their call for the Sedition Act to be abolished.
In his posting, which Liu said was made two weeks ago, the latter had published photographs of the protest in Thailand, with the caption: "Now in Bangkok. They are saying no to the king."
The post also contained Chinese text which reads: "Current situation in Bangkok."
His posting had made the rounds on social media, with certain quarters asking if he was instigating Malaysians to do the same. - Mkini