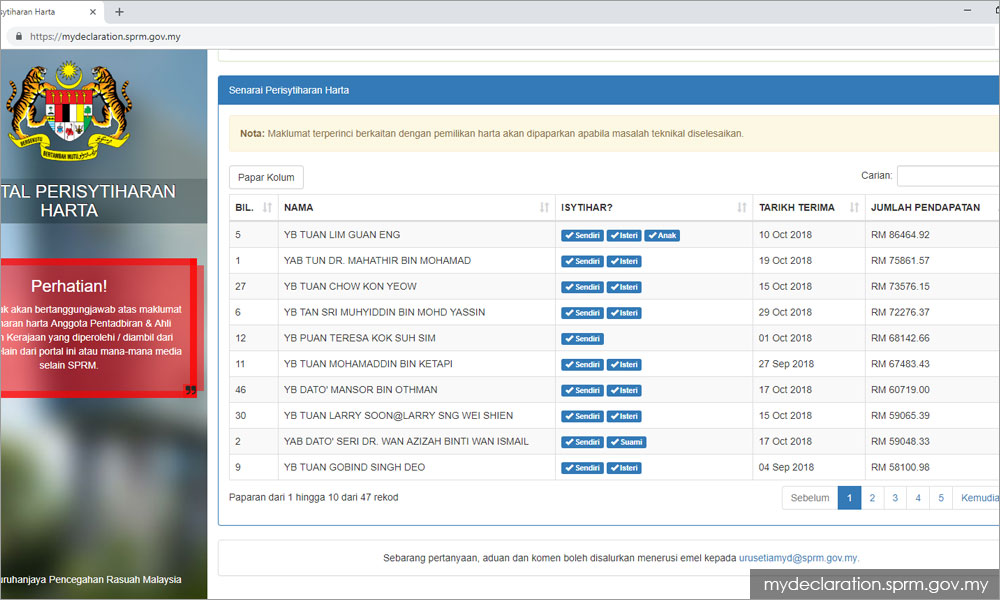 Details regarding the income of Pakatan Harapan and Parti Warisan Sabah lawmakers, who have declared their assets to MACC, have been published on the
commission's website
.
MACC said it would publish the full details after "technical problems" are resolved.
At present, Finance Minister Lim Guan Eng topped the list with an income of RM86, 464.92 followed by Prime Minister Dr Mahathir Mohamad with RM75, 861.57.
As for Lim, the website stated that his wife and children have also declared their assets. Whereas for Mahathir, only his wife Dr Siti Hasmah Ali has declared.
Mahathir's son Mukhriz, who is also the Kedah menteri besar, is among the 77 Harapan MPs who have yet to declare their assets.
Meanwhile, Deputy Prime Minister
Wan Azizah Wan Ismail is in the ninth spot with an income of RM59,048.33.
Her husband PKR president-elect Anwar Ibrahim and daughter Nurul Izzah are not on the list.
MACC said a total of 46 lawmakers have declared their assets, but the website contains 47 names. There are no details for two of the names on the list - Minister in the Prime Minister's Department P Waythamoorthy and Johor exco member Wong Shu Qi.
The commission also said that 19 out of 30 lawmakers with government posts have declared their assets. -Mkini