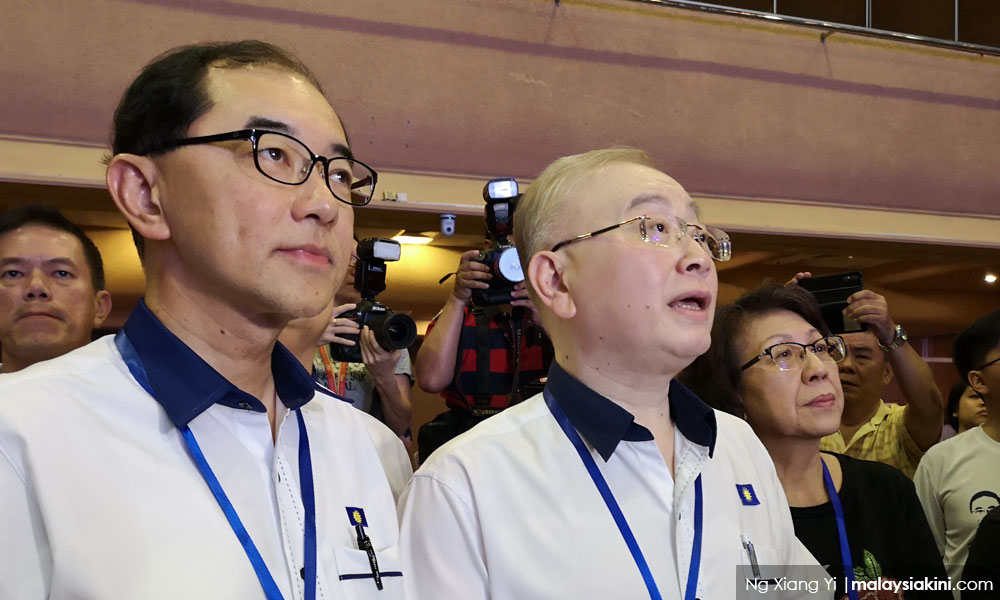 MCA will decide at its annual general assembly tomorrow whether the party will quit BN or push for the coalition's dissolution, MCA deputy president Dr Mah Hang Soon (above, left) said today.
"While the Chinese community opines that we should leave BN, it is undeniable that MCA, as a founding partner of BN, has forged a 'sink or swim' together relationship with Umno and MIC since Independence.
"At a time when BN is at its lowest point after an unprecedented heavy defeat, questions remain whether we should just walk away or invoke our position as a founder to request for the dissolution of BN," he said when officiating MCA Youth's annual general assembly today.
This is the choice MCA and its members will have to make for the future, he added.
Following the decision, he said, BN component parties will be free to re-establish themselves for self-survival and co-operate with other parties with a similar vision to form a new alliance.
BN, once a coalition of 13 parties is now left with Umno, MCA and the MIC after the other component parties quit the coalition following the 14th general election.
Following calls for the Chinese-based party to leave BN for good, MCA will allow its members to make the final decision at the party's AGM tomorrow.
Meanwhile, MCA Youth did not put up a resolution to urge the party to quit BN at the wing's AGM held today.
"We did not touch about this in our resolution but (I mentioned) it in
my speech
," said newly minted MCA Youth chief Nicole Wong.
The decision was for MCA's main body to make, she said.
There were no BN logos spotted at the venue at the MCA Youth AGM venue while the BN theme song was not sung during its opening.
BN Youth leaders from other parties were also not invited to attend the AGM. - Mkini