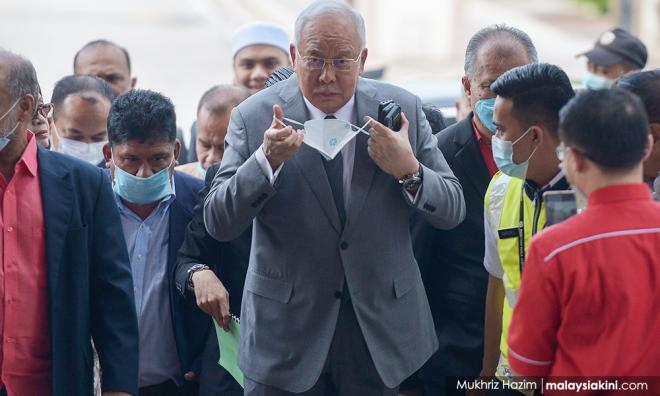 The prosecution was allowed to amend the charge against Najib Abdul Razak over the alleged tampering of the 1MDB audit report.
The Kuala Lumpur High Court today allowed the application by lead DPP Gopal Sri Ram during open-court proceedings.
Judge Mohamed Zaini Mazlan ruled that the former prime minister would not suffer any prejudice or injustice from the amendment.
The judge noted that the amendment came after only eight days had elapsed during the prosecution stage of the trial.
He pointed out that only seven prosecution witnesses had taken the stand and that they have not been fully cross-examined by Najib's defence team.
"Even if this amendment resulted in the goal post being shifted, it will still remain within the pitch. They (Najib's defence) will still be able to aim their shots.
"I am confident the defence has ample time and opportunity to prepare their case based on the amendment to the charges. I will, on my part, try my utmost to ensure they are not put to any disadvantage.
"I am therefore of the view that the amendment will not cause prejudice or cause injustice to the accused," he said, following submissions by parties earlier this morning.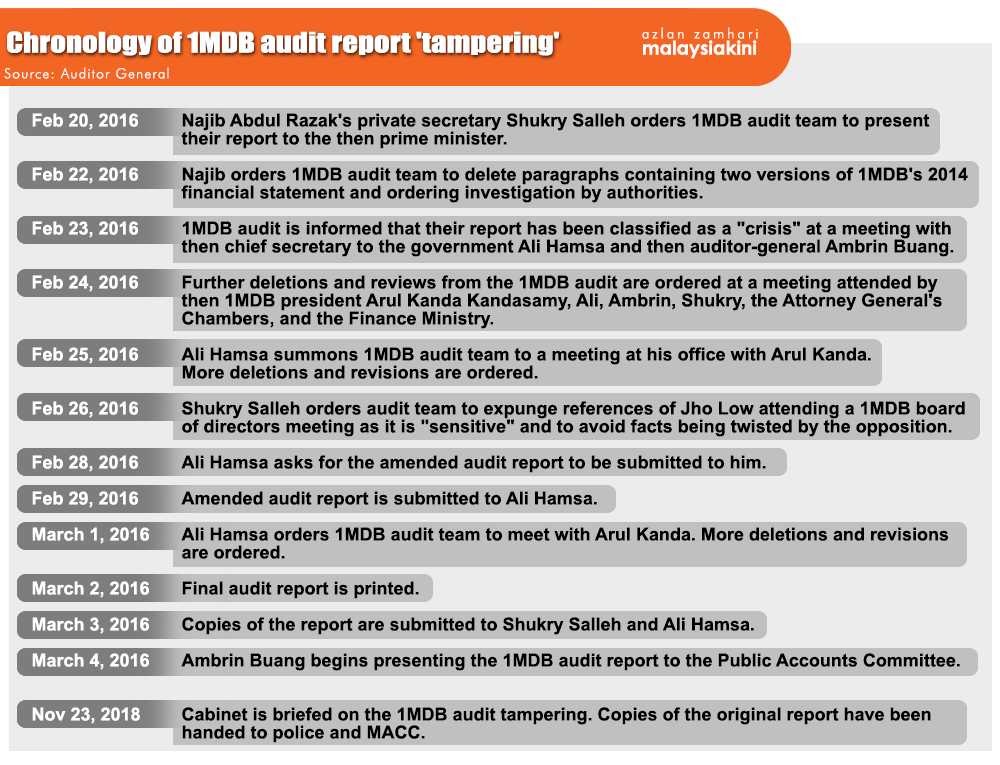 The amendment allowed today was to insert the words "telah dimuktamadkan" (had been finalised) and "dimuktamadkan semula" (re-finalised), replacing the phrases "telah disediakan" (prepared) and "dimuktamadkan" (finalised) respectively.
The amendment would also apply to the charge against co-accused former 1MDB president and CEO K Arul Kanda, who was alleged to have abetted Najib in the alleged tampering of the 1MDB audit report.
The charges were then read to the two accused, to which both of them maintained their non-guilty plea.
The court set July 23 to hear Najib's application to strike out the 1MDB audit report tampering charge against him. The application was filed yesterday.
When contacted today, Najib's defence counsel Nur Syahirah Hanapiah confirmed that the application was filed yesterday, and the hearing will be on July 23.
Previously on June 17, Najib's lead counsel Muhammad Shafee Abdullah informed the court that they would object to the proposed amendment as it was allegedly
substantial
and not merely the correcting of a typographical error.
The prosecution had maintained, however, that the amendment was a typographical error and was not a substantial one which altered the charge.
The main audit report trial against Najib and Arul Kanda is set to resume on July 27.
Najib is charged with using his position to order amendments to the 1MDB final audit report before it was presented to the Public Accounts Committee to avoid action being taken against him.
Arul Kanda is charged with abetting Najib in making the amendments to the report.
Both of them were charged under Section 23 (1) of the MACC Act 2009, which specifies a jail term not exceeding 20 years, and a fine of no less than five times the amount of gratification or RM10,000, whichever is higher. - Mkini