Langkawi MP Dr Mahathir Mohamad said the proposal to make his son Mukhriz Mahathir the deputy prime ministerial candidate did not come from him but from Pakatan Harapan leaders.
"I'm aware that I would be criticised when naming my son Mukhriz as the deputy prime minister II.
"This proposal did not come from me. In a joint statement by Amanah president Mohamad Sabu and DAP secretary-general Lim Guan Eng, Mukhriz's appointment as deputy prime minister II was already mentioned," Mahathir said in a blog post.
He was referring to a statement, by Lim and Mohamad, which said it was proposed that Anwar would be the prime minister while Mukhriz his deputy during a Harapan presidential council meeting on May 30.
That proposal did not gain traction due to an impasse between Mahathir and Anwar in which both wanted to be prime minister.
On June 27, Mahathir revealed he had met with Amanah, DAP, and Warisan leaders on June 25 where an alternative proposal was made - Warisan president Shafie Apdal would be the prime ministerial candidate while Anwar and Mukhriz would both be deputy prime ministers.
PKR was absent at the informal meeting. Mahathir said the leaders there unanimously agreed to the proposal but DAP and Amanah said they still need to discuss the matter internally and bring the matter to the Harapan presidential council.
In his blog post today, Mahathir said he was torn about the position of his son.
"I'm in an awkward position. When I was prime minister the first time, I forbade my children from being active in politics, particularly as a member of the governing party.
"I did not want to be accused of nepotism and giving special treatment to my family.
"But I'm no longer the prime minister and the responsibility to take care of my good name cannot continuously fall on my children," he said.
Mahathir said his children are now free to join politics and their success or failure will depend on them.
"When Mukhriz's name was proposed for certain positions, I do not have a right to oppose it for my own self-interest.
"Whether people believe my explanation or not is up to them.
"My enemies will surely speak of this cynically. I accept this because such is human nature," he said.
Mahathir, whose position as Bersatu chairperson is now in dispute, served as the fourth prime minister from July 1981 to 2003 and the seventh prime minister from May 2018 to May 2020.
His Harapan government, which came into power in the 2018 general election, collapsed in late February after Bersatu president Muhyiddin Yassin pulled his party out of the coalition government.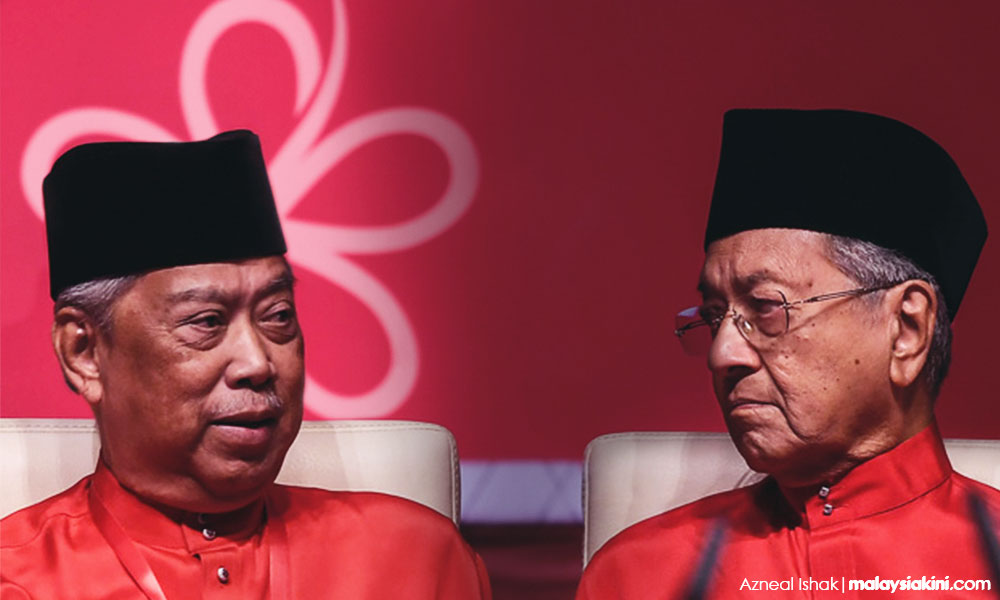 Muhyiddin was sworn in as the new prime minister on March 1 after Mahathir refused to lead a new coalition the former put together comprising Bersatu, PKR defectors, BN, PAS, GPS, PBS, and Star.
Mahathir had been planning a counter-coup against Muhyiddin, who currently has a three-seat majority in the Dewan Rakyat.
The proposal to make Shafie the prime ministerial candidate for Harapan and its allies appeared to be an attempt to break the impasse between Mahathir and Anwar, as well as to attract support from the East Malaysia bloc, which is instrumental to forming a majority in the Dewan Rakyat.
PKR had been opposed to Mahathir's third bid as prime minister and wants Anwar instead.
Yesterday, PKR secretary-general Saifuddin Nasution said his party is ready to
revisit
the issue of Harapan's prime ministerial candidate in light of the new proposal.
However, he also advised caution against efforts to split the coalition. - Mkini