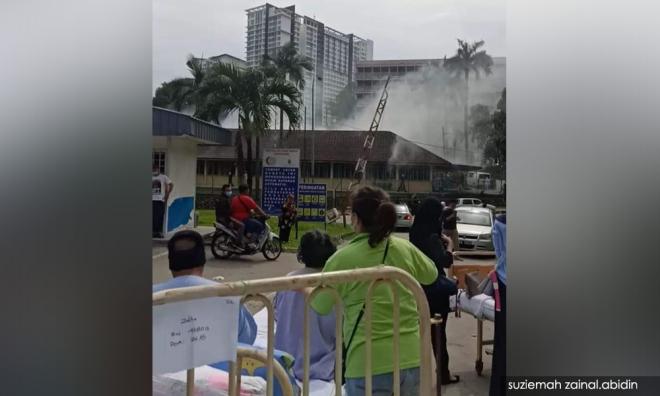 A fire broke out at the women's ward of Sultanah Aminah Hospital (HSA), Johor Bahru, at around 3pm today, according to the Larkin Fire and Rescue Department.
Several videos and photographs of the incident from social media showed at least three fire trucks were deployed on-site, while nurses tended to patients taken out of the ward.
Astro Awani reported that there was no death from the fire.
The Johor Fire and Rescue Department operations centre in a statement later said that the fire involved an 'oxygen, vacuum, call bell, and switch' panel on bed 'No. 5' in the ward.
The department said hospital staff attempted to put out the flames using a dry powder extinguisher but failed, and the fire already spread to the ward's ceiling when they arrived at 3.13pm, about five minutes after receiving the emergency call.
"The fire was completely put out at 3.29pm," said the department, adding that 24 patients were safely evacuated by hospital staff on duty at the ward.
They also stated that the operations which ended at 5.21pm involved 42 personnel from three fire stations.
"The cause of the fire and estimated losses are still under investigations," it added.
The HSA recently made headlines after the editor-in-chief of health news portal
CodeBlue
, Boo Su-Lyn, was reportedly
probed
for her series of articles on a 2016 fire at the same hospital, which at the time claimed six lives. - Mkini