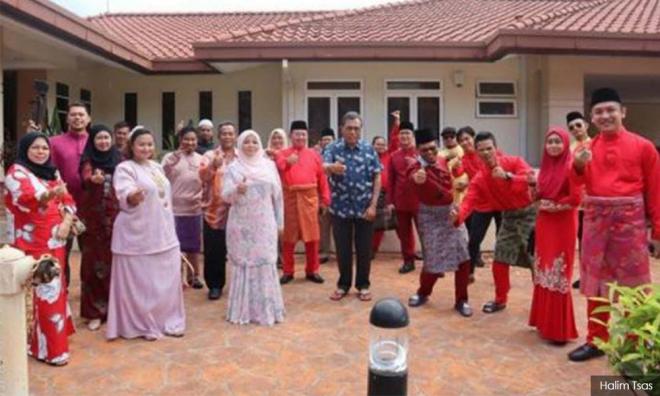 The Shah Alam police have recorded a statement by Selangor Bersatu chief Abdul Rashid Asari over a violation of the conditional movement control order (MCO).
Abdul Rashid was probed following a police report lodged after a photo of himself and 21 others, in what seems to be a family gathering, went viral.
"We have recorded his statement yesterday and completed the probe.
We will send the investigation paper to the deputy public prosecutor today," said Shah Alam police chief Baharudin Mat Taib.
He said the police also recorded statements from several others who attended the gathering.
The investigation was conducted under Rule 7 (1) of the Prevention and Control of Infectious Diseases (Measures within the Infected Local Areas) Regulations 2020.
It carries a fine of not more than RM1,000, or imprisonment not exceeding six months, or both.
The viral photo shows Abdul Rashid in a group of 22 people clad in traditional Malay attire and gathered in front of a house.
For the record, the conditional MCO rules for the first day of Hari Raya allowed not more than 20 people to gather at one time.
Abdul Rashid was not the first politician to be probed for alleged violations of the MCO.
Last month, deputy health minister Noor Azmi Ghazali and Perak executive council member Razman Zakaria were
fined
RM1,000 for the offence.
This was after Noor Azmi posted photographs online of him and his entourage visiting a religious school in Lenggong on April 17, where they shared a meal and failed to adhere to adequate social distancing measures.
Early this month, Nurulhidayah Ahmad Zahid and her husband Saiful Nizam were
fined
RM800 for breaching the MCO when they travelled from Kajang to Putrajaya on April 20 without permits.
Nurulhidayah and her spouse were investigated after she posted photographs online of a meeting with deputy environment and water minister Ahmad Masrizal Muhammad and de facto Islamic affairs minister Zulkifli Mohamad. - Mkini