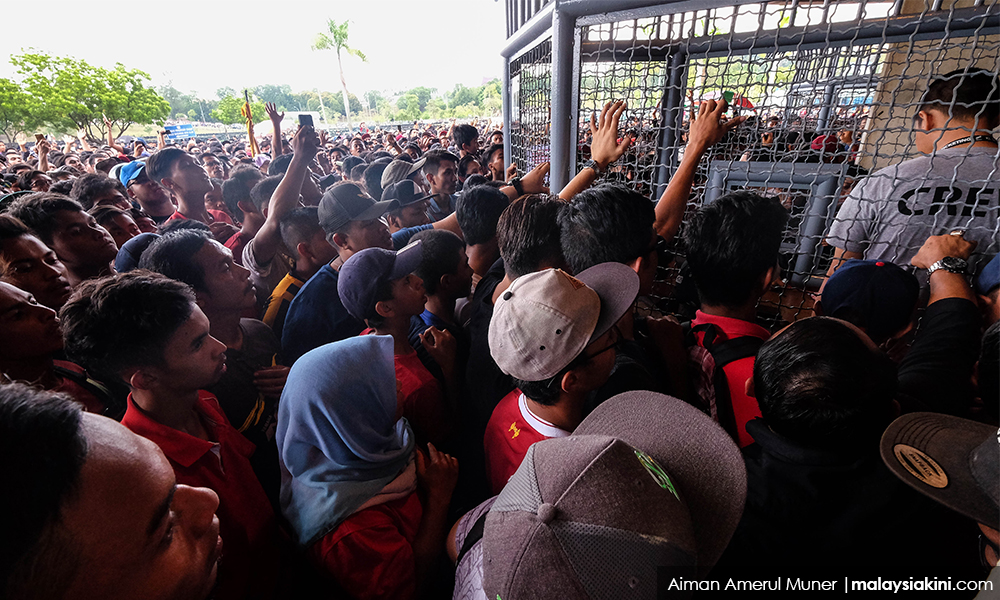 Pakatan Harapan politicians have criticised the decision to sell tickets for the SEA Games football final between Malaysia and Thailand tomorrow at two stadiums instead of online.
For Malaysian fans, tickets were sold at the Shah Alam stadium whereas Thai supporters had to purchase the tickets at the Malawati stadium, also in Shah Alam.
Parti Pribumi Bersatu Malaysia (Bersatu) Youth chief Syed Saddiq Syed Abdul Rahman said the system was unfair and made it difficult for those living outside the Klang Valley to get the tickets.
"How is this fair to those living outside the Klang Valley, especially since the tickets are being sold a day before the match on a working day," he tweeted.
Thousands have been camping in Shah Alam since 10pm last night for a chance to get tickets for tomorrow's showdown. Ticket counters opened at 11am this morning.
PKR vice-president Nurul Izzah Anwar took to Facebook to highlight how the system of selling the tickets was unsatisfactory.
"If you can't get a ticket, we'll watch it in Lembah Pantai together!" she added in reference to her parliamentary constituency.
Meanwhile, PKR Youth information chief Lee Chean Chung said the SEA Games organiser should have applied advances in technology and sold tickets online as practised in Europe and Japan.
The Malaysian team reached the final after defeating Indonesia 1-0 in the semi-final on Saturday, whereas Thailand booked a spot in the final after beating Myanmar with a similar scoreline.
Bernama also quoted inspector-general of police Khalid Abu Bakar saying that police will be stepping up inspection at all entrances of Shah Alam Stadium for the finals tomorrow.
Without mentioning the number of personnel involved, Khalid said police are all ready to control security for players and spectators in the match.
"Police are prepared and checks at all gates into the stadium will be tightened to ensure no banned items are brought in. We will not compromise on the issue of security.
"Even though the queue during the inspection will be long, we will carry out strict checks to ensure the safety of all parties and I hope football fans will comply with the order issued by police," he told a media conference in Kedah today.
Selangor police chief Mazlan Mansor also in a statement, said police will not tolerate any party out to create trouble at the match tomorrow.
"Stadium gates will be open as early as 4pm and supporters of Thailand will be entering via Gate A while Malaysian fans will go through Gate B, C, and D," he added. - Mkini