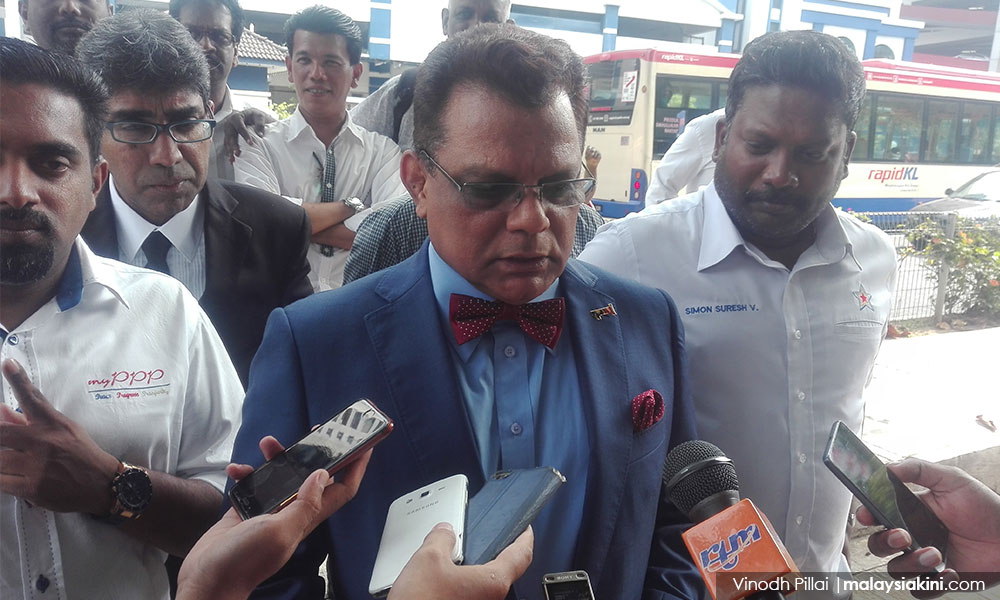 myPPP president M Kayveas lodged a police report today against a former MIC leader over alleged derogatory comments directed at him and Prime Minister Najib Abdul Razak.
The comments were made on a
Berita Daily
article
via Facebook by one Tharma Kumaran Danapalan, who Kayveas claimed is the same person who formerly helmed the position of Federal Territories MIC Youth chief.
Facebook user Tharma wrote, among other things, that the prime minister was "too good-hearted or kind for having tolerated a mentally challenged and power crazy individual such as Kayveas."
However, the Facebook account that made the comments has no public pictures or information to indicate or verify that it belongs to the former MIC leader, and did not respond to Malaysiakini when contacted.
"With the present situation of people writing anything they like on social media, I think it doesn't matter if you're a BN member or not – if you do not understand the law, don't think you can get away (for what one writes on social media).
"This is an insult to both myself and the prime minister, and after speaking with my lawyer, I have been advised to make a report to the Communications and Multimedia Ministry in a day or two as well," Kayveas said to reporters after submitting a police report at the Dang Wangi police headquarters today.
The multiracial myPPP is a member of the ruling BN coalition, with Indian members making up the majority of the party.
The article mentioned the intention of myPPP and Kayveas to contest in the Cameron Highlands parliamentary seat during the upcoming general election.
In the comment section, Tharma mentioned that Kayveas frequently changes his mind over parliamentary seats, and said it was not his place to talk about the fate of the Cameron Highlands people.
In the police report, Kayveas said he was convinced that the comments were made to spoil his chances of winning the election by ruining his name and character.
Kayveas said Tharma's actions went against Sections 211 and 233 of the Communications and Multimedia Act 1998.
"His actions are something like a hit and run case. You don't know how badly you hurt people, but you just hit and run. Social media has become like this.
"We have seen recent reports in China where people on social media must be identified first before they are allowed to have accounts. Perhaps we should do that too.
"This is a very unhealthy habit. We need a country with proper civics so I think if we don't do something about this now, this issue will worsen," he explained to Malaysiakini.
Kayveas' lawyer, Ashraf Vinappo, said they would consider filing a defamation suit after lodging a report with the ministry. - Mkini