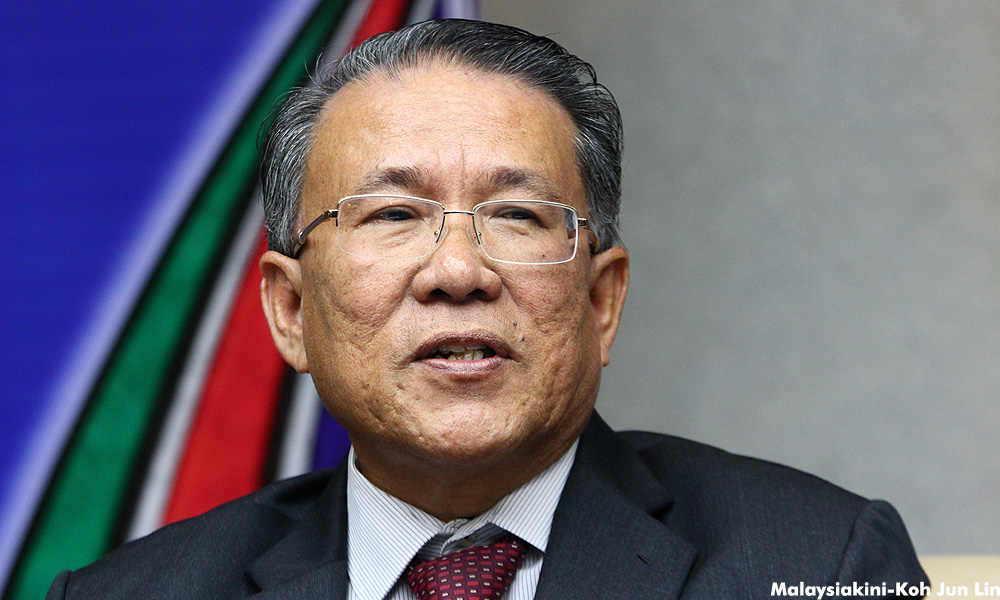 Kuala Lumpur mayor Mohd Amin Nordin Abdul Aziz apparently has a lot to learn, especially when he defended the latest smartphone app created by Kuala Lumpur City Hall (DBKL) known as eDrive.
Unless the report in
The Star
is misleading, after spending some RM3 million on the app, Mohd Amin claims it costs "only RM2.9 million" to develop eDrive, and not RM565mil, as
claimed
by Segambut MP Lim Lip Eng.
I wonder how much he understands about apps or what makes a state-of-the-art traffic surveillance system that is user-friendly. Years ago, when DBKL launched its
Integrated Transport Information System
(Itis), I remember giving it the thumbs-up.
That was before Google launched its Google Map and phone app Waze became popular. Itis was supposed to provide real-time information about the traffic conditions so that one can plan his trip.
However, after trying to use it for not more than ten times, I gave it up. The reason being Itis was "ahead" of its time. Whoever the developer was did not take into consideration the speed of the Internet back then.
This is how ridiculous it was when these developers were supposed to be knowledgeable in the field of Internet communications technology (ICT). They developed something that failed to acknowledge the lack of the infrastructure to support the system.
Even now, I would not spend time looking at the real time traffic conditions in Kuala Lumpur. I may access Itis just to see the extent of the flash floods hitting certain roads. Most of the time, I am also unable to access the CCTV images, and even if I can, it uses up a lot of the data on my Internet package.
As for eDrive, why should I use it when I already have the right apps to help me plan my trip? In claiming that it now has an advanced technology, DBKL is behind time. There are a number of such apps that are already available.
If Mohd Amin is honest about it, he should ask how many taxi, Uber or Grab drivers use eDrive to get around the city of Kuala Lumpur, and why they are not registering it in big numbers. Instead, whenever I go on Uber, I see that they use Waze.
Most of the time these days, I also use Waze myself. The infrastructure is made available free of charge, and it is managed by a local community of Wazers. These are all done on a voluntary basis. A former classmate of mine is a volunteer himself, so I have some insights into how they work.
According to him, Wazers update the map from time to time to reflect the accuracy of the roads. These Wazers who are on the road update the roads every day. Such is the passion that they have, which is worthy of our applause.
Often when I cannot find a place, I would use Waze and it would guide me to the exact location, and on one particular occasion, it told me to turn left – and this was the carpark of the building.
Waze also provides me an estimated time of arrival (ETA), which I can also send to people who want to know my whereabouts in case I am lost or running late for an appointment. Can eDrive do that? Even if it can do the same thing, why do we need it when Waze has all the features that is needed?
Waze can also plan to take the route that is least congested with traffic with great precision. When one drives into the wrong road, there is always an alternative way to the location that we want to head to.
Once I got lost somewhere in Sungai Buloh. Thankfully, Waze took me through some village roads that eventually took me to my destination! Can the RM2.9mil eDrive do it?
Mohd Amin said that he uses the eDrive to plan his journey, but wait till he starts to use Waze or Google Map, especially when the App is made available to everyone free-of-charge!
Why does DBKL have to re-invent the wheel? For him to claim that eDrive has 4,000 registered users, it is simply laughable. I think Waze in Malaysia easily has many times more than eDrive judging from the number of Uber drivers who are using Waze.
This is why Mohd Amin got all the flak.
As someone who helms the City Hall, Mohd Amin should realise that he is accountable to the people for the money that he spends. Be it RM2.9mil or RM565mil, or even RM1, he has to be fully accountable.
The trouble is that under the current regime, the mayor is appointed to the post and he reports to the Federal Territories Minister, who is none other than the Umno minister, Tengku Adnan Mansor.
It is time for the Malaysian Anti-Corruption Commission (MACC) to move in and start getting serious with DBKL and investigate the alleged corruption in the tender the eDrive and Itis.
If Tengku Adnan has not done his part to monitor the way money is spent by the mayor, then, all credit should go to Lim who has raised this issue.
After all, if there is nothing to hide, Mohd Amin should bare it all and show us why City Hall has to use RM2.9mil on the eDrive when there are so many potholes that need to be fixed but not being patched on city roads.
In the first place, Mohd Amin should not claim that the media had not done its own research and boast that "the system is very advanced," when it is nothing compared to the ability to harness satellite technology that other apps are capable of doing.
And when he spoke about the CCTVs being able to contribute to lower crime rates, we would like him to back up with statistics. Without the statistics, it is all but fluff.
Again, it is also not about the authorities monitoring public protests, but about what they did when someone like Umno Sungai Besar division chief Jamal Md Yusof went on the streets with his red-shirt clad protestors to scare away the foreign tourists.
Were they able to detect the location where street people had allegedly been rounded up and given the red T-shirts to wear? What did DBKL do about this?
---
STEPHEN NG is an ordinary citizen with an avid interest in following political developments in the country since 2008. - Mkini