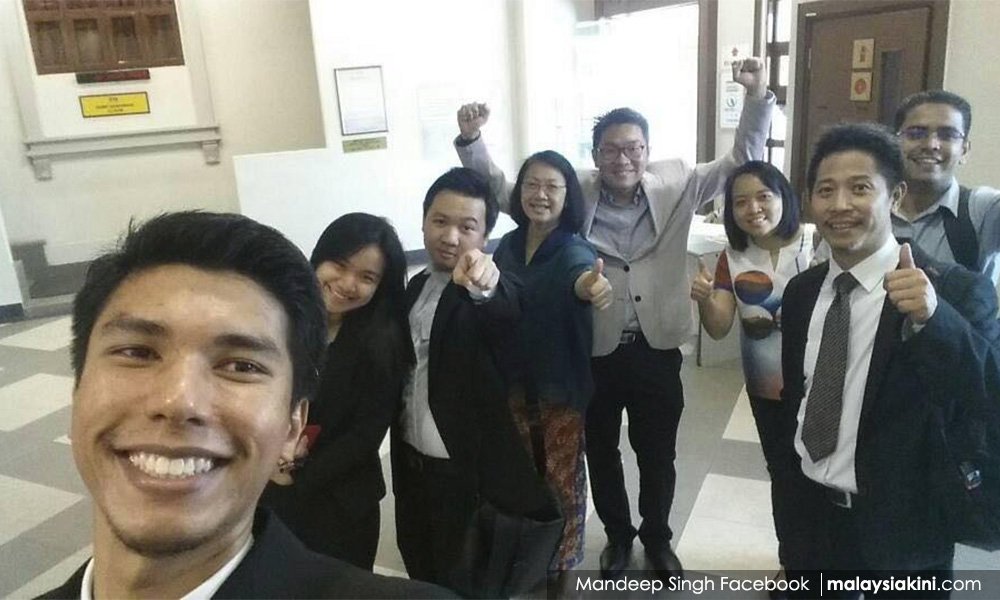 Bayan Baru MP Sim Tze Tzin, Bersih 2.0 chairperson Maria Chin Abdullah and activist Mandeep Singh were granted discharge not amounting to acquittal for taking part in the 2015 Kita Lawan rally.
Today was initially fixed for the first day of hearing after various applications to challenge the constitutionality of Section 4(3) of the Peaceful Assembly Act (PAA).
However, the deputy public prosecutor for the case was not in attendance, which resulted in lawyer Gooi Hsiao-Leung, representing Sim, as well as Arina Ong, Amer Hamzah Arshad and Rajsurian Pillai, representing Maria, Mandeep and Jingga 13 coordinator Fariz Musa, applying for a discharge not amounting to acquittal.
A Magistrate's Court in Kuala Lumpur granted the application, but nevertheless issued a warrant of arrest against Fariz for failing to appear in court, despite his lawyers producing a copy of a medical certificate to explain his absence.
The court fixed Sept 26 for mention of Fariz's case.
Sim, Maria, Mandeep, and Fariz were charged under Section 4(2)(c) of PAA for taking part in the rally between 3.15pm and 6pm on March 28, 2015, from the fountain on Jalan Tun Perak to Sogo on Jalan Tuanku Abdul Rahman. If convicted, they face a fine of RM10,000 each.
The three, along with several other activists and politicians, made a
constitutional challenge
to Section 4 (3) of PAA in October last year.
The applicants want the court to determine whether Sections 4(1)(c), 4(2)(c) and 4(3) of PAA are inconsistent with Article 10 of the Federal Constitution.
According to the applicants' lawyers, it was the first such challenge to the constitutionality of street protests.
However, the Federal Court ruled at the time that their attendance at the rally needed to be proven first, and ordered the matter to proceed to trial. - Mkini