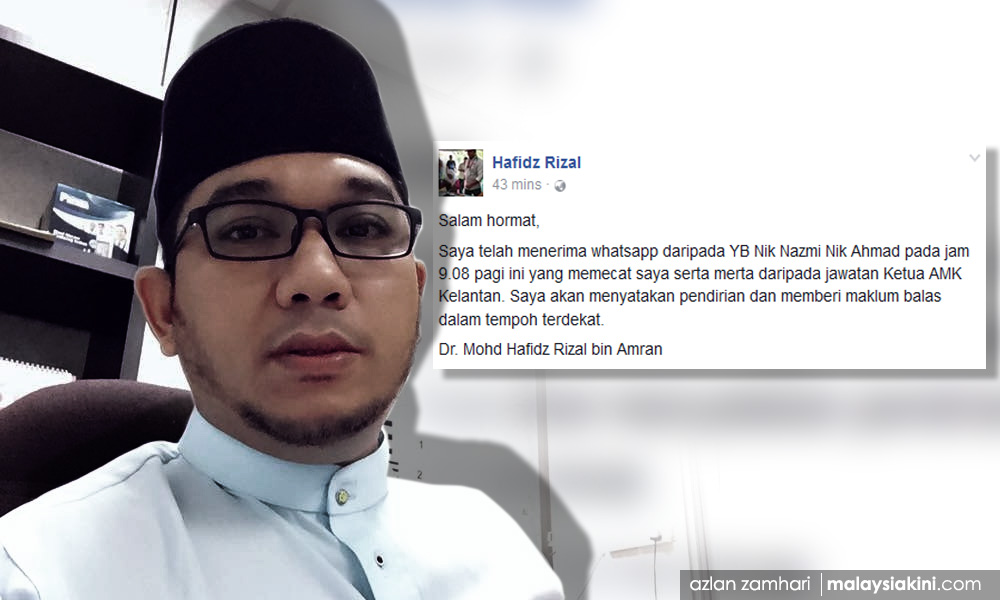 Kelantan PKR Youth chief Dr Hafidz Rizal Amran has been "removed" from his position as the state party leadership crisis comes to a head.
PKR national Youth chief Nik Nazmi Nik Ahmad confirmed this to Malaysiakini.
"Yes, (the replacement) will be announced shortly. This is a follow up to a meeting between PKR national leaders and state PKR, including Hafidz," he said in a WhatsApp message.
When contacted, Hafidz said he will have a press conference regarding the matter soon.
Hafidz was considered to have advocated a continued PKR-PAS collaboration despite PAS having formally severed ties with the party.
In showing dissatisfaction for the situation, eight out of fourteen Kelantan division Youth chiefs signed a petition to demand the central leadership remove Hafidz.
The petition has successfully gained more than half of signatures required, akin to a vote of no confidence against Hafidz.
The eight are from Pasir Mas, Tumpat, Pengkalan Chepa, Kubang Kerian, Bachok, Kota Baru, Pasir Puteh and Machang.
In May, PAS declared it has decided to end political cooperation with PKR. But the latter continues to be ambiguous on this matter
The issue took another twist when PKR deputy president Azmin Ali revealed two weeks ago that informal discussions are still taking place with the Islamist party.
The next day, Kelantan PKR announced it would
retain
its political appointments in the PAS-led state government, fuelling more unhappiness amongst the faction that wants PKR to cut ties with PAS.
Firing the first salvo, PKR's Selayang MP William Leong resigned from the party's political bureau, citing the continued engagement with PAS as the reason.
Meanwhile in Kelantan, PKR grassroots are collecting signatures in a bid to oust the party's state chief Ab Aziz Ab Kadir and Hafidz Rizal Amran. The pair is seen to be close to PAS.
In response to the crisis, PKR vice-president Rafizi Ramli, who is steadfastly against further collaboration with PAS, asked for a
special congress
to resolve the rift within the party. - Mkini