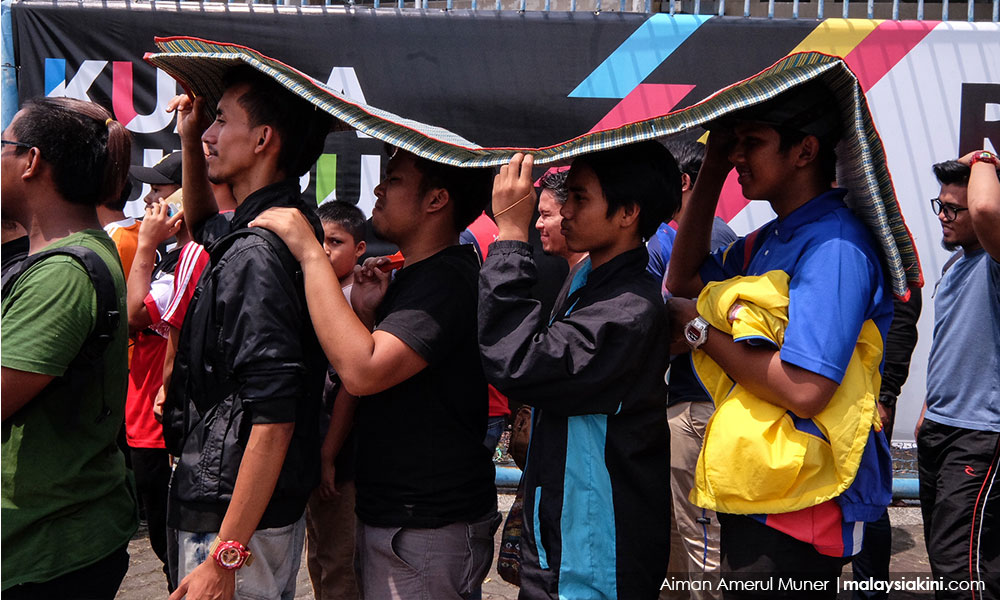 Tempers flared at the Shah Alam Stadium where football fans had been waiting for hours to purchase tickets to the SEA Games final between Malaysia and Thailand.
One of them was 18-year-old Faiz Ghazali from Puchong, who arrived at the stadium around 5am after completing his night shift.
"I came here right after work. I'm stressed out. I feel like killing myself now," he told Malaysiakini.
Some of the fans had descended on the stadium as early as 1am even though ticket counters only opened at about 11am.
However, sales were suspended 20 minutes later due to the situation going out of control. Three counters reopened briefly after a four-hour suspension but were later closed again.
Meanwhile, Mohd Fazreesyam Jefriman, 18, said he and three friends had travelled from Kuala Krai, Kelantan.
"We came by bus from Kelantan. We were willing to come all the way so that we can (buy tickets to) watch the final.
"I'm having a headache and I'm hungry but I don't know whether I would be able to get a ticket or not.
"It would be disappointing if we can't get one, we'll just have to watch at the mamak stall," he said with a look of dejection.
Another football fan, who only wanted to be known as Khairi, 36, said he had queued for five hours.
"I've been here for five hours after travelling from Ipoh, my legs are hurting. But looking at the current situation, it seems impossible to get a ticket," he lamented.
When the ticket counters finally reopened at 3.30pm, those queuing cheered and clapped.
However, only 20,000 tickets would be available for sale.
Tickets for Malaysian fans were sold at the Shah Alam Stadium while tickets for the Thai supporters were sold at Melawati stadium.
The organisers had been criticised for not selling the tickets online.
Meanwhile, The Star Online reported that touts have started selling tickets for the finals at 10 times the original price.
According to the report, RM21.20 tickets are being sold as high as RM200 online, and even these, were sold out.
It quoted a tout who goes by the name Rizki saying that he had sold 10 tickets for RM100 each, which he had snapped up after queuing up at the stadium since 10pm on Sunday.
The ticket counters only opened at 11am today.
According to him, the marked up price was his commission for "teh tarik and roti canai, as well as two half boiled eggs" he had for breakfast, and for missing the Liverpool and Arsenal match on Sunday night.
Another tout reportedly opened his bid at RM50 each, which includes charges for "waiting at the stadium, almost getting roughed up by Mat Rempit, breakfast and also petrol charges from Kajang to Shah Alam and back".
A check by Malaysiakini also revealed that tickets are also being actively sold on online purchase platform Mudah.my. - Mkini