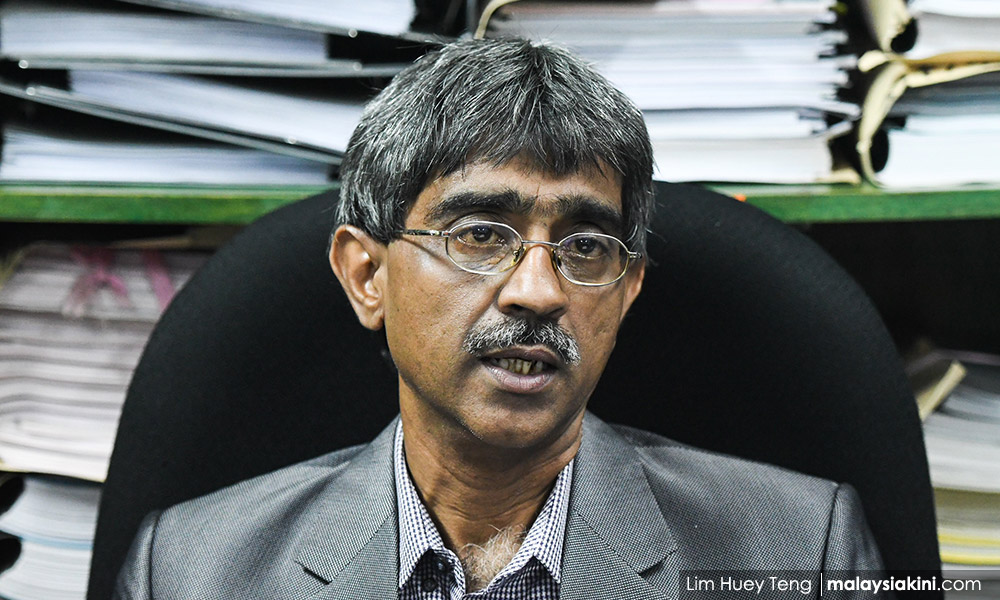 Lawyer Haniff Khatri Abdulla has urged attorney-general Tommy Thomas to correct his "constitutional and judicial mistakes" pertaining to the tribunal to investigate the alleged misconduct by the Election Commission (EC) in the run-up to the 14th general election.
In a statement today, Haniff also asked Thomas to apologise to the prime minister, and the government, over the matter, which he claimed had created a constitutional crisis.
Haniff pointed out that lawyer M Puravelan, who was appointed by the Attorney-General's Chambers to assist the tribunal, had himself told the five-member tribunal in Klang, on the first day of proceeding, that the matter has been rendered academic, regardless of the outcome, due to the resignation of the six commissioners, whose alleged misconduct were being probed by the tribunal.
"How can a lawyer appointed by Thomas, have conflicting views with the attorney-general, on the relevance of the tribunal? Such shameful conflicts, involving the constitution, should have never been allowed to happen.
"Alternatively, if the AG had intended to set-up the tribunal to probe the alleged wrongdoings of the six commissioners, why did he not counsel the prime minister, to advice the Yang di-Pertuan Agoing to reject the commissioners' resignation letters, until after the tribunal was set up and a decision was made, or, (their resignations) to be accepted with conditions, subject to the tribunal's findings?" Haniff asked.
On Oct 17 last year, it was reported that the government had begun the process of setting up the tribunal - which was then followed by the resignations of the six EC members - namely Othman Mahmood, Mohd Yusop Mansor, Abdul Aziz Khalidin, Sulaiman Narawi, K Bala Singam and Leo Chong Cheong, which took effect on Jan 1.
The tribunal, comprising five members who are retired judges of the Federal Court, had on last Monday, adjourned its sitting after the tribunal's chairperson Shim Lip Keong had questioned if its own proceedings were
academic
, since the six former EC commissioners under probe had resigned.
In reply, Thomas yesterday
argued otherwise
, saying that that the six former commissioners are not immune from the scrutiny of the tribunal despite no longer being in office – especially given the gravity of the 13 charges against them.
Despite the hurdle faced by the tribunal, Thomas can still proceed with investigating the six former commissioners via the setting up of a Royal Commission of Inquiry (RCI), said Haniff.
"It has to be stated that Thomas' conduct in issuing a statement which contradicted the stance of the lawyer appointed by him, could amount to interference with the course of justice, and tantamount to an insult to the said tribunal.
"Unfortunately, this episode has triggered another constitutional crisis, which must be avoided by all relevant parties in the 'New Malaysia' era. What is even more shocking is the crisis is caused by the office of the AG himself, who is mainly tasked to advise the government on law," Haniff lamented.
- Mkini