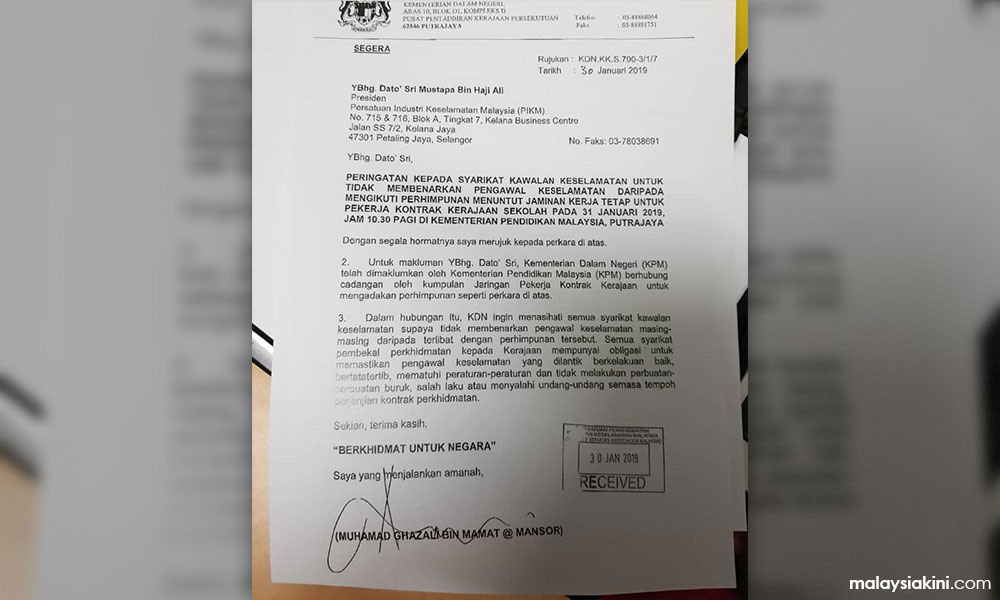 PSM committee member S Arutchelvan has criticised the Home Ministry for allegedly warning security firms not to allow their contract staff to gather outside the Education Ministry in Putrajaya this morning.
He told Malaysiakini that the gathering was held to demand permanent employment for those working as security guards at government schools on a contract basis.
"Last week, the Education Ministry gave permission to hold the peaceful gathering and submit a memorandum regarding the problems faced by these contract workers.
"However, the Home Ministry (allegedly) issued the circular signed by one Muhamad Ghazali Mamat (from the ministry's security division) ordering security companies not to permit their security guards to participate in the gathering," he added.
Arutchelvan also furnished a copy of the alleged letter to Malaysiakini.
The letter dated Jan 30 was addressed to the Persatuan Industri Keselamatan Malaysia (PIKM) president Mustapa Ali.
The letter stated that firms providing security services to the government have an obligation to ensure those employed are well behaved and follow the rules during the term of their contract.
Arutchelvan claimed that the letter had affected the turnout for the gathering.
"We received numerous phone calls from security guards saying they will not be able to attend because they have been warned not to do so.
"Those who attended were also worried if they would lose their jobs for doing so," he added.
However, Arutchelvan (photo) said the group managed to submit its memorandum to a ministry official.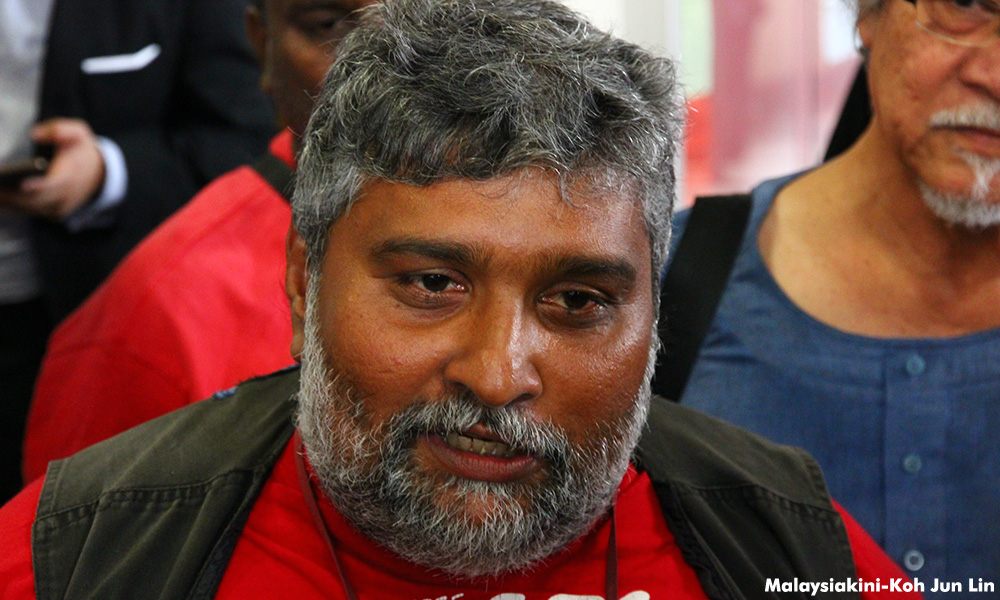 The PSM leader said the letter contravened the government's stand on peaceful gatherings and urged Education Minister Maszlee Malik to respond.
"The minister always says he is prepared to meet with anyone. So why was this gathering prevented? What is the Pakatan Harapan government doing?" he asked.
Malaysiakini has contacted both the Home Ministry and Education Ministry for comment.
Meanwhile, Arutchelvan said the plight of the contract workers required immediate attention from those in power.
"For example, in the past, security personnel worked double shifts for an average pay of RM1,800 to RM2,000. Now, it has been changed to three shifts.
"Most of the companies force the security guards who work the morning shift to work the night shift as well, but the pay has been reduced to between RM1,100 and RM1,200," he added.
According to the PSM leader, those working as cleaners in schools on a contract basis also face a similar predicament. - Mkini