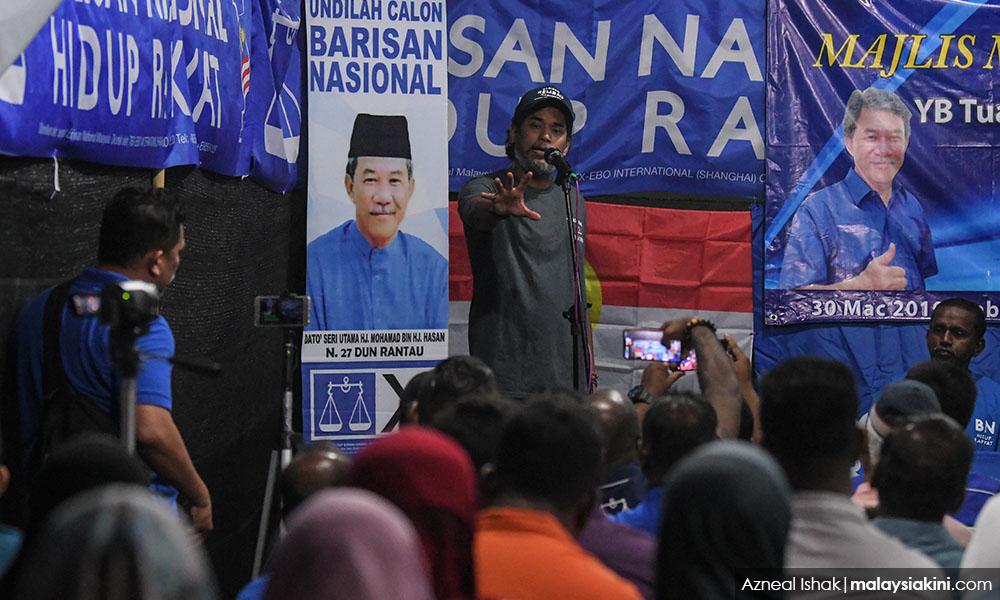 RANTAU POLLS
| Rembau MP Khairy Jamaluddin has urged
Rantau
voters to give BN candidate Mohamad Hasan a "hat-trick" during the upcoming by-election.
During a ceramah in Rantau tonight, Khairy said Mohamad had "scored" for BN during the
Cameron Highlands
and
Semenyih
by-elections.
"Let's complete the hat-trick in Rantau? Can we?" he asked a crowd of about 150.
Khairy said the
large turnout
of supporters during the nomination process this morning was a good sign for BN, and dismissed suggestions that the coming by-election was unimportant.
"This is an important by-election because of who is representing the BN candidate.
"Now, (Mohamad) is a national leader because he is the acting Umno president and leader of BN," he stressed.
Khairy noted that the presence of key Pakatan Harapan leaders during nominations was also a sign that the challengers were taking this contest seriously.
"Who was here (this morning)? There was Anwar Ibrahim, Dr Wan Azizan Wan Ismail, Muhyiddin Yassin, Mujahid Yusof Rawa and Anthony Loke.
"They know that although this is a by-election, they are facing a taikor (big brother) from Umno and BN.
"They want to defeat Mohamad in Rantau. They want to chop off (BN's) head. Let us not get our heads chopped off.
"This is about Umno and BN's pride. Let's make sure Mohamad stays in Rantau," he said.
The Rantau by-election is the seventh by-election since the general election last May. Harapan won the first four and lost the last two.
Mohamad had held the Rantau seat since 2004. His main challenger is Harapan's Dr S Streram.
Two independent candidates, R Malar and Mohd Nor Yassin, will also participate in the polls. - Mkini