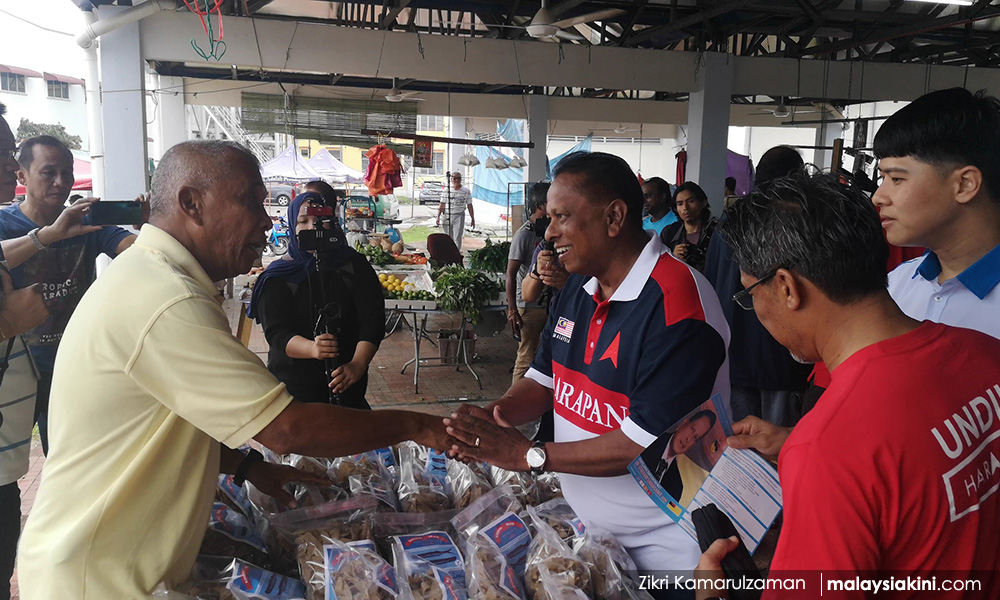 RANTAU POLLS
| A walkabout by Pakatan Harapan candidate for
Rantau
Dr S Streram today was made more colourful when MCA turned on the loudspeakers to provide running commentary in Mandarin.
As Streram greeted traders and shoppers at a Rantau market, the MCA team – led by central committee member Yap Siok Moy – asked them to vote for BN candidate Mohamad Hasan instead.
Among others, they drummed up Mohamad's experience as former Negeri Sembilan menteri besar, and how he could keep the Harapan state government in check.
Speaking to Malaysiakini later, Yap said Rantau was going to be a tough fight for BN, and that the election could go either way.
"It's not easy to say whether Mohamad will win, it's 50-50.
"The Chinese make up 18 percent of voters in Rantau, so we hope we can convince them to vote for Mohamad," she said.
Meanwhile, Streram, when met by reporters, said he plans to help traders and the people of Rantau by providing more space for people to ply their trade.
The April 13 Rantau by-election will see a four-cornered fight between Streram, Mohamad, and independent candidates R Malar and Mohd Nor Yassin. - Mkini