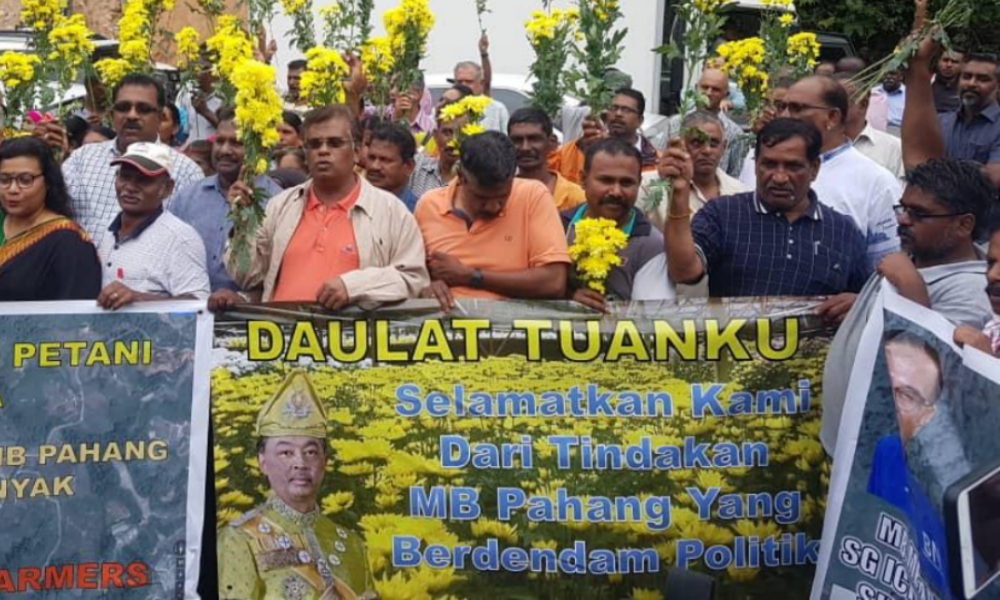 A peaceful rally in solidarity with farmers affected by the Pahang government's eviction operation was held in Cameron Highlands today.
Rally participants included several DAP elected representatives.
The group gathered at Gerai Makan Majlis Daerah Cameron Highlands and walked 500 meters to the road leading to the farms, carrying banners and placards condemning the eviction.
The protesters carried yellow flowers to mark their loyalty towards the state ruler, who is now the Yang di-Pertuan Agong, appealing to His Majesty to stop the Pahang menteri besar from victimising them, calling it a form of "political vendetta".
Elected reps who attended the rally were Penang Deputy Chief Minister II P Ramasamy, DAP assemblypersons Satees Muniandy (Bagan Dalam), Gunaraj R George (Sentosa) and Kamachee Dorai Rajoo (Sabai) as well as Pakatan Harapan candidate M Manogaran and Malaysian Tamilar Kural president cum Seberang Perai Municipal Councillor David Mashel.
At the rally, Ramasamy condemned the "high-handedness" of the state government in allegedly mistreating the farmers, who he said have been toiling on the land for decades.
Ramasamy also showed a copy of the earliest TOL issued to the one of the farmers in 1969.
Earlier, Pahang Menteri Besar Wan Rosdy Wan Ismail had said that according to Cameron Highlands district office, the TOL issued to the farmers was 26 years ago in 1993, and not 60 as claimed by Ramasamy.
Ramasamy also said that he would continue to stand up for the affected farmers, even though the issue was not in Penang.
"I will voice out for the people who are facing injustice, irregardless of their geographical, racial, religious, political background," Ramasamy said.
"I am not an outsider, I am a Malaysian, and I will speak out for the people.
"Besides, my wife is from Cameron Highlands," he quipped.
Meanwhile, Satees said the water pollution excuse used to evict the farmers is "absurd".
"All the farmers who are facing eviction, are placed along Sungai Ichat, which is not a water source.
"Furthermore, the claims that farmers are polluting the river is not substantiated with evidence," he said.
David assured that the Tamilar Kural will stand with the farmers, not because they're Indians or Chinese, but because they are victims facing oppression. - Mkini