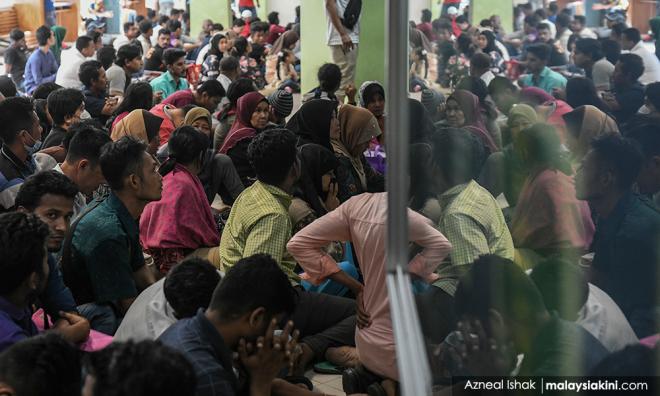 SPECIAL REPORT
| In the final week of the Back For Good amnesty exercise, Immigration Department offices nationwide have reportedly been inundated with last-minute applications from undocumented migrants who have surrendered themselves for voluntary repatriation.
Indeed, while the intention of the amnesty exercise may have been to offer a win-win situation for all parties, in reality, it proved to be frustrating for both migrants and immigration officials.
The migrants came prepared to pay the RM700 compound fine with their documents already in order and a flight or ferry ticket to permanently return home.
Many more, however, were not prepared to have to wait several days just to get in line for their applications to be processed.
These migrants were then forced to choose between finding another Immigration office - some travelling from Selangor to as far as Terengganu - or to make alleged "additional payments" to facilitate the process, said Figo Kurniawan, an undocumented migrant worker from Indonesia who made it back for good several days before the end of the amnesty exercise at midnight today.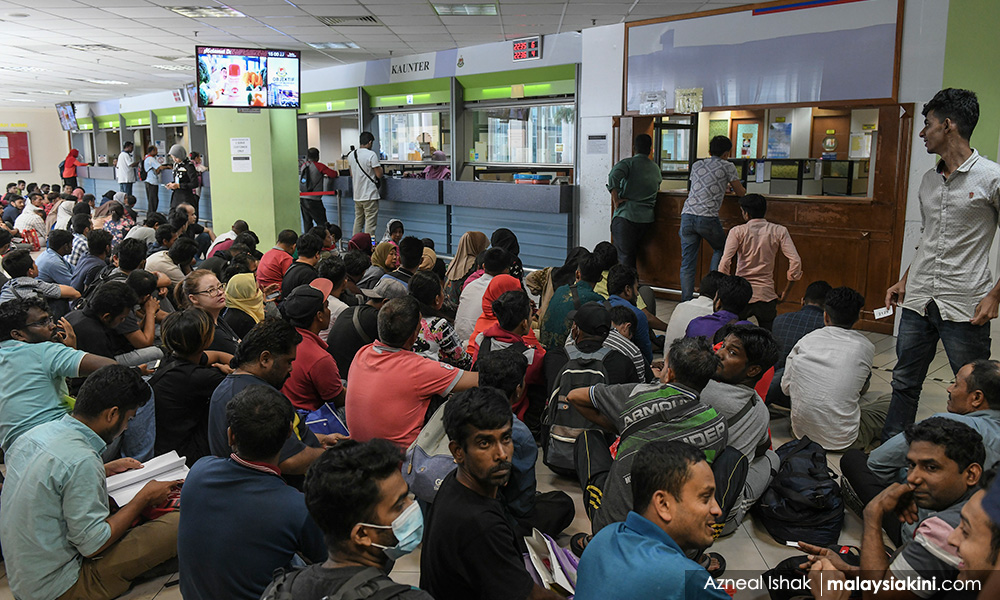 Speaking to Malaysiakini from his hometown in Kediri, East Java, Figo recounted his personal experience at the Selangor Immigration Department headquarters.
Out of an initial group of 13 friends, Figo was able to fly home on Dec 27 with only four others.
This was after 12 years of working here, the last 20 months without a valid permit.
"On Dec 25, we received some help and the four of us finally received our check-out memo on Dec 26 after assistance from this person, whose (identity) I will not reveal because he is not a 'tout'.
"He genuinely helped us without asking for any money. He even refused our cigarettes," said Figo.
They had previously missed an initial flight booked for Dec 22 after failing to get a registration number - which is the first out of several stages required to complete the amnesty exercise.
"We first came to register on Dec 19, to get a number for the following day.
"For two days (Dec 20, Dec 21) we used the 'normal' way but failed to get a number... and after that, we decided to just sleep at the public park opposite the complex," said Figo, referring to the PKNS Complex in Shah Alam.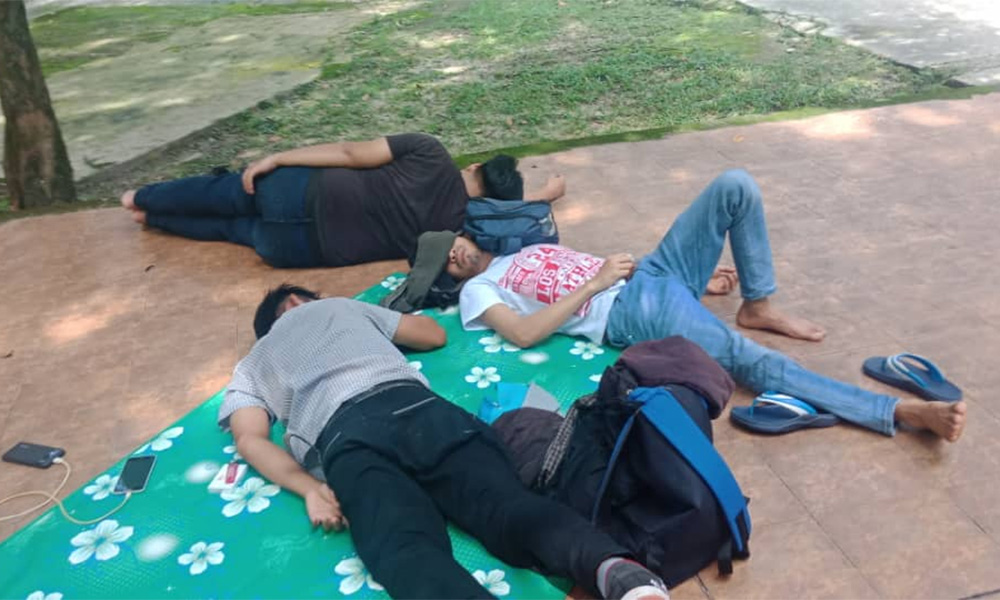 The Selangor Immigration Department office is located along a maze of corridors on the third floor of the decades-old state government-owned building.
It was during his overnight stay that Figo said he learnt of the various rogue individuals operating from outside, around and even allegedly within the Immigration Department.
"There are at least three types of 'touts' at work. The first are the ones from outside who charged up to several hundred ringgit, with a promise to help, but instead, they will only send us here and leave.
"Second are the ones who charged up to RM200 and claimed to manage a queue at ground level," said Figo who, however, dismissed their purported "services" as being useless as the real line only started right outside the Immigration office itself.
"They were not Immigration officers, they can't do much, but yet they dared to shout at us, treat us like animals, just because they are locals and we are foreigners," said Figo, adding that the insult to their dignity was more hurtful than losing any amount of money.
Recounting his first unsuccessful attempt, Figo said he made it up to the third floor with several hundred other migrants.
He described the wait as being agonising with all kinds of odours from their unwashed state and sweat-soaked bodies, only to be told to leave after close to 10 hours in line.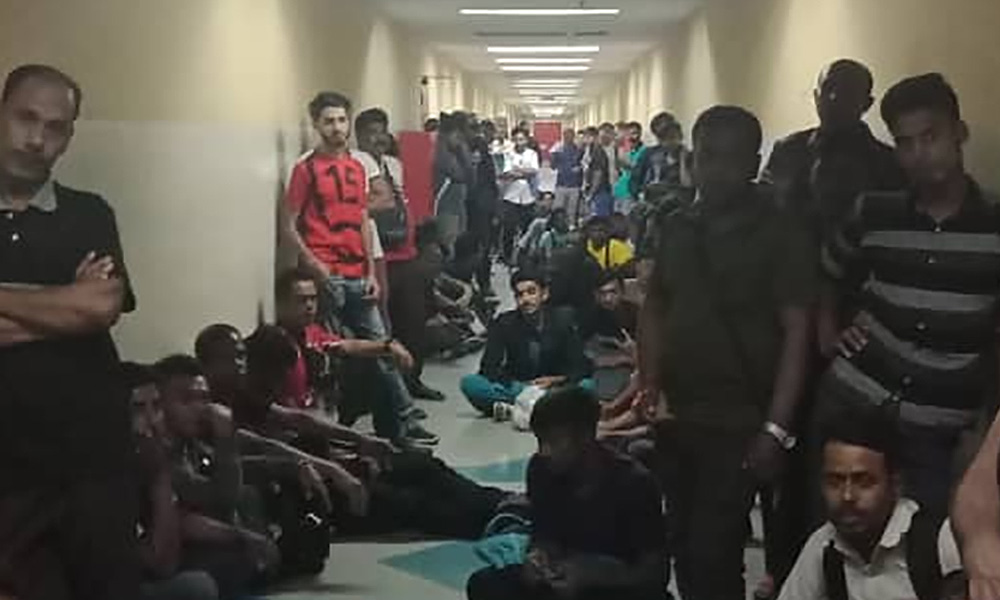 "While in line, at times there were names being called," said Figo, adding that he later found out they were among those who had allegedly paid up to RM500 to the third category of touts.
He claimed that the third category, who allegedly received the extra payment, would have "inside connections" who then arranged for the names to be called and given a registration number.
Figo said he too, out of desperation, had paid RM350 to one such individual on Dec 24, but he later got his money back from the person.
"We heard that day MACC officers had gone there."
A high-ranking Selangor Immigration source, who spoke on condition of anonymity, denied the claim of collusion with alleged touts.
He also explained that the period between Dec 20 and Dec 25 saw the peak number of registrations recorded, not only in Selangor but other immigration offices nationwide.
"There is no (extra) charge. Whoever came on those days but did not get a number, they will get an appointment for the next day.
"Their names will be recorded, and those are the names called," he said.
The registration number in question is written using a marker pen on a photocopy of an undocumented migrant worker's travel document, as well as on their forearm.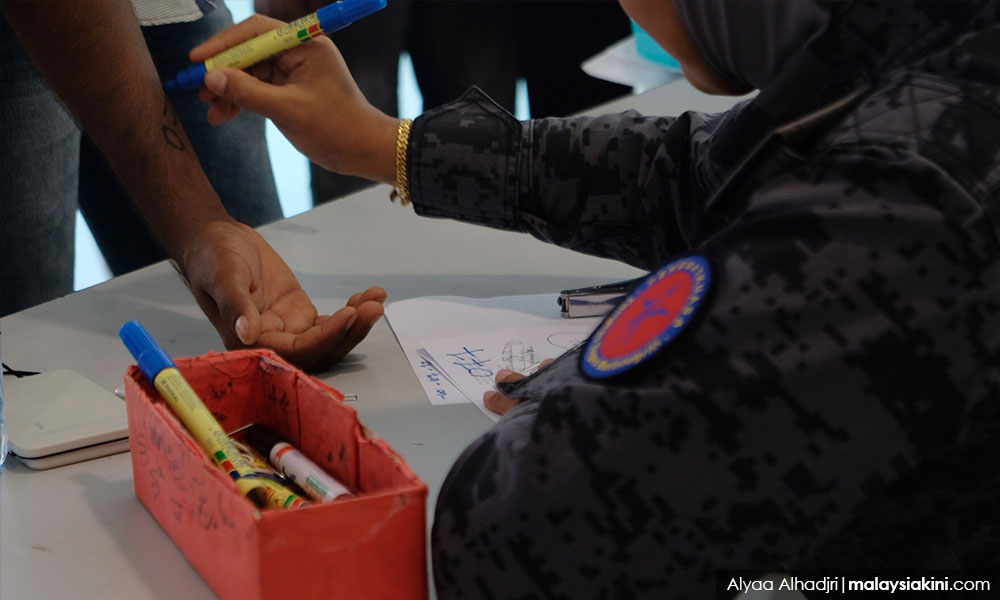 This is in contrast to the numbers usually issued for other immigration services, which are machine-generated and printed on a slip of paper.
A check at the Federal Territories Immigration Department in Kuala Lumpur yesterday found that the same manual process appears to be done at a much speedier pace, with the line to get the numbers cleared in about two hours since the counter opened at around 8am.
This was in contrast to a purported scene encountered there last week by a witness, who did not wish to be named. He told Malaysiakini that he went to the Federal Territories Immigration Department on Dec 23 and 24, where there was "absolute chaos with the touts using violent methods" to control the migrants.
When locals complained to Immigration officials, they were allegedly told their phones would be confiscated if they tried to capture the chaos and violence in photo or video form.
An attempt by Malaysiakini to get Immigration Director-General Khairul Dzamee Daud's comment on the initial situation in Jalan Duta is believed to have sparked a "clean-up effort" as the same witness claimed that several arrests were made when Khairul came storming down to the location with a team of officers and police.
When asked to confirm, Khairul merely said that his department was "monitoring the situation."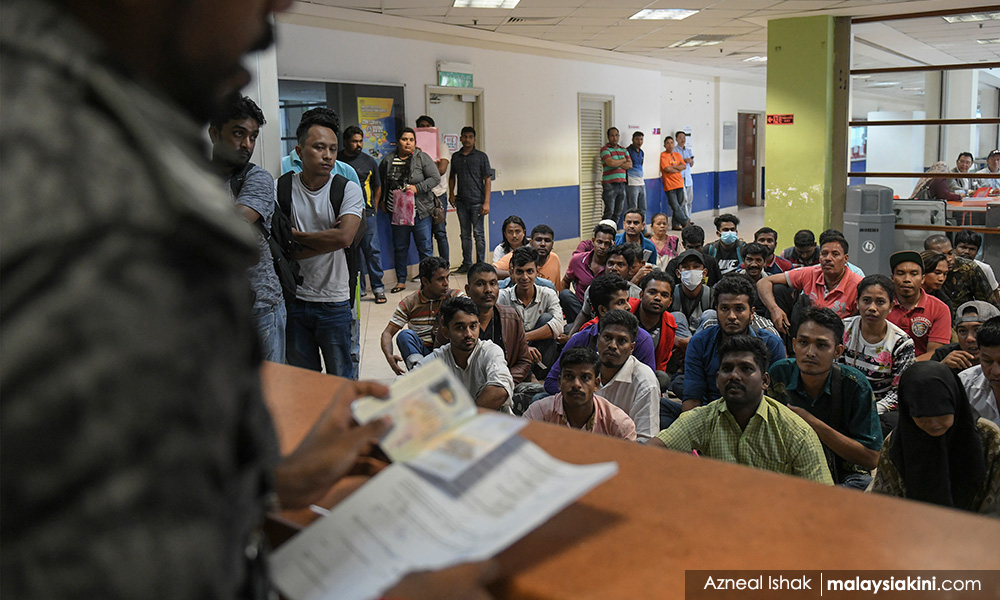 As of yesterday, all undocumented migrants who came to the Federal Territories Immigration Department office were immediately placed in another line after receiving their numbers and submitting their marked documents.
They also waited in much more favourable conditions, with ample space throughout the top floor of the sprawling Home Ministry complex building.
"After document submission, the next step is for us (Immigration) to record their statement to find out how long they have overstayed.
"Then we take them to the biometric counter to blacklist them, followed by the approval process, compound payment and finally the pass (check-out memo) will be issued," a department source told Malaysiakini.
"Here we will try to finish processing everyone who came on that day.
"Typically there will be no cases left pending," said another officer on duty yesterday.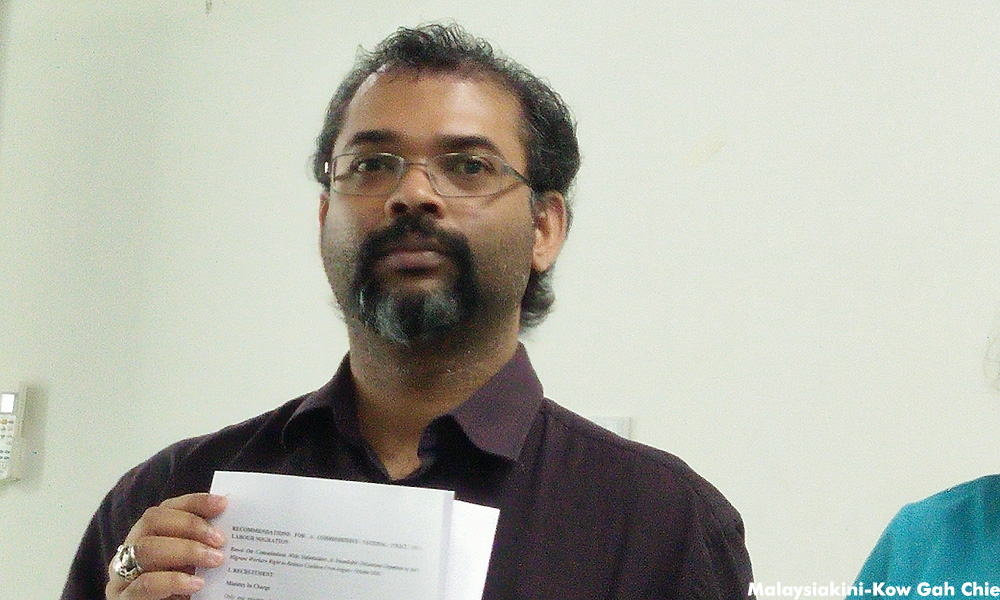 Following a visit to the Federal Territories Immigration Department, North-South Initiative director Adrian Pereira (above), whose area of focus include labour rights, said he was shocked to observe how the numbers were drawn directly on a migrant's forearm.
"To me that's undignifying and a bit inhumane to stamp someone with an actual body number," said Pereira.
He also said the Back For Good programme is unlikely to solve the bigger question of undocumented migrants in the country.
"We have not rooted out the other causes like corruption in the system, poor recruitment process and also the poorly guarded borders around the country.
"In terms of labour migration management, there is still a lot that needs to be done," he stressed.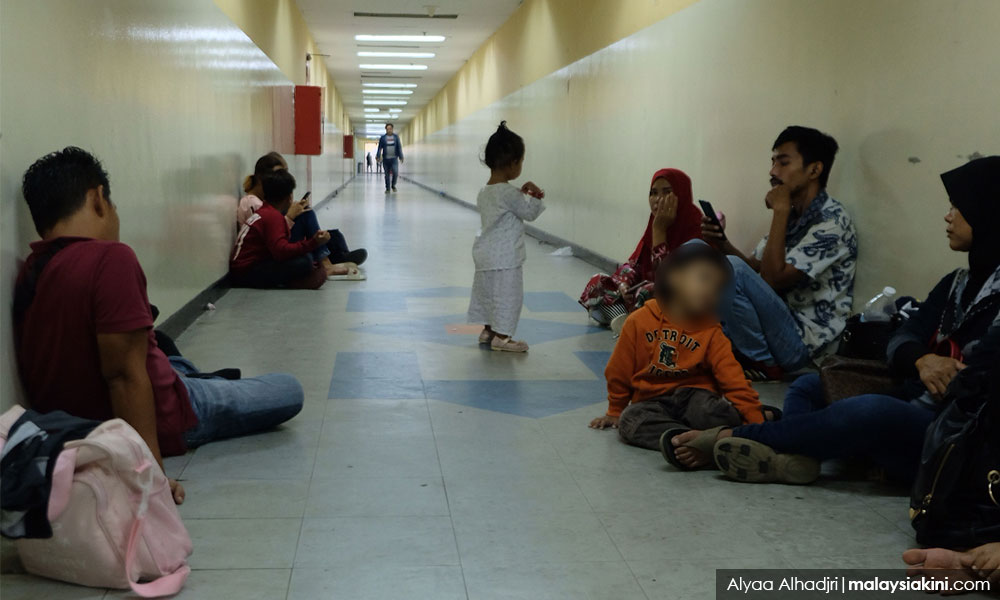 Back in Shah Alam, Malaysiakini's check this morning found that the scenes as described by Figo had similarly cleared, with less than 100 undocumented migrants left in the queue as of around 9.30am - mostly comprising families with babies in tow.
Over the last decade, the government had launched at least three major amnesty programmes, with the last one being held from 2014 to August last year. It saw 840,000 undocumented migrants reportedly repatriated.
The number remains far below the estimated number of undocumented migrants here, which Pereira said, human rights groups have consistently cited to be between two million and four million people.
This time, Khairul reportedly said 138,901 illegal immigrants had been repatriated under the Back For Good programme up to Dec 14.
"So it still shows that many of them will continue to remain in Malaysia. My strong advice is for the government to regularise them without any conditions because they are already employed here.
"Don't view them as a security threat because that is hypocritical as we still need them," Pereira said in calling for cooperation between the Home Affairs Ministry and Human Resources Ministry to identify the real demand for migrant workers in Malaysia.
The final figure for the Back For Good programme is expected to be announced on new year's day tomorrow. - Mkini