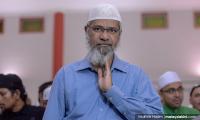 Zakir Naik in exam paper - UniMAP launches probe
Heads must roll for those responsible for this 'unwarranted' mess and trying to create a religious sensitivity.
There are so many local religious 'icons' who should have been recognised, but why choose a controversial foreigner with a 'tainted' image. To make the situation even more unbecoming is the suggestive answers presented by the examination question were deemed 'highly' questionable.
Malaysians on the whole are peace-loving people and anyone who wants to create 'unrest' among our multi-racial and multi-religious society should be severely punished.
University is a place for advancement in education and should never be a tool for religious bigots to move their 'narrow-minded' religious propaganda.
Malaysians want UniMAP (Universiti Malaysia Perlis) and MoE (Ministry of Education) to take immediate action by sacking those responsible for this unwarranted incident and to immediately remove this unwarranted question from the examination paper.
The police would also have to investigate if there was any element of creating "chaos" among our multi-racial, multi-religious and multi-cultural society and if so to take appropriate action without any further delay.
Let's learn to live in peace and harmony with the coming new year 2020.
- Mohd. Kamal Abdullah