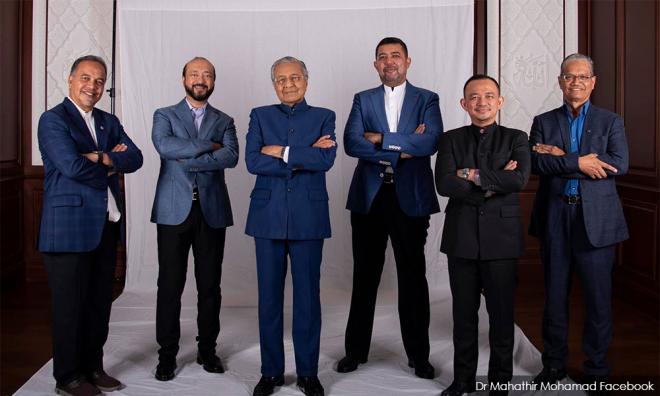 Former prime minister Dr Mahathir Mohamad's Parti Pejuang Tanah Air (Pejuang) may find it difficult to stay relevant if it tries to be another Malay-Muslim party in an already crowded field, say political analysts.
In contrast, political analyst Azmi Hassan said Muar MP Syed Saddiq Abdul Rahman, who is an ally of the Pejuang founders, is trying to break the old mould by exploring a youth-based party.
"For Pejuang to remain relevant, it needs a different brand from Bersatu, Umno and PAS.
"For voters at present, Pejuang is not very much different from Bersatu, Umno and PAS.
"There is nothing new that is being offered," said Azmi, who specialises in geopolitics at Universiti Teknologi Malaysia.
The Pejuang founders were expelled from Bersatu after Bersatu president Muhyiddin Yassin ditched Pakatan Harapan to form the new Perikatan Nasional federal government with Umno, PAS, GPS, PBS and STAR.
Syed Saddiq, who was the Bersatu Youth chief, was also expelled with the group.
However, he does not plan to join Pejuang and is instead exploring a multiracial youth-based party after lamenting that politics was being monopolised by "the
same old people
".
Mahathir had said that Pejuang was intended to replace Bersatu and Umno, which he claimed have strayed from their original struggle.
Pejuang, Bersatu, Umno and PAS are all Malay-Muslim-centric parties.
Pejuang is not yet formally registered but had its first electoral outing by backing an independent candidate in the Slim by-election.
The party was
trounced
in the by-election, winning only 2,115 votes to Umno's 13,060. Umno was contesting under the BN logo.
The Pejuang pro-tem founders are all former Bersatu members, namely Mahathir, Mukhriz Mahathir, Marzuki Yahya, Maszlee Malik, Amiruddin Hamzah, Shahruddin Md Salleh and Mohamad Nuhairi Rahmat.
Azmi said Malay voters are growing suspicious of Mahathir, as he attacked Umno while in Bersatu and is now doing the same in Pejuang.
"That is why I feel Tun's (Mahathir) strategy in introducing Pejuang based on Bersatu and Umno's mould is a mistake as Malay voters would trust Umno and PAS more," Azmi added.
Meanwhile, another political analyst Rusdi Omar said Pejuang must ally itself with either of the main coalitions - Pakatan Harapan or Perikatan Nasional - to be relevant.
"Without a coalition, I cannot see Pejuang lasting," said Rusdi, who is an associate professor at Universiti Utara Malaysia's School of International Studies.
Rusdi said voters are more likely to vote for a party that they believe will benefit them and Mahathir's accusation of Umno and Bersatu "straying from their path" will not resonate with Malay voters.
He added that this is more so at a time when voters are generally content with the PN government's policies.
Pejuang received some support from Harapan during the by-election campaigning period but the coalition held-back from going all-out, mostly relying on state-level leaders to provide assistance.
Pejuang is friendly towards Harapan as they have a common opponent in the form of PN but is officially non-aligned.
This is in part due to Mahathir's disagreement with PKR president Anwar Ibrahim over who should be the prime minister candidate if the opposition can regain federal power.
Meanwhile, Universiti Kebangsaan Malaysia's Kartini Aboo Talib also cast doubt on the effectiveness of Mahathir's anti-corruption messaging.
Kartini, who is a senior research fellow with the university's Institute of Ethnic Studies, said many of the current leaders, including Mahathir himself, have had their own controversies.
"Therefore, it is hard to find a leader who is truly free from corruption," she said.
Kartini added that Pejuang will need a clear agenda for it to remain relevant. - Mkini