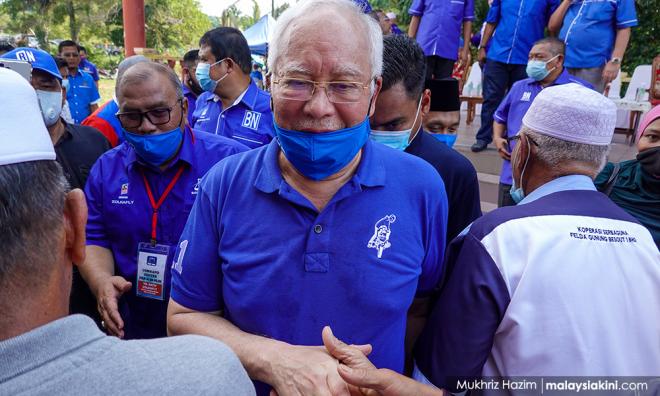 SLIM POLLS
| Former premier Najib Abdul Razak said the support shown by Chinese and Indian community for the BN candidate in the Slim by-election is a positive sign to the coalition.
"It looks like Chinese and Indian votes are increasing for BN and this is a positive sign. I would like to thank them for their change," he told the media in Tanjung Malim tonight.
Najib also claimed the voters were sick of the campaign-style of Dr Mahathir Mohamad's Pejuang which was seen as "too personal" and "seeking revenge."
"They (voters) want to hear who will take care of their welfare rather than repeatedly being served with the same stories, especially (in regard) to my name.
During the by-election, Pejuang had campaigned for the independent candidate Amir Khushairi who lost to BN's Mohd Zaidi Aziz by a
10,945 majority
.
Mohd Zaidi garnered 13,060 votes.
'Slim an indicator for Sabah polls'
Umno president Ahmad Zahid Hamidi, meanwhile, said the cooperation between Muafakat Nasional, BN and friends of BN had worked well.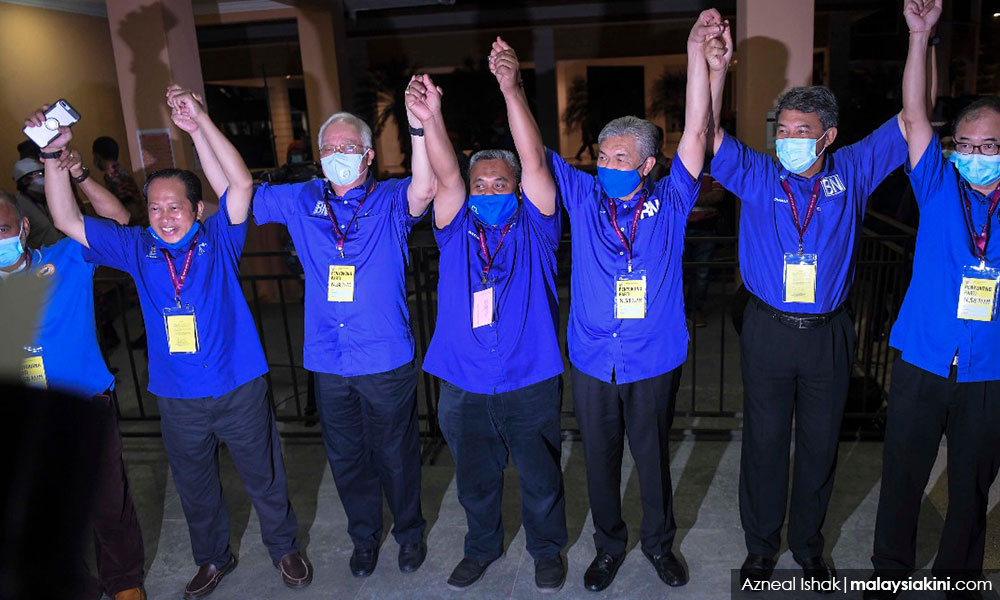 "The pleasing victory with the official majority of 10,945 is a manifestation of good cooperation from all parties especially from comrades in Muafakat, BN, and friends of BN.
"The people miss seeing Umno, BN, and Muafakat leading the government and we hope it's an indicator for the Sabah state election.
"If we continue with the cooperation, God willing, the victory belongs to BN and Muafakat candidates."
Umno secretary-general Ahmad Maslan echoed the same sentiment, saying that "[...] Slim had provided a boost in spirit for the BN machinery to win the Sabah state election."
Perak Umno liaison chairperson Saarani Mohamad said the huge majority won by Zaidi was out of his expectation.
"The figure is really huge because we estimated an 8,000 majority.
"In fact, in the previous general election, we lost in six district polling centres but today we swept clean all the centres," he said.
Saarani thanked young voters who had voted for Pakatan Harapan in the past but were now supporting BN.
Umno vice-president Ismail Sabri Yaakob told the media that the BN's victory clearly showed that the voters rejected Pejuang.
"I did not expect us to win this big, especially when contesting against an independent candidate whose backbone we all know.
"This clearly shows the voters' rejection of the involvement of Pejuang, and I think not only in Slim but also nationwide. - Mkini