COVID-19 | Following a demonstration by local residents asking for food supplies yesterday, the Taman Semarak enhanced movement control order (MCO) locality has now been enlarged to include one row of shops.
New rules on goods delivery and food vendors have also been introduced.
Government newswire Bernama quoted Tawau Municipal Council (MPT) secretary Joseph Pang today as saying that residents will now be able to patron the shops from 6am to 6pm.
"Only one person per household is allowed to (come out and) shop and whoever fails to comply with standard operating procedures (SOPs) when shopping, including by gathering in large numbers, will be issued a RM1,000 compound immediately," he said.
The decision was made at a Tawau Disaster Operations Control Centre (PKOB) meeting last night following the demonstration.
Yesterday, Sabah Community Development and People's Wellbeing Minister Shahelmy Yahya instructed state agencies to look into the residents' needs.
New rules on deliveries, vendors
Also decided was that any food contributions for residents can now be dropped off at two designated checkpoints - Simpang Utama Semarak or Bulatan Semarak Megah - between 9am to 2pm.
"Senders can contact the affected families directly so they can pick up the goods at a set time. This means the previous SOP on goods delivery, including to the Tawau PKOB under the MPT, is now void," Pang said.
Food vendors, including those selling vegetables and fish, will first need to undergo a Covid-19 test before they are allowed into the Taman Semarak enhanced MCO locality.
Pang added that residents would not be allowed to leave the enhanced MCO area to access any banks and suggested they liaise with family members to pass them money at the checkpoints.
'Many have run out of food'
Yesterday, about 50 Taman Semarak residents held a demonstration behind a barbed-wire fence that surrounded their residential area.
In now-viral videos of the demonstration, residents were observed wearing masks and standing physically apart from one another while calling on the government to provide them with access to food and supplies.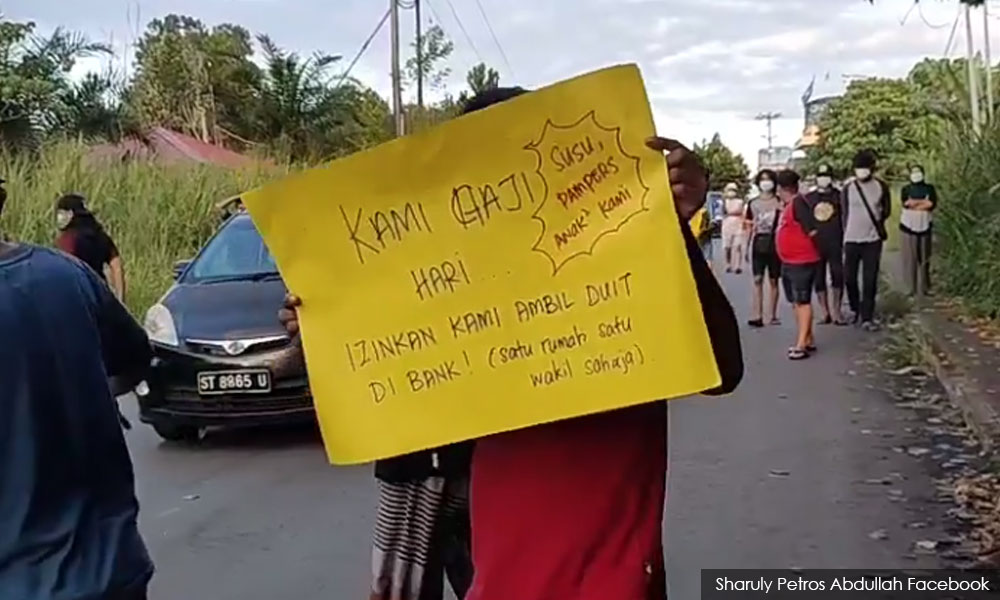 One demonstrator held up a placard which said: "We have a daily wage, allow us to get money from the bank. Only one representative per house. Our children need milk and diapers."
Another had a sign saying: "We ask to be allowed to shop."
Demonstrator Johny Garakit Goran told Malay-language daily Sinar Harian that many residents had run out of food after four days under enhanced MCO.
"Our problem now is that it is hard to get food supplies and the nearby shop has been fenced up.
"We just want to go out not far from here to buy food because many residents have run out of food. Some have also run out of gas o to cook with," he was quoted as saying.
Raw food supplies contributed by others to the residents were also going to waste due to delayed deliveries, he added.
"They accumulate the goods (at the checkpoints) and only give it to the residents at night. Of course, raw food like fish, chicken and vegetables will spoil.
"It has been hard for residents to rely on others except for the head of the household to go out and buy supplies, especially raw food," Johny shared.
Taman Semarak, which reportedly has 4,000 households, has been placed under enhanced MCO from Oct 26 to Nov 8 following a spike in Covid-19 cases there.
As of noon yesterday, Tawau reported a total of 1189 cases, the second-highest number of cases in the state's 26 districts.
Sabah has been the epicentre of the country's third wave of cases and has seen a high number of infection clusters and deaths.
Under an enhanced MCO, affected residents have to remain at home except to acquire basic supplies. The authorities are also supposed to distribute food to residents.
The lockdown is to enable targeted Covid-19 testing to be carried out. - Mkini