COVID-19 | The Health Ministry is facing difficulty to get the cooperation of the Bajau Laut stateless communities on Pulau Omadal in Semporna, Sabah, especially in getting those who have tested positive to get treated at government facilities away from the island.
However, according to Health director-general Dr Noor Hisham Abdullah, they are still not giving up and talks are ongoing with community leaders there.
"Although positive cases have been detected (on the island), it is not easy to convince the undocumented people to come to the quarantine and treatment centre for low-risk cases.
"However, now we are looking at ways on how we can persuade them to come forward.
"We have to discuss with the family leaders whose members have been tested positive, to send them to the centre," he said at a Covid-19 press conference today.
Noor Hisham was answering a question on cases involving the Omadal cluster.
Pulau Omadal is located at the Celebes Sea, about 18 kilometres from Semporna town and accessible by boats. Many of the islanders are from the Bajau Laut ethnicity.
The Health Ministry first announced the existence of the Omadal cluster five days ago, where it said that the index case was found positive after he was tested on Oct 18.
Noor Hisham announced that 13 more individuals linked to the cluster have been tested positive, bringing the total number to 35.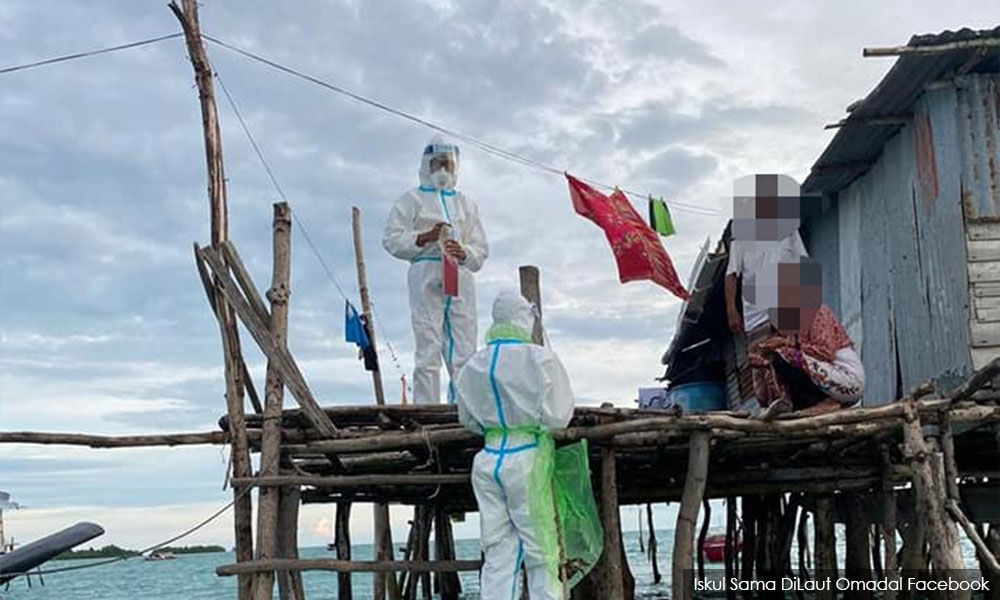 On Oct 27, Malaysiakini reported that a group of activists found themselves supervising quarantine for at least nine Covid-19 patients in the stateless communities of Pulau Omadal.
The good samaritans, who are with the Iskul Sama DiLaut Omadal (Omadal Bajau Laut School), had to step in as many of the stateless people were afraid to go to the hospital.
Iskul co-founder Chuah Ee Chia had told Malaysiakini that the ideal solution for the problem would be to set up a quarantine centre on the island.
Meanwhile, Noor Hisham told reporters that the outbreak in Sabah which was centred at the east coast side of the state has now shifted to the west coast.
"From the projection of cases in the Sabah east coast, we saw that it is now in the phases where cases are going down.
"We have to enhance our activities maybe for another two weeks.
"However, the challenge now is in the west coast, where the number of cases is increasing. So we are hoping to be able to bring down the number in two weeks," he added.
As of today, the ministry revealed that there are three more new infection clusters detected in Sabah, all of which are centred in the Kota Kinabalu area which is located on the west coast.
They are the Rumah Merah, Telipok and Sembulan clusters. - Mkini