As the possibility of a deputy prime minister being appointed among Umno's rank continues to churn rumours, one Umno supreme council member Annuar Musa has openly said he was not in the running.
Annuar said this in a WhatsApp group that was titled "Tan Sri Annuar4TPM". The group creator had added numerous political figures, media personnel and even Umno president Ahmad Zahid Hamidi in the group.
"I am saying it again: Please delete this group chat because it is a waste of time and a sin.
"I am not that person (in the running), and I do not approve (of this WhatsApp group). Thank you," wrote Annuar before exiting the WhatsApp group.
The WhatsApp group was created by someone with the handle "King Diamond" in February and has maintained that group title since.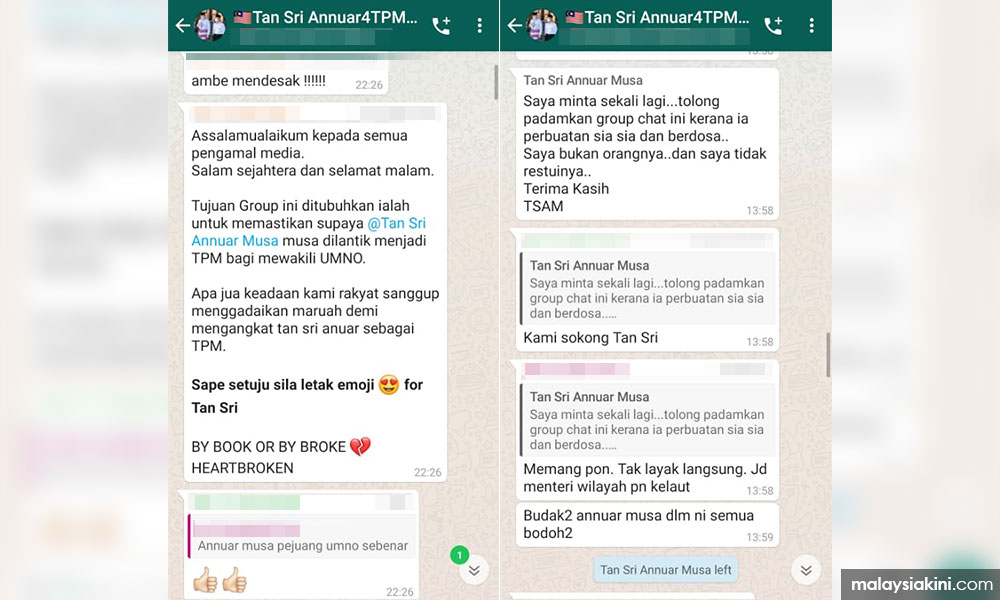 After adding a slew of people, "King Diamond" explained last night that the purpose of the group was to "ensure" Annuar is appointed the deputy prime minister.
The modus operandi of the WhatsApp group was reminiscent of how the video clips implicating a minister was spread in June, 2019 - where dozens of press personnel and politicians were suddenly herded into the same chat group.
Last night, the Umno supreme council - meeting for the second time in a week - had deliberated on whether the party should field a candidate for the vacant deputy prime minister's position.
However a decision was not arrived at, and sources were tight-lipped over whose names were discussed. One source claimed there were three possible candidates - Umno deputy president Mohamad Hasan, vice-president Ismail Sabri Yaakob and Sembrong MP Hishammuddin Hussein.
In a statement past midnight this morning, the party did not acknowledge that this discussion took place.
Three days ago, Sin Chew Daily reported that Prime Minister Muhyiddin Yassin was open to having a deputy from Umno, but was hesitant about the candidate being Zahid, who is facing a slew of corruption charges.
There has been talk that the deputy prime minister's position, which does not come with many real powers, was being offered to Umno as part of a package to ensure their continued loyalty to the Muhyiddin-administration. - Mkini