Following its nationwide strike on Monday, the Hartal Doktor Kontrak movement is looking to set up a union to better represent the plight of contract doctors in government service.
The movement's spokesperson, Dr Mustapha Kamal, said although the Malaysian Medical Association already exists, it is more akin to an NGO than a trade union.
"Until we have a union like the British Medical Association, we can't address the problems that we have properly," he told a virtual press conference today.
Mustapha said the movement is already in talks with the Malaysian Trades Union Congress (MTUC) and the Congress of Unions of Employees in the Public and Civil Services (Cuepacs) on how to set up the union.
On July 26, the group organised a nationwide strike where healthcare workers working under contract for the government staged a walkout from their duties.
They demanded solutions to shortcomings of the contract system that had been in force since 2016, such as poor job security and uncertain future career prospects.
Mustapha hailed the campaign as a success, claiming that around 80 doctors per hospital had joined the walkout, except where its supporters received threats from the police and hospital administrators.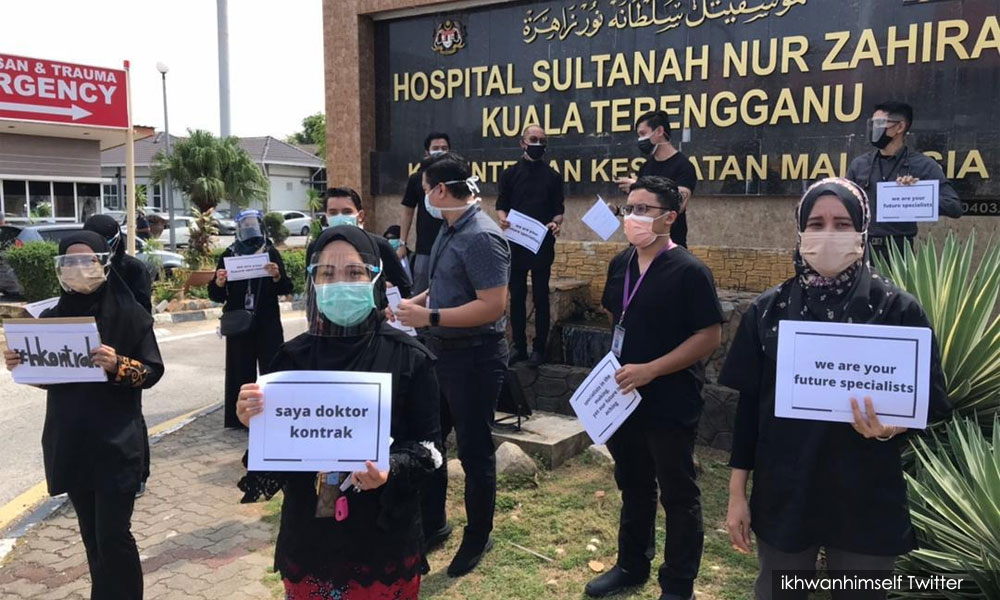 However, he said, the movement would likely stage another industrial action if there is no response from the government by the time the 2022 Budget is tabled in Parliament, which is expected to take place in October.
"For the time being, we allow the government to discuss this issue in Parliament... We will allow (the government) to discuss and come up with a plan.
"Although Health Minister Dr Adham Baba said he will require two years, I think two years is too long, given the political instability in our country. Because of this political instability, we are watching what is happening and the episodes unfolding in regard to the government.
"So, it may take some time for them to respond. If they do not respond before the budget, most probably we will proceed with Hartal 2.0," he said.
However, Mustapha said the group is still considering how the next protest will be held, considering the Covid-19 crisis and the country's political situation.
He also said there is no timeline for setting up the union, but the doctors hope to get it done before the budget is tabled. - Mkini