Unclaimed bodies and the slow disposal processes have exacerbated the congestion at many hospital mortuaries in the Klang Valley, according to sources with knowledge of the matter.
As the daily number of Covid-19 death cases continue to soar high, Malaysiakini learnt that some health officials are hoping for a policy change to help them speed up the burial or cremation of remains.
A high-ranking health official claimed that many mortuaries are keeping bodies that have been there for several years, either because nobody came to claim them or because they are tied to legal cases, among others.
"We are also facing problems when it comes to bodies that belong to foreign nationals, as there are embassies that stick to old procedures when it comes to claiming the remains.
"As a result, undertakers have to wait for a certain period of time, on average one week, before they are able to obtain release letters from certain embassies.
"Further compounding the issue is the fact that there are now fewer international flights, which caused bodies that can already be claimed to continue being kept at the mortuaries, waiting for their turn to be taken back to their home country," said the officer, who spoke to Malaysiakini on condition of anonymity.
To give a glimpse of how serious the situation is, the source cited Sungai Buloh Hospital, which is the main Covid-19 treatment facility in the Klang Valley.
The hospital's Forensics Department today has a capacity to hold around 75 bodies in its main building and three temporary freezer containers that it recently acquired to keep up with the high number of coronavirus fatalities.
With the capacity almost always full, the source said that 19 of the bodies were that of foreigners, including several which were unclaimed since 2015.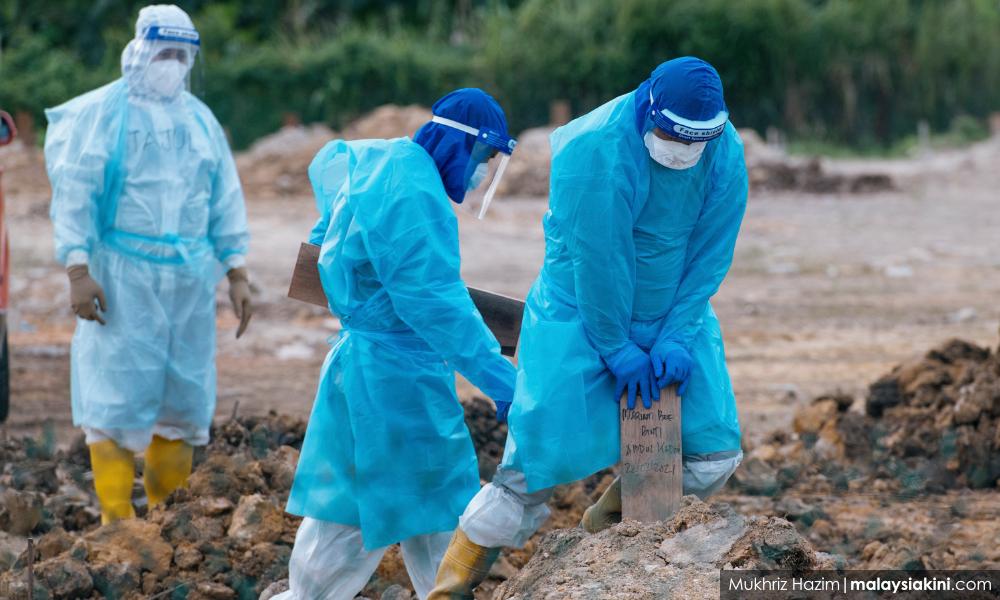 According to the source and several undertakers whom Malaysiakini spoke to, hospitals and those involved in managing dead bodies are facing problems with some crematoriums and burial sites.
This includes facilities that have outrightly declined to handle remains associated with Covid-19, while others that are willing to accept are congested, resulting in long queues.
Rafie Zainal, who is with NGO Skuad Pengurusan Jenazah Malaysia (SPJM), said there are Muslim burial sites that still decline to accept remains of those who did not come from their area, while some had imposed a limit on how many they would accept in a day.
"There are so many bodies now that the authorities and NGOs are struggling to handle. For SPJM alone, we handle around 15 bodies daily, of which 90 percent of them are Covid-19 victims.
"But delays still occur. Despite the Sultan of Selangor recently ordering all Muslim cemeteries in the state to accept bodies, regardless of whether they are their kariah members or not, some still reject, citing that residents there have concern over the limited burial plots," he said.
Many dead bodies of Muslims at hospitals in the Klang Valley now would have to wait for one or two days before they can be buried, Rafie added.
Malaysiakini learnt that such a problem is worse when it comes to bodies of non-Muslims, where sources claimed that there are only a handful of crematoriums in the Klang Valley that accept Covid-19 remains.
A check with a funeral services agent in Selangor revealed that most of the crematoriums that accept Covid-19 bodies belong to government agencies, such as the Petaling Jaya City Council and Kuala Lumpur City Hall.
"There are private companies which have their own crematoriums that also accept Covid-19 bodies, but these are usually fully booked.
"The queue is long, especially now during the pandemic. I also have one body now waiting to be cremated, the queue is one week," said the agent.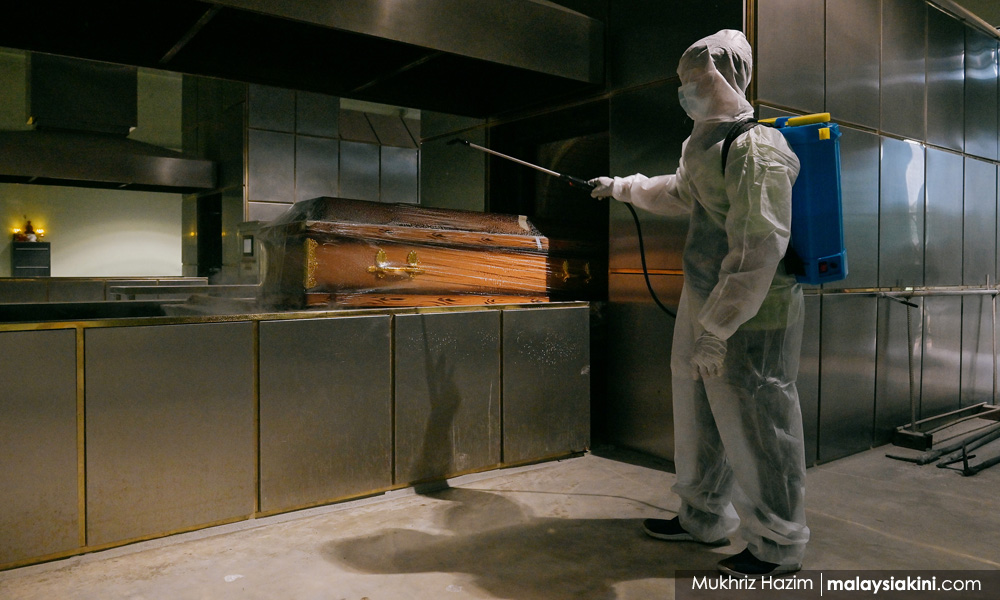 Sources within the public healthcare system said that what they hope is to see some changes made to the policy on the disposal of the remains.
The government should set a deadline for a body to be claimed during the pandemic, said an official.
"One of the suggestions is to allow hospitals to declare all bodies as unclaimed after three days, and thus they can be arranged for funeral with the respective hospital director's order. The majority of forensic pathologists have agreed with this.
"To tackle the issue of non-Muslim bodies that are piling up, the government should make all crematoriums accept Covid-19 bodies.
"If these problems can be solved, we don't even need extra body containers, which can save lots of money. Body containers (are) just for us to temporarily keep the bodies and buy some time while waiting for the above problems to be settled," said the source.
Meanwhile, the Ministry of Health (MOH) in response to Malaysiakini's request for comments stated that measures have been taken to address the issue of congestion at hospital mortuaries.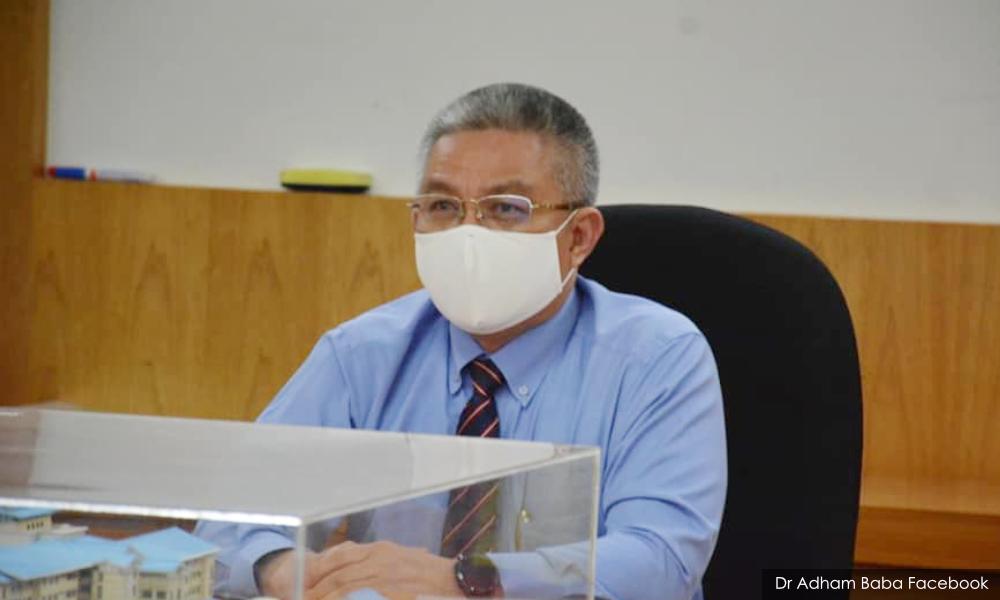 Health Minister Dr Adham Baba said they are procuring more freezer containers, besides setting up a one-stop centre for managing dead bodies in Kuala Lumpur.
"MOH has anticipated that there would be a rise in Covid-19 deaths. And thus, early preparations have been made, including procuring and renting freezers for several hospitals.
"At this juncture, we have rented seven containers for hospitals in Selangor, while three others were contributed by MIC. On top of that, MOH is also arranging the procurement of eight more, which are to be distributed in stages to six hospitals in Selangor," he said.
On the one-stop centre, Adham told Malaysiakini that the facility located in Kampung Baru, Kuala Lumpur, has the capacity to keep a maximum of 225 bodies at a time.
"Through collaboration with various agencies, religious bodies and the state disaster management committee, we would also be able to identify cemeteries that are available for mass burial.
"The large capacity would also allow authorities to keep a huge number of bodies while the cremation schedule is arranged," he added. - FMT