BUDGET 2022 | The government will provide free personal hygiene kits every month to about 130,000 teenage girls from B40 families to tackle the issue of period poverty, said Finance Minister Tengku Zafrul Abdul Aziz.
"It is estimated that 130,000 teenage girls from B40 families do not have access to hygiene products, such as menstrual pads, due to financial constraints.
"As such, the National Population and Family Development Board, in cooperation with the Prison Department, will distribute personal hygiene kits for free every month to 130,000 teenage girls from B40 families," Tengku Zafrul said while tabling Budget 2022 in the Dewan Rakyat today.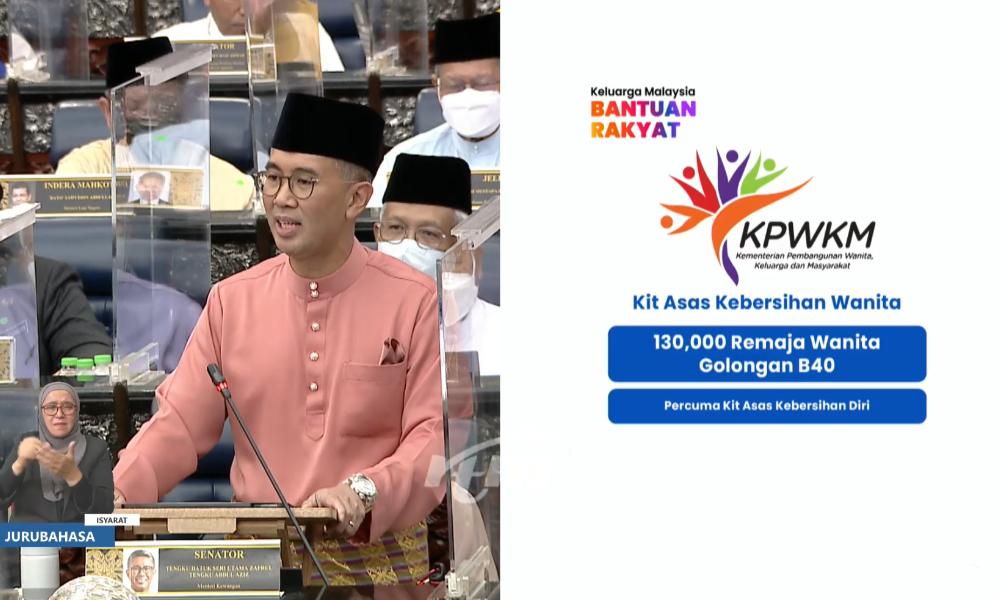 He said personal hygiene for teenage girls is a very important issue to reduce health risks and being left behind in school.
On top of the free monthly personal hygiene kits, the government will also work with NGOs to hold educational campaigns about reproductive health in schools.
Funds for women's welfare, empowerment
RM11 million has also been allocated to subsidise mammogram tests as well as cervix cancer screening for women, the minister said.
Tengku Zafrul said they also want to address the issue of violence against women, with the government prepared to allocate RM13 million to strengthen the D11 police unit for investigations into sexual crimes related to women and children.
Community awareness programmes on violence against women will also be held throughout the country, he added.
The government will also open more local social support centres and work with NGOs to prepare more women's shelter homes to better protect victims of domestic violence.
A number of new initiatives and programmes to empower working women under Budget 2022 as also been introduced.
Among them is Putrajaya's intention to make it compulsory for there to be at least one female director on the boards of all publicly listed companies.
In order to improve the support system of working mothers, RM30 million has also been allocated to prepare kindergarten (taska) facilities at government buildings, especially in hospitals and public universities, Tengku Zafrul said.
He also encouraged the private sector to follow in the government's footsteps in providing kindergarten facilities in the office.
The government also intends to extend individual income tax relief up to RM3,000 for the payment of kindergarten fees until 2023, he added.- Mkini